A picture might paint a thousand words. But if a video is a series of multiple pictures, how many words would you be able to capture with that?
Don't worry, we're not here to bog you down with a silly math problem. But this hypothetical question does make some interesting points about the potential of video content, especially in the world of learning.
Long gone are the days when all you had as a means of instruction were large blocks of text or a handful of helpful pictures. In the world of online learning, the prevalence of videos has now introduced learners to a whole new, engaging and effective multi-sensory learning experience.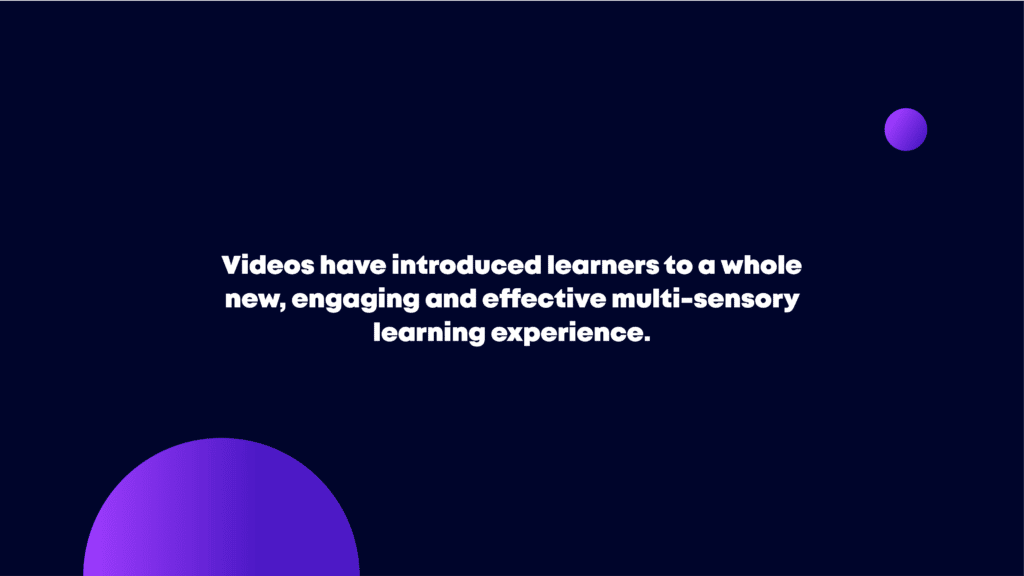 All of that is to say that if you're setting up an online learning program in this day and age, video content presents a great opportunity for you to significantly upgrade your course experience (which, because you clicked on this blog post, you must know already).
And as for all the whats, the whys and hows of making videos for your online course? That's what we're here for!
How Videos Make Your Online Courses Effective
It's hard to find an online or training program today that does not feature videos. That is no surprise, given all the information we now have about just how engaging videos can be as a means of learning.
A Google study from 2017 revealed that as many as 86% of US viewers use YouTube videos to "learn new things". Meanwhile, research conducted by TechSmith reveals that 83% of respondents would prefer watching videos as a means of education or getting information rather than text or audio.
The message from your prospective learner base is clear: feature more video content in your online courses. Keep your learners engaged by featuring a content type that they are not only familiar with but that they actively seek out for learning purposes anyway.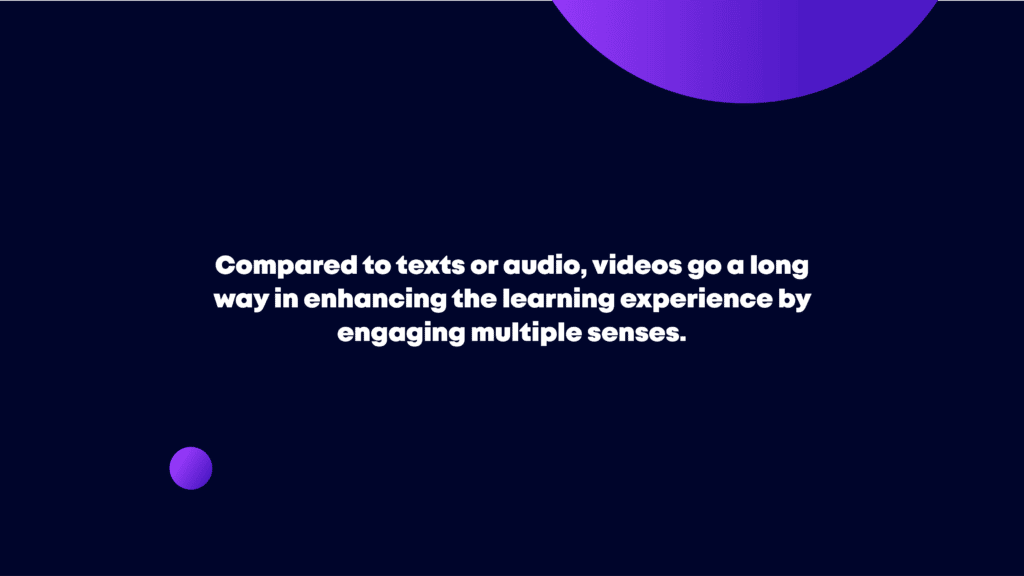 Compared to reading, audio recordings or other one-dimensional content formats, videos go a long way in enhancing the learning experience by engaging multiple senses. A 2019 Video Learning report by Intuition states that it can be up to 83% easier for learners to retain information via video rather than text.
Here's another interesting point that the report makes: Training videos can be not only more engaging for the learners but also help save more costs for organisations than traditional trainings.
With that said, it is also important to carefully consider the cost and time requirements of producing videos for your courses. It is also helpful to chalk out a strategy in advance that takes into account the type of video content you need for your course today and the kind of updates it might need in the future. At every step, make sure to consider the resources you have for producing videos and think about other forms of creative content that you can include to supplement our videos.
Types of Video Content in Online Courses
Once you've decided to add video content to your online course, the next step is to determine the type of video that'd work best for the purposes of your program. Remember: the term 'video' is broad and captures a host of ways in which you can combine visual and audio elements to deliver a learning experience.
With that said, there are a handful of commonly-used video content types that you can explore for your online courses: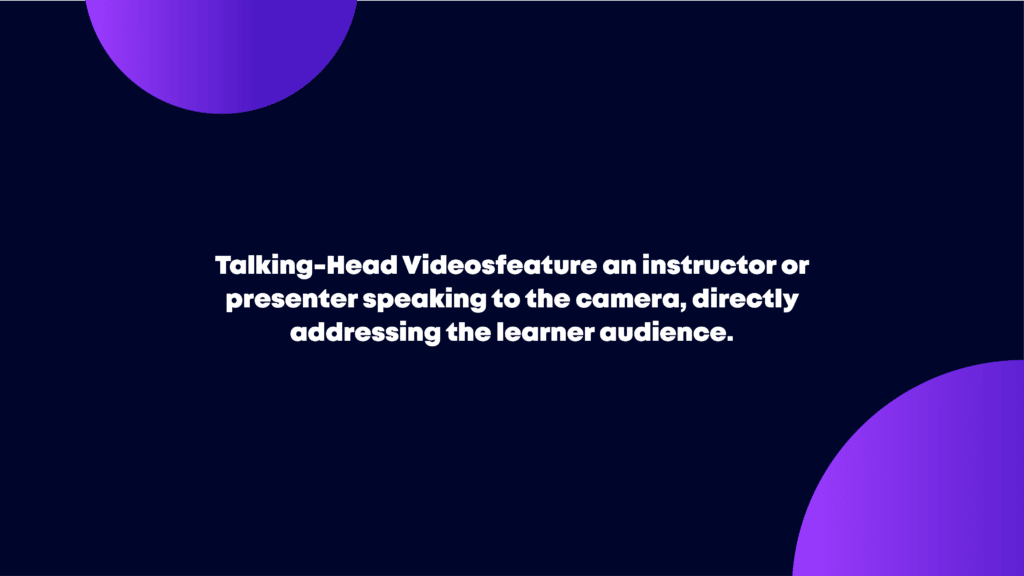 Talking-Head Videos
Also known as instructor-led videos, this type of video content features an instructor or presenter speaking to the camera, directly addressing the learner audience. Plenty of in-person lectures and training sessions are increasingly being replaced by instructors speaking to the learners in the form of talking-head videos.
Animated Videos
This type of video content is usually entirely composed of dynamic, active animated visuals. It serves as a great way to break down complex ideas and processes by presenting them in the form of colourful animated scenes such as in 2D animations or animated infographics.
Screen-Capture Videos
If the goal of your learning program is to familiarise your learners with new software or a new technical process, screen-capture videos might be the right approach for you. This type of video content usually features a screen recording exploring the various features and uses of a software, accompanied by a detailed voiceover. Works great for a software service or product training program!
Demonstration/How to- Videos
Ever heard the phrase "show, don't tell"? Demonstration videos allow you to show your learners exactly how a process is supposed to be carried out, instead of describing or explaining it. With visual cues being far easier to retain than written ones, this kind of video ensures that your learners are introduced to every last step and detail of a given process.
How to Make Videos for Your Online Course
Alright then! So we now know that making and adding video content can do wonders for your online courses. We also know the types and styles of video content options that you can choose from.
Here's the big question though: how exactly are you supposed to create these videos? More importantly, how are you supposed to create high-quality videos that are interesting, engaging and packed with information?
Here are 5 simple steps to create great video content for your online courses:
Step 1: Analyse and plan ahead
"An hour of planning can save you 10 hours of doing", the saying goes – and we agree! Before you record a single second of your course video, start by doing a little research and learner analysis first.
Tackle and find answers to essential questions like:
Who are the videos designed for?
What would they find engaging?
What are the ultimate goals of the program, the individual modules, and each of the videos?
If you've already completed the Learning Design process of building an online course, you'll probably have a ton of material that can be helpful at this stage. Learner personas, learning outcomes, learner objectives and a variety of insights-backed information that is crucial to building effective courses can also be the secret sauce for your video content!
If you've never tried Learning Design before, here's a helpful introduction: What is Learning Design?
Step 2: Gather and script your content
Once you have a better grasp of your learner's preferences and the goals of your videos, it's time to gather and organise the content that your videos will deliver. This is also where, based on the requirements of your learning program and the resources available to you, you can decide the type of videos that work best for your online course.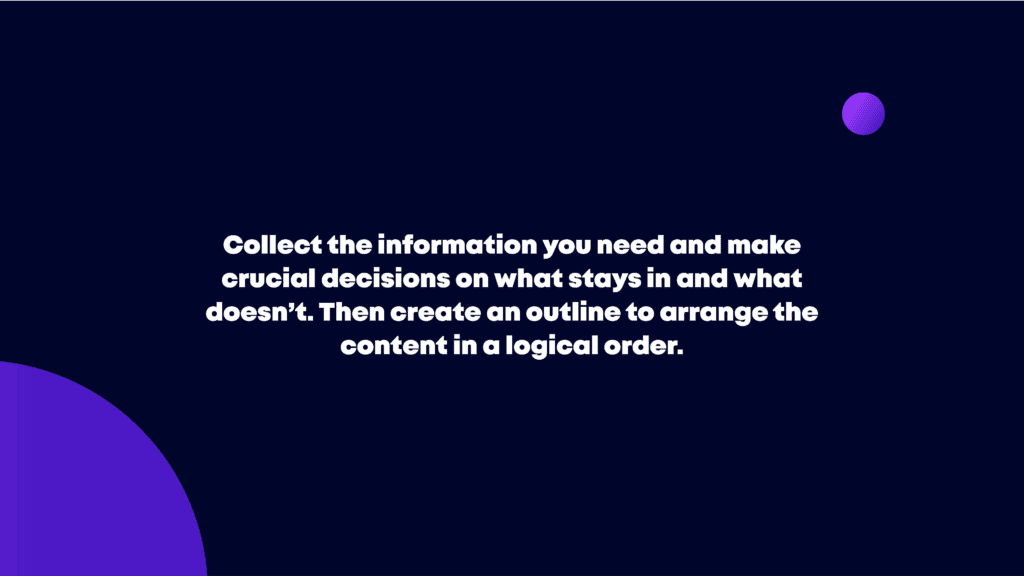 Collect the information you need (for example, by interviewing experts or repurposing existing materials), and make crucial decisions on what stays in and what doesn't make the cut. Then create an outline to arrange the content in a logical order. In an online course, topics are best explained when split into smaller organised sections known as 'modules'. You can choose to divide the content as per these modules and turn it into scripts for each of the videos.
As the last step in this process, you might also want to 'storyboard' your video content – a process where you can map out what each shot or scene in the video will look like. This is where you structure the video down to an introduction, body and final conclusion. At this stage, you can also decide if you'd like to add graphics, presentations, subtitles and other elements in your video to better illustrate complex ideas.
Step 3: Set up your space
For visual-centric video content such as animated videos and screen capture videos, all you really need is a reliable computer and the requisite software. But if you're looking to create talking-head videos or demonstration videos – videos where an instructor or presenter is physically present – it's best to create a dedicated video recording space.
Now you might wonder if you need professional equipment at hand or a studio to book at a moment's notice for this part of the process. And you'd be relieved to know that our answer is an enthusiastic 'nope'.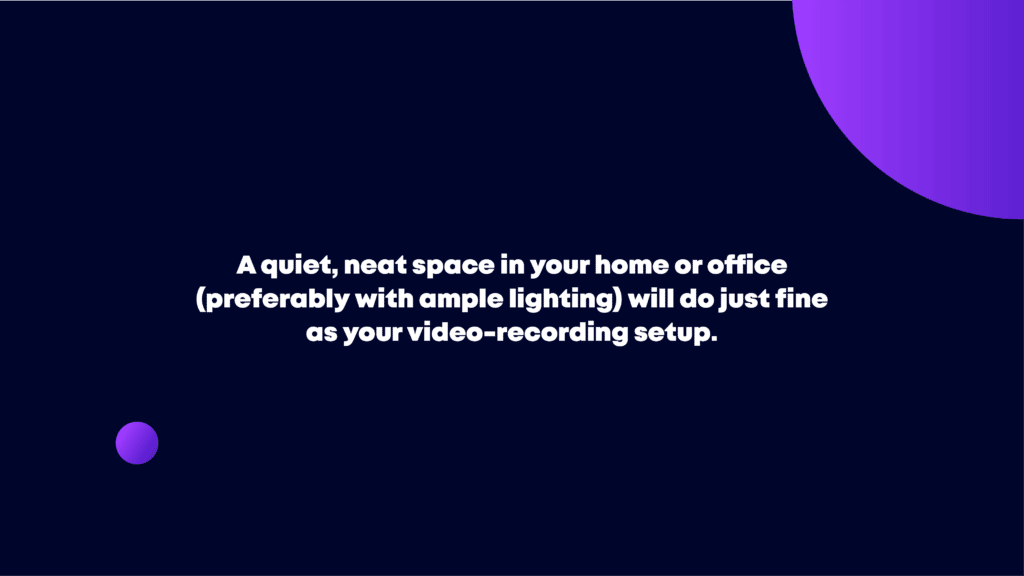 A quiet, neat space in your home or office (preferably with ample lighting) will do just fine. As long as you have a somewhat decent-quality camera and microphone, and a background that is free of noise and distraction, you've got a setup all ready to go. Just make sure to check the quality of your sound and video before you start shooting!
Step 4: Record and edit your video
So you've got the setup, the plan, the content – it's time to hit 'record'!
When recording videos that feature actual people, you might find that the process is more daunting for some than others. Which is why this is an opportunity for you to create a comfortable environment for your speakers to do what they do best – share their knowledge.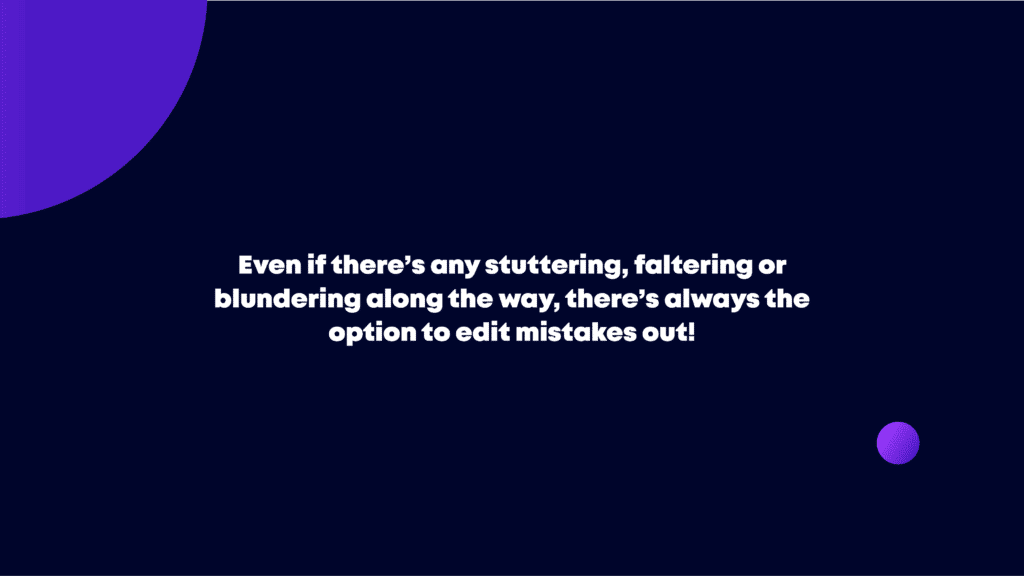 More often than not, the people talking to the camera are talented experts in their field, not performers or public speakers. So a little patience and support can go a long way! And remember, even if there's any stuttering, faltering or blundering along the way, there's always the option to edit mistakes out.
In fact, no matter the type of video you choose, make sure you have a useful video editing software to help you fine-tune the video to perfection. A good video editing software should be able to help you remove background noise, trim unnecessary parts, transition between scenes and split or merge shots to create the flow you're looking for.
It's ideal to keep the length of your course videos somewhere between 2 to 10 minutes. Not only does this help keep your learners engaged, but in case you want to redo a video or a part of it, you have a shorter length to work with.
Step 5: Upload the videos into your courses
And there you go – you've now successfully made videos for your online course! All that remains is uploading the videos onto your course boards, alongside all the other materials in your course.
If you're using an online learning platform to build your online course, you might want to use this opportunity to keep a track of how your learners are watching, interacting and responding to the videos.
Claned, for example, allows course creators to get insights into their video content: the number of videos watched, the hours spent by learners viewing the videos and the discussions generated as a result of the videos. Many of our clients find this information valuable, as it allows them to understand the impact of their video content, and possibly make adjustments to it in future iterations.
Conclusion
And with that, you'll have created videos for your online courses! Easier than it first seemed, isn't it?
Remember: you absolutely do not need any previous video-making experience or advanced video-editing skills to create great videos for your online program.
It helps to focus instead on the content, its structure and organisation, and creating an engaging experience that your learners would like to follow along. You know, all the nuts and bolts that go into creating good online courses anyway!