"Creativity is an untapped and innate human resource…that can contribute to prosperity, to cultural exchange and social justice." – UNIDO
Now, we here at Claned are big believers in the power of creativity, but these words aren't ours. They are from a 2013 report published by the United Nations Industrial Development Organization (UNIDO) that talks about the many benefits of creative youth entrepreneurship.
But then you don't need a UN report to tell you that great things happen on the crossroads where youth and creativity meet. When young people are free to pursue creativity, it helps unlock the potential for them to imagine a better future for their communities and bring about lasting change in the world, in innovative ways.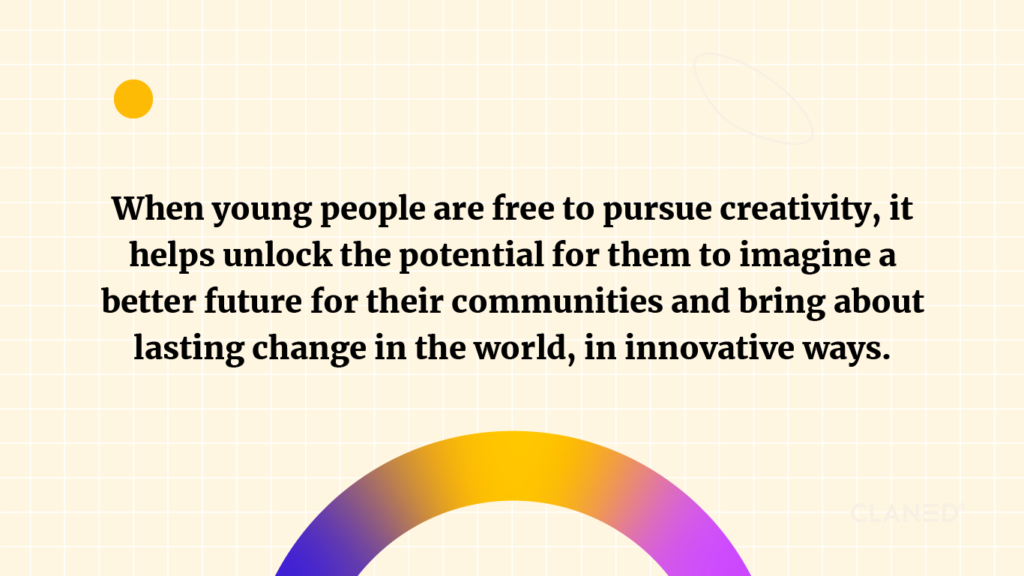 Sadly, the opportunities to unlock the potential of creativity aren't spread out evenly for young populations across the world.
In many developing countries, access to formal educational opportunities can be severely limited for youths interested in creative careers. And even when they do have the means to commercialize their creative skills, the lack of entrepreneurship training can become a major roadblock. The playing field just isn't even.
But one NGO – and their one-of-a-kind vocational learning program – is looking to change that. And we, here at Claned, are happy to help.
We spoke with Ville Wacklin, program manager at Finn Church Aid to tell us more about their vocational training program, its promising impact and Claned's role in this unique venture.
The Right to (Creative) Livelihood: Vocational Learning for Everyone at FCA
Finn Church Aid (FCA) is the largest international aid organization in Finland, backed by over 70 years of experience and with ongoing operations in 13 countries around the world. As a Non-Governmental Organization, FCA's focus and specialization have always been geared towards providing quality vocational education to vulnerable and crisis-stricken communities. Ensuring 'Right to Livelihood' is one of FCA's principal goals as an organization.
"We've been working in vocational education for a long time – it's essentially our niche in the NGO world", explains Ville. "So far, we've focused on providing jobs in traditional sectors, which means jobs in professions like agriculture, building, tailoring, catering, shoemaking. All of these are, of course, immensely relevant in both rural and urban contexts".
But here's the thing: as significant as these employment programs were, Ville and his friend Jenni Lähteenmäki had a vision for something more.
At a time when the scope for digital and creative opportunities is at an all-time high, why should anyone be left behind? Why should refugees and disadvantaged communities not benefit from opportunities to develop not only their employment potential but also their creative potential?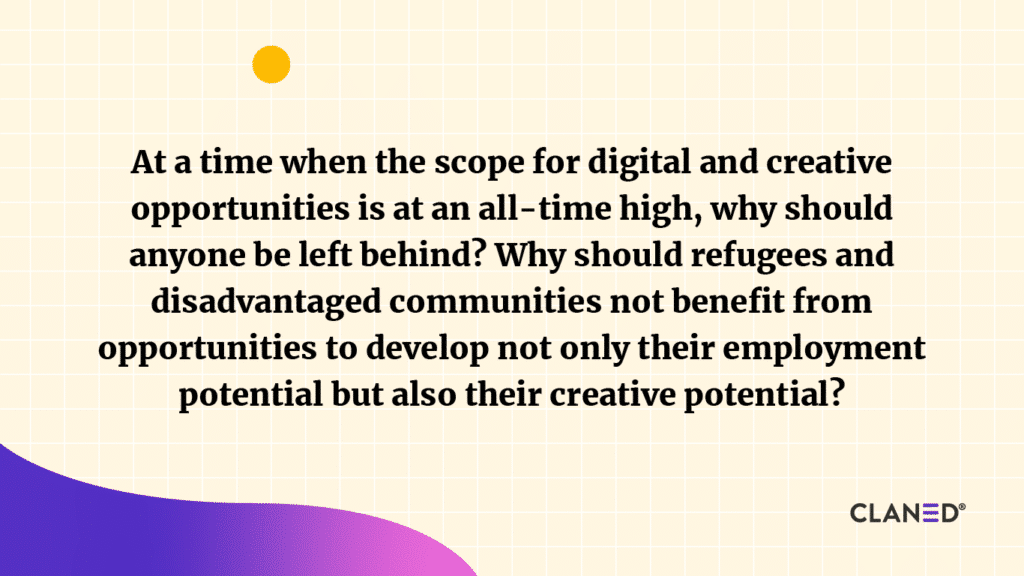 Reflecting specifically on their aid efforts in Uganda, Ville explains, "We realized that when it comes to vocational learning in the NGO world, we'd been overlooking everything in the sphere of digital, creative employment. This was an untapped opportunity, especially in the urban areas where more than 50% of the refugees reside."
With opportunities for digital work increasing every year, both in Uganda and worldwide, Ville and Jenni set out to create a vocational training program that could reach out to urban youths in vulnerable communities and help them build employment skills in creative fields.
And just like that, the Creative Industries Program came to life.
The Creative Industries Program at FCA
Both Ville and Jenni come from creative professional backgrounds. While Ville had extensive experience in the music business, Jenni had a 25-year long career working in TV, movies, and other media ventures behind her. Armed with their impressive expertise in creative industries, the two eagerly set to work.
But first came research – which only led to their convictions becoming even stronger than before.
"We discovered that creative industries are some of the fastest-growing industries in the world – but they are also under-recognized, particularly in developing parts of the world", Ville explains. "We also found data to support the fact that creative industries actually employ more young people than most other sectors."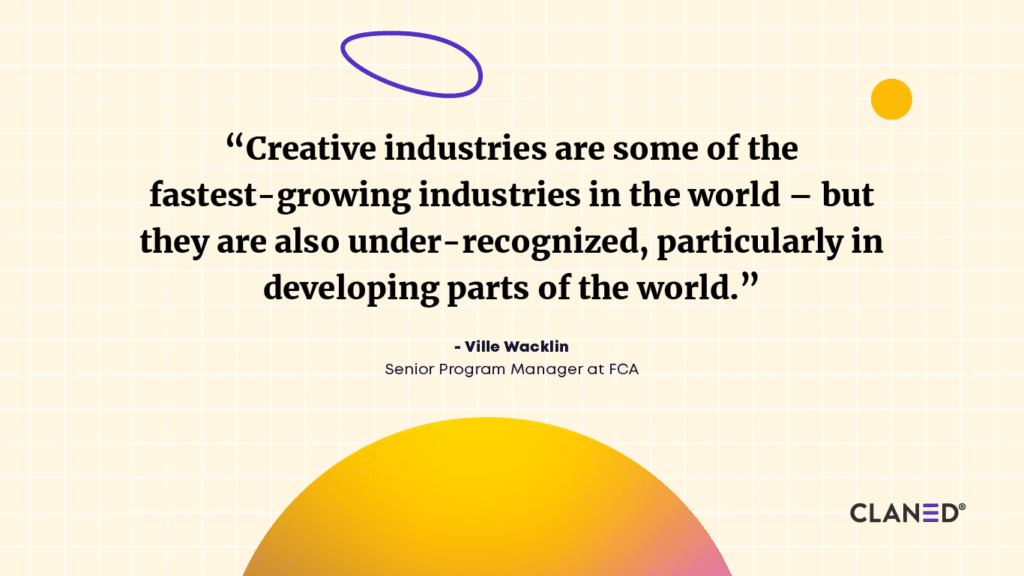 This knowledge served as an excellent foundation. And soon enough, the pieces for this new innovative venture started falling into place.
In time, a plan was put together, and funding was secured. In January 2020, the two launched the first pilot of the Creative Industries Program in Kampala, Uganda. The program specializes in developing professional skills in music production and game development, among other creative fields.
The pandemic forced the program to be put on hold. But not before a talented team of professionals, including prominent music producers Hank Solo and David Phelan, had assembled and volunteered to mentor the participants. The program also partnered with Uganda-based NGO Caring Hands and recruited local professionals to help develop the vocational learning experience.
But as much potential as Ville knew the program held, there remained a feeling that in this age of technology, the impact could be spread much, much farther. By leveraging the right tool – the right technological tool – the learning could become more accessible, intuitive, and well, creative.
It was the missing puzzle piece on a board that was built on months of innovative effort and carried the potential to change so many lives.
So when Ville first heard about Claned, somewhere, a piece slid right into place.
Getting Creative with Claned
"We wanted a platform that was 'today' and equipped with all the features of modern technology. It had to be an online learning platform that was convenient, accessible and you know, worth bragging about", Ville recalls. "Within a short time of experiencing that first demo, I could see that all the requirements we were looking for were already built into Claned."
So, what exactly were these requirements?
To start with, Ville anticipated flexibility to be a big need for the vocational training program. In Kampala, for instance, the team found that there was a wider difference in the skill levels of the participants than they had expected.
The solution? Well, if you ask us, the best way to support surprised expectations is to have an online learning program that can be intuitively tailored for a variety of learners and levels.
"With Claned, we're now able to accommodate different learning tracks", says Ville. "For example, one training track at FCA is for participants who are unemployed and haven't run a business in the past. Their track focuses on building entrepreneurship skills and getting a business running from the ground up. On the other hand, the track for learners with business-running experience focuses on ideas and guidance about incorporating creative thinking into their businesses. Like taking high-quality photographs to boost their marketing efforts."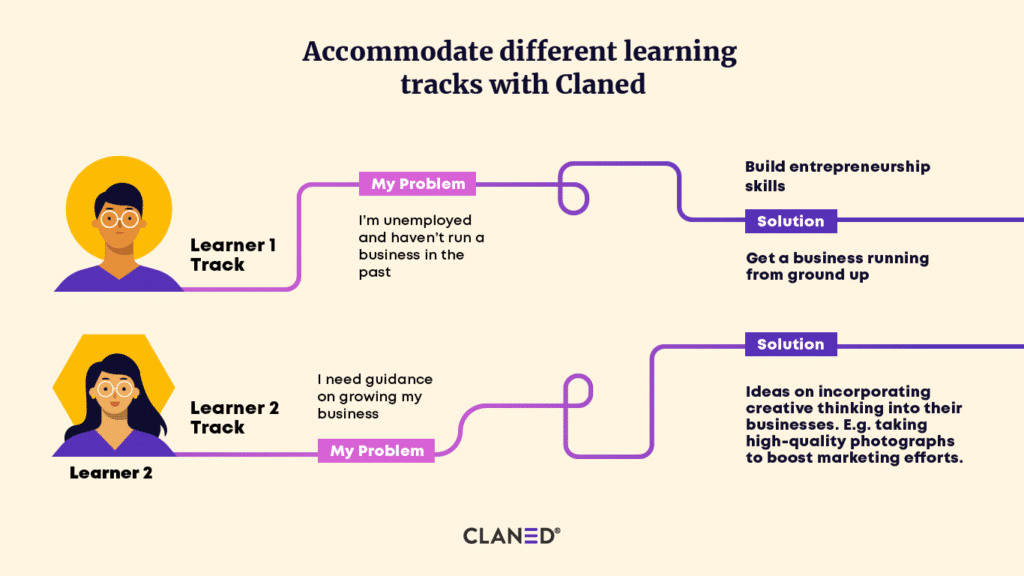 The program also features different types of learning components. For example, there are foundational training modules like "Introduction to Creative Industries", that can then be built upon with specialized training courses like "Basics of Photography". All of these components can be featured and integrated into the course with one learning platform to rule (and run) them all.
But that wasn't all. There were a few other features – like interactive elements and peer-to-peer interaction – that the FCA team was eager to include in the learning experience but wasn't sure how.
With Claned, these features came built-in. All learning content becomes interactive when added to the platform. And the social learning feature allows course participants to post, comment and discuss materials and notes online.
But we've saved the best for the last. The one feature that got both us and the FCA team thrilled to bits was the learning analytics side of things.
"One really big piece of happy news for us was that the algorithm could pick up data from the learners, that could help us understand and present the impact of the program. That was a big point for us as an NGO, because it meant that we could show tangible results of how the program works, how it makes sense, and why it is worth investing in."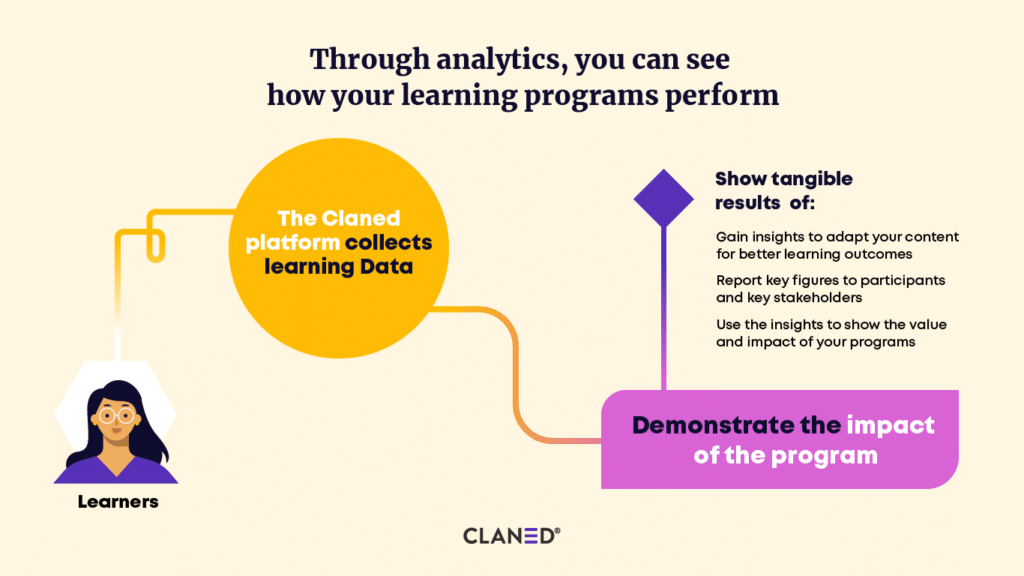 As an NGO, for Ville and his team, this translates into a rare and remarkable opportunity to be able to gather some much-needed "impact data".
Hopes, Dreams and Impact Data – The Path Ahead
To us, it is clear as day that the Creative Industries Program will prove to be an invaluable experience to all the participants who benefit from it. And yet, proving the concrete, objective value of an NGO initiative or program like this can often be an uphill battle for those involved.
But with the immense amount of learning data that the Claned platform is set to collect from this unique learning experience, we're hoping we can make a difference.
With vocational training programs, having key information and statistics about the participants and results can go a long way in illustrating the value of the program.
Some things can't be measured, of course – like the feelings of confidence and self-sufficiency a participant feels after the program or the new social and professional relationships they build through it.
But some things can and deserve to be measured – like how effective certain learning materials are, the impact they make on learner progress, and to what extent learning outcomes are being met.
Gone are the days of focusing only on participation numbers. Tracking tangible data is what helps the NGOs of today in setting goals and directing their efforts in the right direction.
Which is why we at Claned are so excited to follow up with Ville and the program once it has gone through its initial iterations. We'll be helping FCA build and refine the program over time, and continually offer learning data to develop and show clear insights to FCA on the overall learning impact. 
That's the incredible stage that we always look forward to. The one where the hopes and dreams of the organization and their learners turn into real, tangible data and numbers that can make learning even more engaging and – in this case – make a huge, life-changing impact.
And it all started with one creative idea – the idea to unlock the potential of creativity itself. With a little help from technology, of course.
"There's been talk in the NGO world about online learning for quite a long time, but it's taken forever for it to become a reality", says Ville. "Now that we've kicked off, it's super exciting to see where this takes us".
We couldn't agree more.
We love to work together with our customers to ensure that they can achieve the best possible learning outcomes with our platform. Read about some of our customer cases here. If you get inspired and want to know more about Claned, feel free to contact us.