How do you motivate learners in the online learning environment? Imagine you're a highly qualified course instructor who regularly tutors a team of bored, withdrawn, and dejected online learners. Sounds awful, right?
Don't fret though – because there's an effective way out to motivate learners. Achieving your goals as a course instructor requires a lot more than preparing informative course materials.
Besides going the extra mile to gather and organize informative course content for your learners, you should strive to use some practical, yet effective tips and tricks to motivate learners in an online learning environment.
That way, you'll easily achieve your goals as an instructor – and consequently, enable your learners to achieve their learning outcomes as well.
How do you motivate learners to participate in online activities?
The Online Cambridge Dictionary defines motivation as the need or reason for doing something. It's the underlying drive or enthusiasm that drives learners to keep gathering more information. One of the core aims of motivating learners is achieving learning outcomes.
It can greatly influence the learning process. To motivate learners is a great ingredient for instructors to not only keep learners engaged, it also goes a long way in the achievement of learning outcomes as well.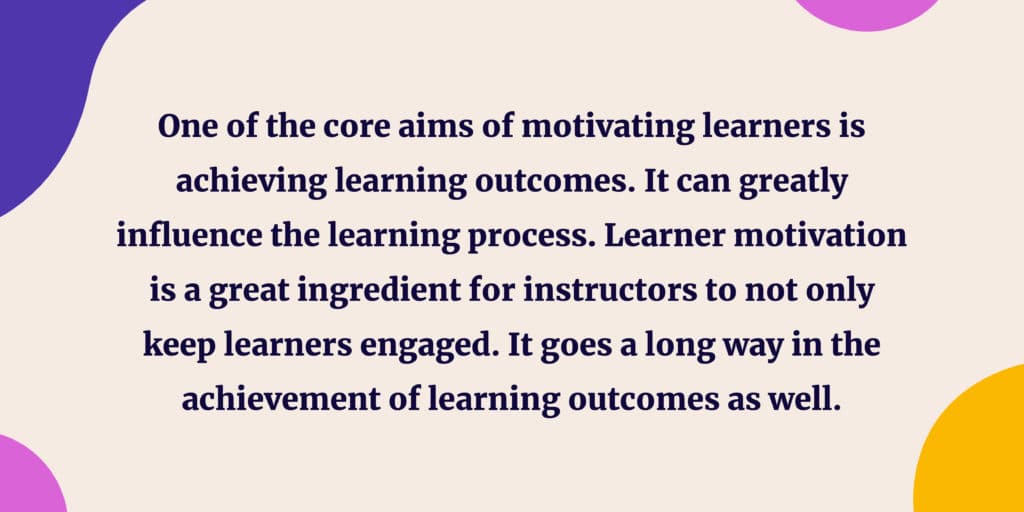 However, before determining how best to motivate learners though, instructors should understand factors that demotivate learners in an online learning environment.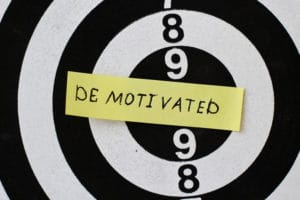 They comprise internal and external factors. Internal factors affect learners themselves while external factors are caused by instructors or the learners' colleagues. Here are the factors:
1. Internal factors
Health issues
Some health conditions such as dyslexia, depression, and substance abuse can interfere with learning. With this in mind, instructors shouldn't just base their assessments on the average expectations but dare to look deeper. Instead of viewing such conditions as final decrees of doom, instructors should think about ways to help such learners. An instructor may have to slow down the learning process to accommodate the anomalies, or even advise the learners to seek external help before proceeding with education.
Personal learning difficulties
Asides from the aforementioned conditions, personal learning difficulties may also reduce the learners' ability to satisfactorily grasp information. The abilities of learners hugely vary. For instance, while some learners can fully concentrate throughout the entire session, others may be uncomfortably grappling with daydreams or focusing on other inappropriate things. Although some personal learning challenges may not seem very serious, it's prudent for instructors to keep a close eye on them.
Upon identifying learners who daydream for no apparent reason, for example, an instructor can decide to prepare easy-to-follow study materials. Such students can brood over the provided content at their convenient times. Instructors can also try to make the sessions more interesting by telling some jokes or stories to stimulate learners' interests. As an instructor, it's really important to understand the understanding levels of your learners so that you come up with effective ways of teaching them.
Test anxiety for learners
In the grand scheme of things, many learners dislike tests. One reason for this is the fear of failure as a possible outcome. Failure can be stressful for learners when they perceive it as an insult to their intelligence. Such learners are prone to extreme disappointment due to poor performance. Therefore, instructors should craft their courses with this reality in mind to motivate learners. The sessions aren't a platform for learner competition and numerous assessments of their intelligence. On the flip side, instructors should do more than just regular tutoring.
They should consistently come up with creative ways to motivate learners to prepare for tests in advance, and even show them the recommended test formats long before the assessment dates draw close. Most importantly, instructors should strive to make the learners understand that the sessions don't just require memorization. They should encourage learners to view the value of the information beyond the classroom confines – and strive to apply them in the real world. These tactics can hugely help reduce test anxiety for learners.
Low-value course content by course instructors
Instructor competence can't be emphasized enough. Since learners operate under the discretion of their instructor, they can be easily misguided by erroneous information. You should take things seriously, and view your instructor position as an opportunity to make a difference in their learners' lives.
In addition to thoroughly preparing for the sessions, you should also pay attention to things such as content delivery, learner concerns, goals, and interests. By teaching in an engaging and friendly way, learners are more likely to concentrate and understand more.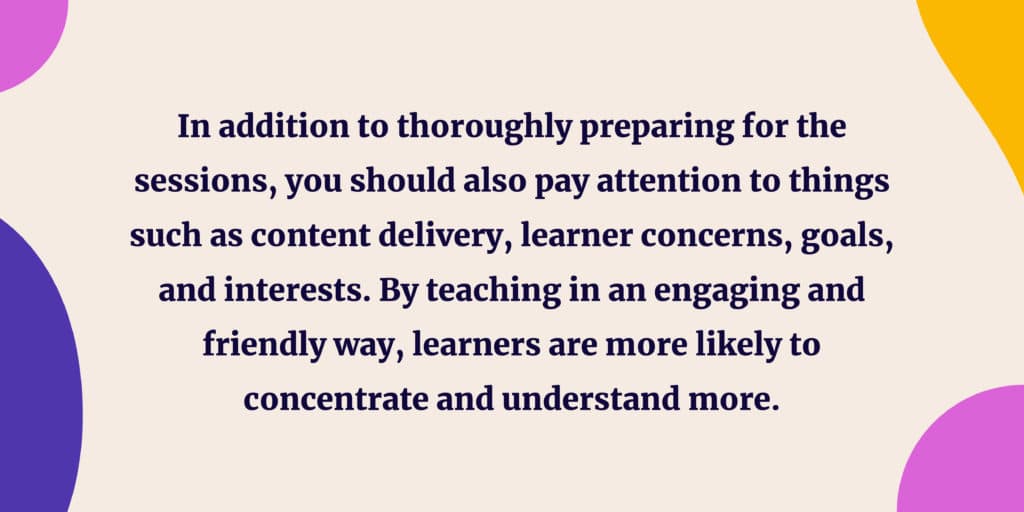 2. External factors
Excessive assessment by instructors
Assessments are a great way to monitor the progress of learners. However, instructors should realize that too much of something is poisonous. Since tests come along with anxiety for learners, frequent assessments can discourage students and eventually reduce their interest in the course. Instructors should thus strive to conduct fewer assessments while trying to foster a good attitude among learners.
Negative attitude caused by peers
While peer collaboration is an important aspect of online learning, it exposes learners to both good and bad influences from their peers. Fellow learners can project a negative attitude about a certain instructor or course, and end up causing discouragement.
Unnecessary distractions
Unlike the traditional classrooms where instructors can closely monitor learners, the online setting is quite challenging. Online learners can fall prey to distractions. The distractions include poor room lighting and interference from people within their localities. Also, digital distractions including access to social media and games can divert the attention of learners.
Motivating and Engaging Students in e-Learning
Today, unlike a few years ago, the pandemic has caused a great shift in education. Consequently, e-learning is stupendously gaining traction in the educational space. It's evident that most learners are gravitating towards e-learning to resolve this challenge.
Therefore, if you've been banging your head against the wall as an instructor – trying to determine how to motivate your laid-back learners, there's a glint of hope. When it comes to learner engagement, CLANED offers much. Its highly efficient and interactive design features set the stage for social learning.
Some viable tips and tricks on how instructors can motivate learners to actively participate in e-learning activities include: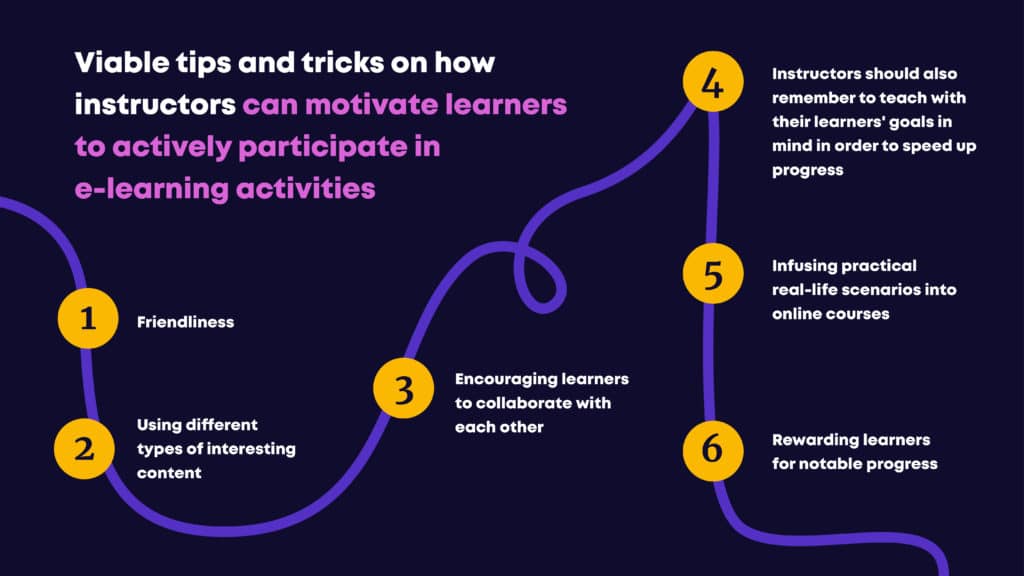 Friendliness
Instructors should give room for interaction with students by being approachable. They should strive to tell some interesting jokes and stories while tutoring, and allow learners to ask questions, and openly share their challenges. CLANED allows contextual collaboration. Students can mark up important pieces of content such as pdf or videos for further group or personal use.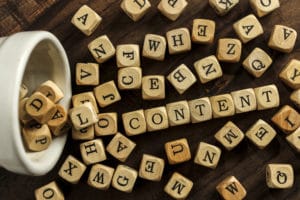 Instructors should also support the learner's learning choices by allowing them to freely share their ideas – and take on board their feedback. This also allows for self-directed learning by ramping up the learner's confidence to formulate learning goals and gather materials beyond the provided scope.
Encouraging learners to collaborate with each other
CLANED's interactive design features also give room for social learning. This fosters emotional learning. When learners empathetically relate with each other, as well as the instructor while working optimally, they can easily achieve their educational goals.
Using different types of interesting content
In order to engage learners, don't just rely on monotonous content. Consider using materials such as text documents and VR to stimulate interest in your learners and keep them engaged.
Instructors should also remember to teach with their learners' goals in mind in order to speed up progress
Remember, once learners get motivated, they understand self-regulated learning. Such learners can control their cognition, behavior, and motivation to achieve certain goals.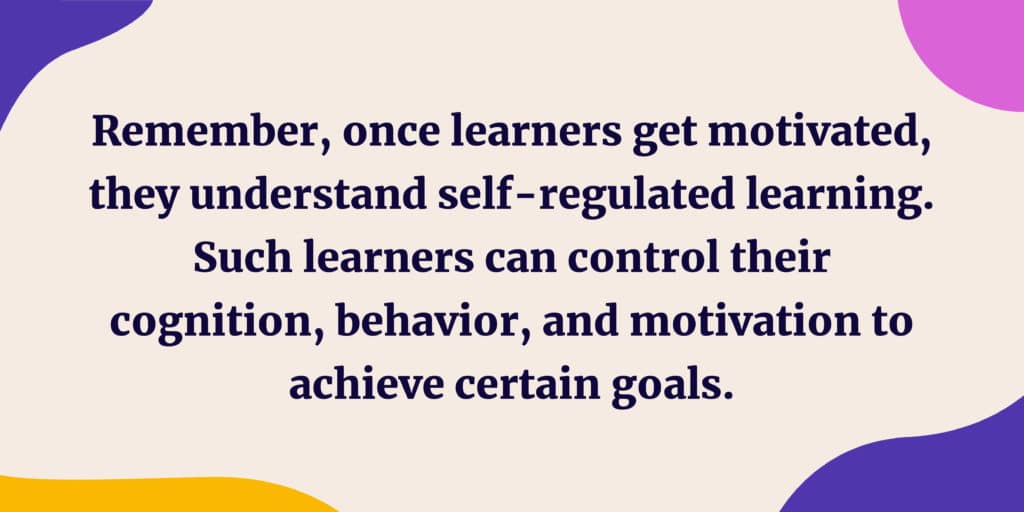 Maximizing and improving learner engagement in an online learning environment
In addition to motivation, instructors have to find effective ways to engage learners. This lays the groundwork for achieving long-term goals. Building learner engagement requires hands-on input from the instructor as well as a team of highly motivated students. Consider these tactics for effective learner engagement:
Coming up with easy-to-understand courses
As an instructor, you should craft enthralling, valuable, and easy-to-understand online courses. Such understandable and guided learning paths can engage the students to learn more.
Infusing practical real-life scenarios into online courses
You should also consider infusing practical and real-life scenario information into courses. Such information engages learners and makes them understand that the knowledge is valuable practical thus stirring the learners' interests. This tactic can ultimately encourage lifelong learning.
Rewarding learners for notable progress
Rewarding learners who demonstrate marked improvement is a great learner engagement tactic. In so doing, you'll not only prompt the rewarded learners to keep working hard, but you'll also motivate their colleagues to work harder.
To end off, if you apply these tricks to motivate learners, you'll ease things up for them. Doing this the right way can drastically motivate students, and reduce troubling issues like dropouts and poor performance in online learning.
READ: Claned's Glossary of Online Learning Jargon