Are you building (or just thinking about building) an online course, an online training perhaps? But you don't know what, where, or how to get started? We think it's time you met our good friend "ADDIE"–also known as the ADDIE model.
For decades, the ADDIE model has been a trusty roadmap for beginner and expert course builders alike, helping them put together successful learning programs from the ground up. In just 5 steps, the ADDIE model brings together the most essential components of a learning experience and weaves them together to create effective and engaging courses. Just like that!
So, without further ado, let's get you two acquainted!
Why Every Great Online Course Needs a Plan
Before getting into the nitty-gritty of the ADDIE model, there's a question hanging in the air that we'd like to address first: why even bother with a 'model' at all?
Why not just go head-first into course-building? Do you really need a plan?
Here's the thing: building an effective online course is much like building a sturdy home–it needs a solid foundation. While you can always make tweaks and adjustments as you see fit along the way, the best courses are the ones that are set up for success from day one.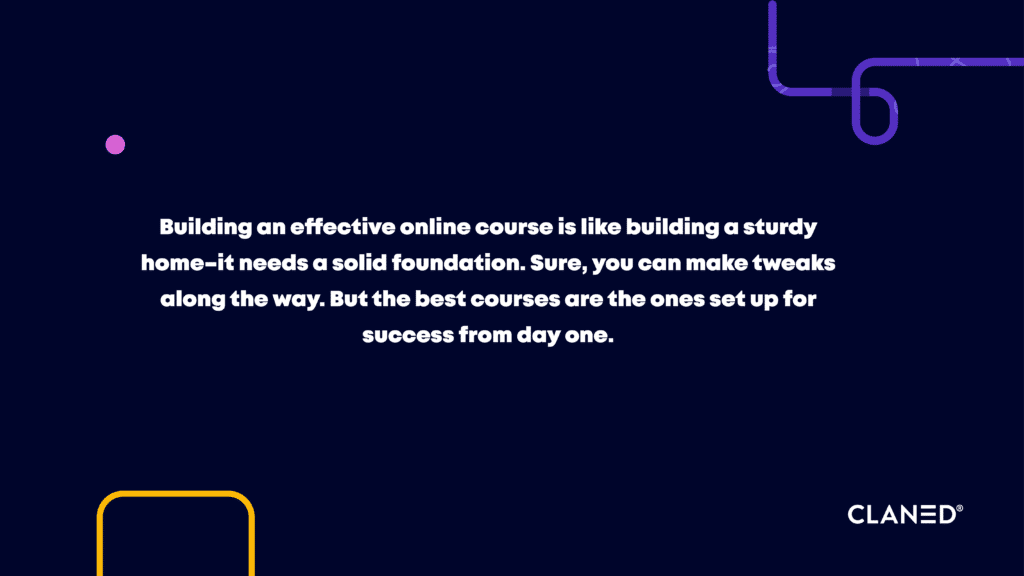 Having a plan helps make sure that all the time, energy, money and resources you and your team pour into your learning programs actually lead to the outcomes you're hoping for. Instead of setting off in a direction and hoping to make it there, having a plan is the best way to make sure you stay on track and reach your destination on time.
Of course, one way to go about making a plan is to try a whole bunch of experiments and stick with the ones that work. But isn't it easier, and far less time-consuming, to build on well-established research and efforts of pedagogical experts?
Pedagogical models, such as the ADDIE model, are backed by years of learning research and serve as tried-and-tested methods that have stood the test of time. Not only does the ADDIE model serve as the perfect starting point for first-time course builders, but is also frequently used by professional learning designers (the Claned team included) today!
What is the ADDIE Model?
ADDIE is an acronym that stands for Analyse, Design, Develop, Implement, and Evaluate. Each of these terms represents a stage in the ADDIE course-building process.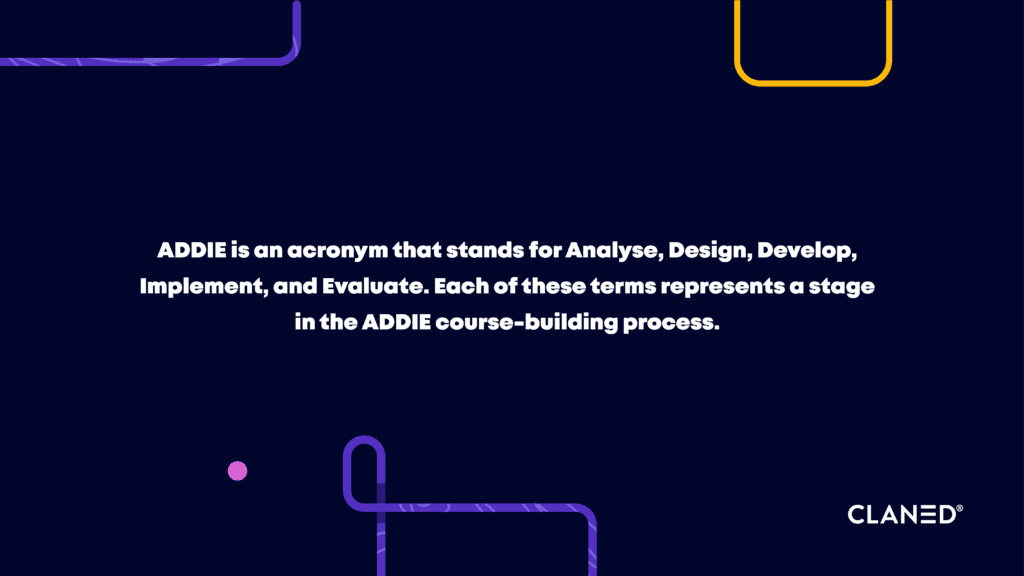 The first letters of the terms appear in the order in which they are supposed to be followed: so, the Analyse stage takes place first, the Design second, the Develop third, and so on. However, the ADDIE model is also flexible enough to allow course builders to follow the stages in a non-linear approach!
First developed in the 1970s, the ADDIE model has since been perfected over the years to become one of the most popular and reliable course-building models in the field of instructional design. Thanks to its effective structure and versatility, it has become the go-to approach for building effective online learning programs today for a variety of industries, purposes and subjects.
So even if you've never built an online course before, you can trust the ADDIE model to guide you towards building a successful course backed by salient pedagogical principles. Just as it has guided a host of course builders before you!
Course-Building in 5 Steps: How the ADDIE Model Works
Ready to build online courses with ADDIE? Let's work our way through each of its five stages: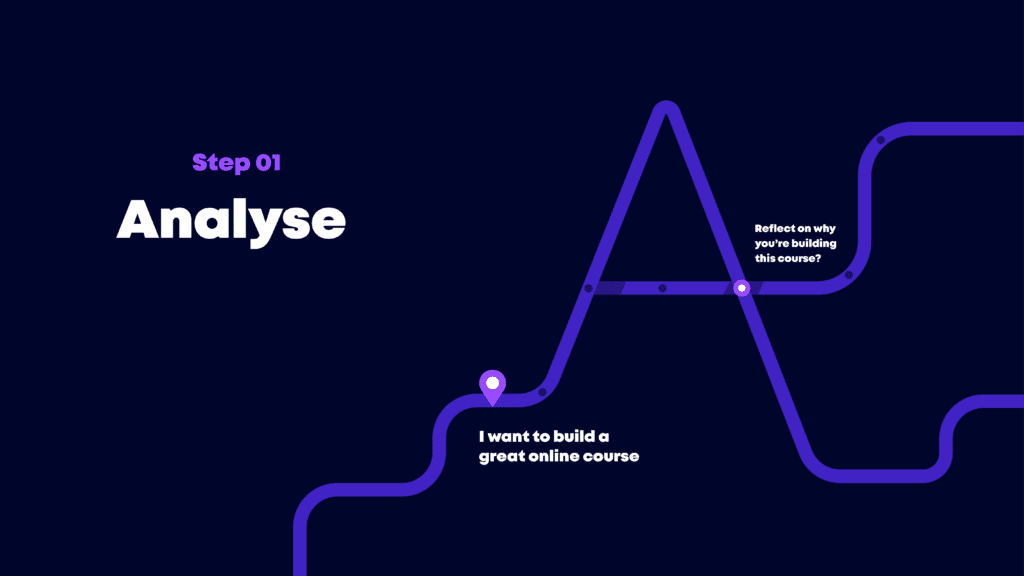 Analyse
Want to build a great online course? The best way to start is by reflecting on why you're building the online course in the first place! So put on your Analysis hat and go around gathering all the useful information you can find about the situation and circumstances around your online program.
Here are a few crucial questions you should be looking to answer:
Purpose:
What problems or issues are you looking to solve with the learning program?
Who does the course ultimately serve? Who are the stakeholders?`
What business outcomes are you and your organisation hoping to achieve with this course?
How does this one course fit into your larger initiative or strategy?
Learners:
Who is your target learner audience?
What can you find out about their learning habits, behaviours and preferences?
What are their skill levels?
What are their needs?
What are their strengths and weaknesses?
Goals and Outcomes:
What learning goals do you want your learners to meet by the end of the course?
What should they know or be able to do by the end of the course?
What constraints or challenges will you be working with in pursuit of these goals? How will you overcome them?
The Analysis stage of the ADDIE process is all about identifying your key issues, creating learner profiles and establishing learning goals and training needs.
Once you have a clearer idea of all of these factors, you'll be in a much better place to understand the challenges you face and the tools, resources and support you'll need to make your learning program a success.
Need more help getting started with the Analyse stage?
Here's a helpful list of the most important questions you must answer before building a course:
7 Questions to Ask Yourself Before Building an Online Course
By the end of the Analysis stage, you should have: Deep and detailed insights about your learners!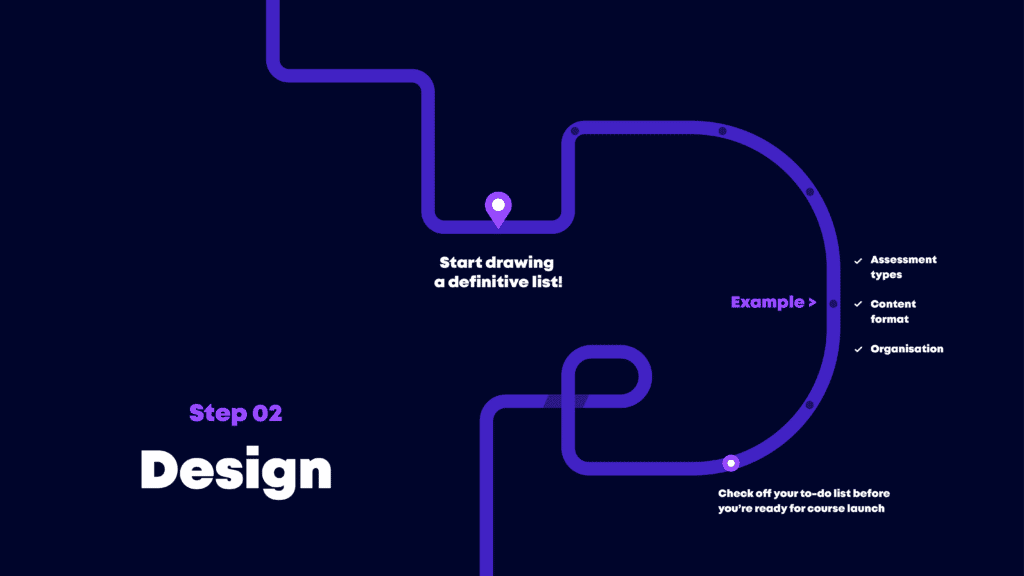 Design
Collected all the information you need to be successful? Great! Now, let's use it to make informed, practical decisions for your online course.
The process of building an effective online learning program requires care, consideration and attention to detail. From course format to assessment types, there are a gazillion tasks and decisions you need to check off your to-do list before you're ready for launch.
The Design phase of the ADDIE model is where you start building this definitive list, leaving no room for doubts or second-guessing along the way!
This is the step where you decide on all the crucial stuff that online courses are made of, such as:
Course Format: Will it follow a simple 'videos and quizzes' formula? Or will your learners be required to take a more active participation role? Will they be required to demonstrate skills by the end of it, or will it suffice to have them read through the materials and answer questions?
Good Read: What is Microlearning? The Beginner's Guide to Maximise Your Course Efficiency
Classroom Models: Will the course be entirely online or will there be face-to-face elements mixed in? Do you prefer a blended learning approach, or are you interested in creating a flipped classroom? Maybe both? Here's the chance to make that critical decision!
Learning Strategy: What kind of tools, resources and materials will you be offering your learners? What would the course timeline look like? Will all learners be learning at the same time, or will the course include asynchronous elements?
Evaluating Success: For the learners, for the course, and for your organisation. What are the checkpoints that indicate your online program has achieved its goals? How will you determine that the learners have achieved their goals?
If you find yourself scratching your head over any unfamiliar online learning terms here, don't worry. Here's our Online Learning Glossary to help you out!
By the end of the Design stage, you should have: a clear course plan with all the above considerations!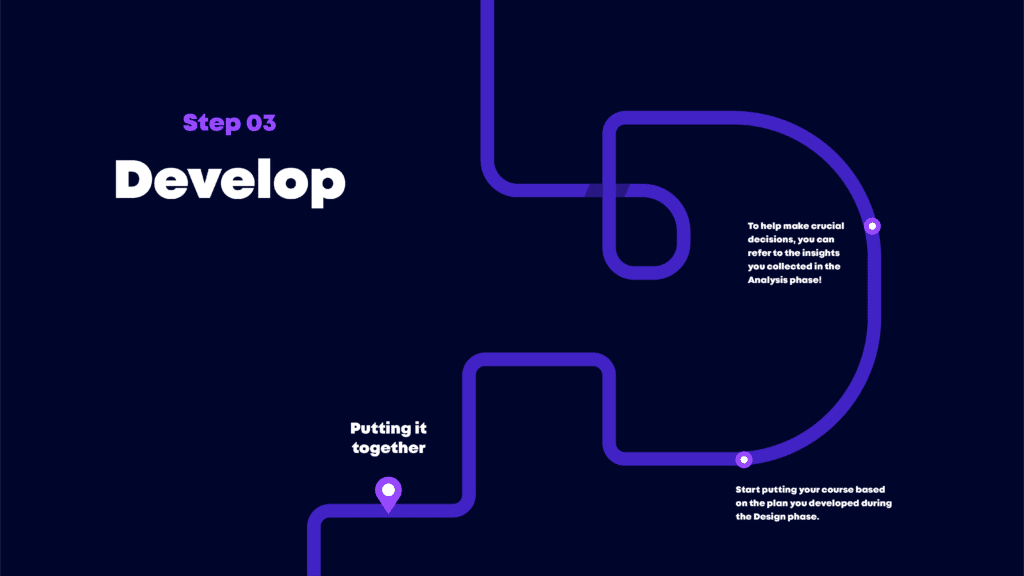 Develop
Bring out your toolkits, because it's time to start building the courses!
Of course, in this case, your toolkit will comprise the valuable insights you've gathered during the Analysis phase and a detailed course plan you've created during the Design phase. (Trust us, the Development phase becomes so much easier when you have both these resources already on your side!)
This is the stage where you start putting together the online course in earnest. Based on the course plan you developed during the Design phase, you can start organising your content and developing the required materials for your online course. To help you narrow down the lesson plan and types of learning tools and media your learners will need, you can refer to the information collected in the Analysis phase.
Here are the considerations you'll be focusing on during the Development stage:
Developing Content: What will you need to create effective, high-quality content for your specific group of learners? What content will best appeal to them? Will you need to interview experts or members of your organisation? Will you need internal and external research and statistics to make your points? Do you have all the resources you need?
Ordering and Structuring Content: There is no point in creating great content if it doesn't appear for your learners in the right order. So, what comes first? What is the arrangement of information that will help your group of learners learn and retain information better?
Presenting Information: What information should you present and in what formats? What should you include as part of readings and what should you turn into videos, audio recordings, presentations or other content formats?
Charting a Course: It's time to figure out how your learners will make their way through all the topics and handle the content and materials. Can they just pick and choose what they want to study next? Or will they go through a pre-planned learning journey with fixed starting and ending points?
Timelines and Deadlines: Time to think about word counts and video lengths: How long should each piece of content be? How much time will the learners spend on the course, and what will the overall timeline look like? Will there be deadlines? If so, what part of the course should the learners have completed by what specific time?
Instructions: Online learning environments work differently from physical classrooms in that learners don't have someone they can go to with questions. Which means your instructions and communications throughout the course will be doing most of the heavy lifting! With that in mind, what is the clearest and most coherent way you can communicate with your learners and point them in the right direction?
By the end of the Develop stage, you should have: a fully formed course, ready to launch with all the required content, tools and materials your learners will need!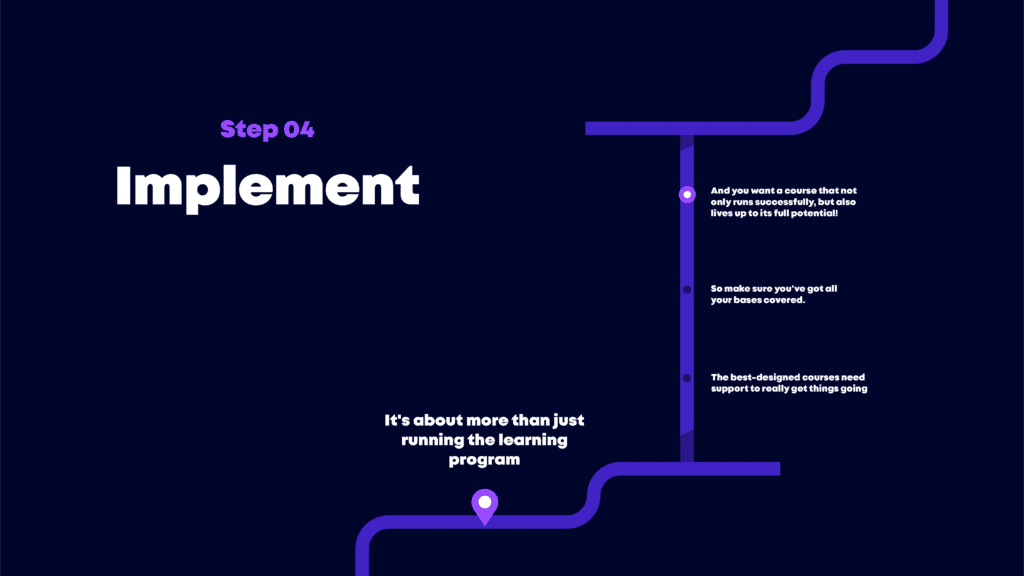 Implement
If you've linearly followed every step of the ADDIE model so far, this is when you'll find yourself with a fully developed online course on your hands. And isn't that just the best feeling?
Now, in the Implementation stage, is where things get even more interesting. On the surface, it sounds basic enough: just run the course, what more is there to do? But smart course builders know that when done right, implementation can be a game-changer for your learning programs.
That is because even the best-designed courses need support to really get things going. If you want a course to not just run successfully, but also live up to its full potential, you'll want to make sure you've got all your bases covered.
Here's what to keep in mind during the Implementation stage:
There's a good chance you'll be running your course on an online learning platform. But not all platforms are built alike. Based on the platform you choose, you could end up with a laggy, outdated-looking course or a sleek, smart and engaging one.
The best learning platforms in the market allow you to track data and tinker with your courses in real-time. They also offer a variety of intelligent features that are valuable not just for the learner experience but also for the organisations running them.

So, if you've got a modern, cutting-edge online learning platform on your side, make sure you're using its full potential as you run your courses. Explore the benefits and opportunities it offers, link it to the goals of your organisation and discover the many ways your platform can help your courses be successful!
In a sea of modern platform options, how do you find the right one? Here's our helpful guide to make the choice easier: How to Choose a Learning Platform
Does your course feature instructors or trainers? If so, they may not be the people involved in creating the course. So in order to guide the learners effectively, the trainers might first need a little guidance themselves! At the Implementation stage, make sure your trainers and instructors have all the resources, instructions and support they need to carry out their roles successfully.

What will the final learning experience look like for the learners? Try giving it a go or encouraging team members to try it out first! Sure, there'll be opportunities for iterations and changes down the line. But that doesn't mean the course can't use an extra pair of eyes, a round of edits and a thorough quality check before it goes live.
This is also a great time to provide support to your learners so that they can experience the course in the way you've designed it for them.
Are they familiar with the platform? Do they know how to use the features, tools, apps and resources that are available to them?
Do they need to be in a particular location or physical environment for the course, or can they access it wherever they want?
Are they required to be online all the time, or can they access the content offline?
Who can they reach out to with questions? How can they communicate with the instructors or with each other?
How can they share feedback with you about the course?
By the end of the Implement stage, you should have: a live and thriving course that your learners can experience on a robust platform (preferably one that allows you to look at how your course is performing in real-time)!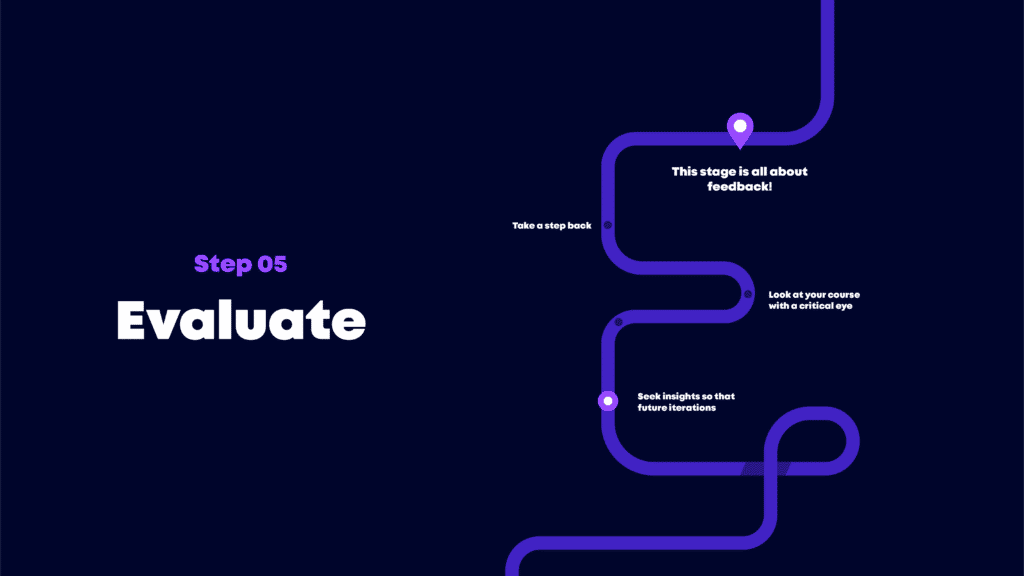 Evaluate
And finally, here we are–at the last stage of the process!
By now, you've analysed the situation, designed a plan, developed a course, and implemented it. And yet, some would argue that one of the most meaningful parts of the course-building process starts now: at the Evaluation stage!
Because let's be honest: this is what the entire process has been about, hasn't it? Course builders don't just build courses for the sake of course-building. Successful online courses are driven by purpose, motivation, and the pursuit of specific goals. And the success of a course is determined by whether those goals were truly met, and by how much.
The Evaluation stage is all about feedback, offering it to the learners and receiving it from them. It's about taking a step back, looking at your course with a critical eye and seeking insights so that future iterations of your course can be better and more effective.
Here's the secret to a successful Evaluation phase:
Remember the goals and outcomes you set out in the Analysis phase? The Evaluation phase depends on them. After all, assessing the success of your course is only possible when you have clear goalposts to compare its performance with. And one of the primary ways to do this is to compare the current performance of your learners to the outcomes and expectations you'd set out for them at the start.
So let's say you wanted your learners to get proficient with a new software program. How do they feel about the program by the end of the course? Did they get used to all its features and benefits? And are they able to demonstrate their proficiency with the software in a practical, meaningful way?
If you made the choice to go with a smart learning platform, this is where you get to reap all the rewards! An ideal learning platform can offer you a goldmine of data about your online courses.
Most platforms in the market will offer you basic data points such as completion rates, pass/fail rates and assessment scores. But more advanced learning platforms (like Claned) can offer you deeper insights into learner behaviours, interest levels, knowledge gaps and more–both during and after the course.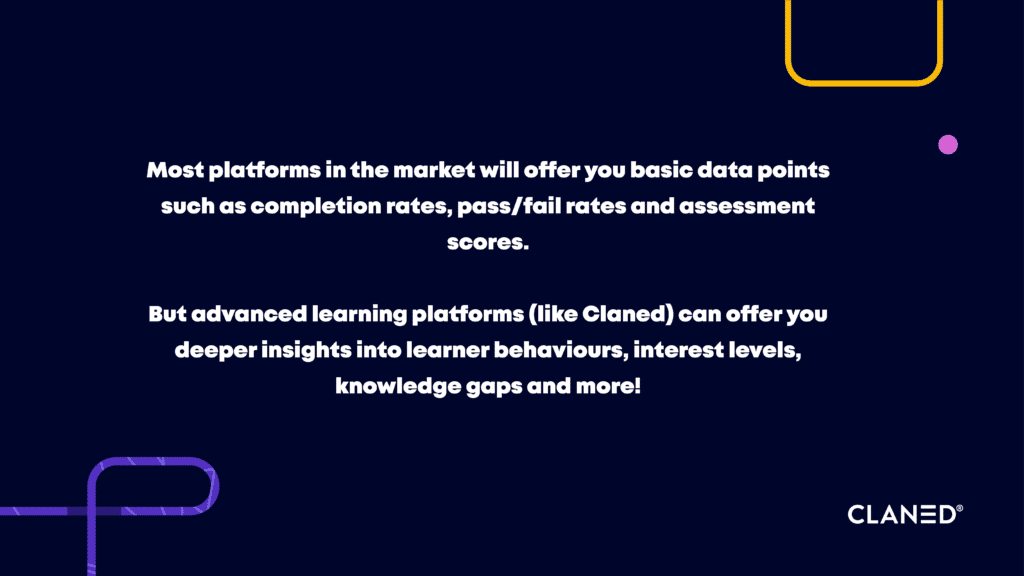 They can also spare you the trouble of trudging through the data yourself. Instead, you can receive personalised data analytics reports with actionable insights and recommendations, so you can spend your time doing what matters–improving the learning program.
Who better to get an opinion on your course from than the people it's designed for? While the Evaluation stage is certainly about evaluating the performance of the learners, it's important to remember that your course is also being evaluated.
Offer your learners the opportunity to provide their thoughts and suggestions about the course experience through surveys or end-of-course feedback forms. Ask questions like: What did they enjoy most? What could be improved upon? Was there anything missing in their learning experience, any gaps or lack of tools? How did the course contribute to their knowledge or skill levels?
By the end of the Evaluation stage, you should have: a collection of ideas and suggestions on what you need to do to improve the learning experience and achieve your course goals!
Good Read: Needs Analysis: Common Types and How to Do One Step-by-Step
Why the ADDIE Model Works
By this point, you must've gotten to know our friend ADDIE pretty well!
But maybe you're still just a teeny bit unsure about whether the ADDIE model is the best approach for your online course? Fair enough. How about we look at the three big reasons why the ADDIE model is linked with building super successful learning programs:
It offers a structure you can trust!

"Where to start, what to do next, am I doing this right?": course-building can seem like a daunting process even at the best of times.

But the ADDIE model helps break the whole thing down into ordered, logical and manageable tasks and considerations. It offers a research-backed, tried-and-tested, step-by-step framework that can be used to build an entire online course! Every course builder's dream.
It helps you perfect your online courses!

By its very nature, the ADDIE model is cyclical and iterative. What this means is that with every iteration, any tweaks, improvements and feedback from your course can be fed right back into the ADDIE process all over again.

Example: Say you learned something valuable about your learners during the Evaluation stage–such as the fact that they prefer shorter videos to longer ones. During the Analysis stage of your course's next iteration, you can make a note of this insight. Then, during the Design and Develop stage, you can use this insight to make informed decisions about the length of your videos.
It sets you up for success!
In the busy process of building a course, it can be easy to forget why you were building it in the first place! The ADDIE model is a surefire way to establish clear goals and outcomes for your course from the very beginning.
Every stage in the model then helps you keep your goals front and centre as you make various decisions throughout the process. As a result, all elements of the course–the content, activities, assessments, tools and discussions–serve those goals and outcomes.
Free ADDIE Model Design Template
Want to build your own online course by following the ADDIE model approach? You're in great company! Course builders and organisations around the world use the ADDIE model as their framework of choice to develop a host of learning programs–online and offline.
Here's how you can get started too!
Download our free easy-to-use ADDIE Model Template and set up your online courses for success today! Fill out the questions and prompts for each stage in the ADDIE model template.
By the end, you'll have a clear and concise course plan with all the details, considerations and pointers you need to build a successful course!