If you're someone who likes keeping up with the latest healthcare industry developments, you must be familiar with the speed at which the world of online medical training is growing. 
In fact, a recent report by Technavio claims that the current medical education market is driven primarily by the number of online medical education programs. It also goes on to state that "medical professionals are increasingly replacing traditional physical classrooms and using online training modules".
But here's the thing: even as online medical trainings continue to expand across the healthcare industry, there is still a lot to be said about the most effective means of implementing them. 
Keep in mind that these are no ordinary trainings. They carry an immense amount of importance and significance specific to an industry dealing with life-changing decisions on a daily basis.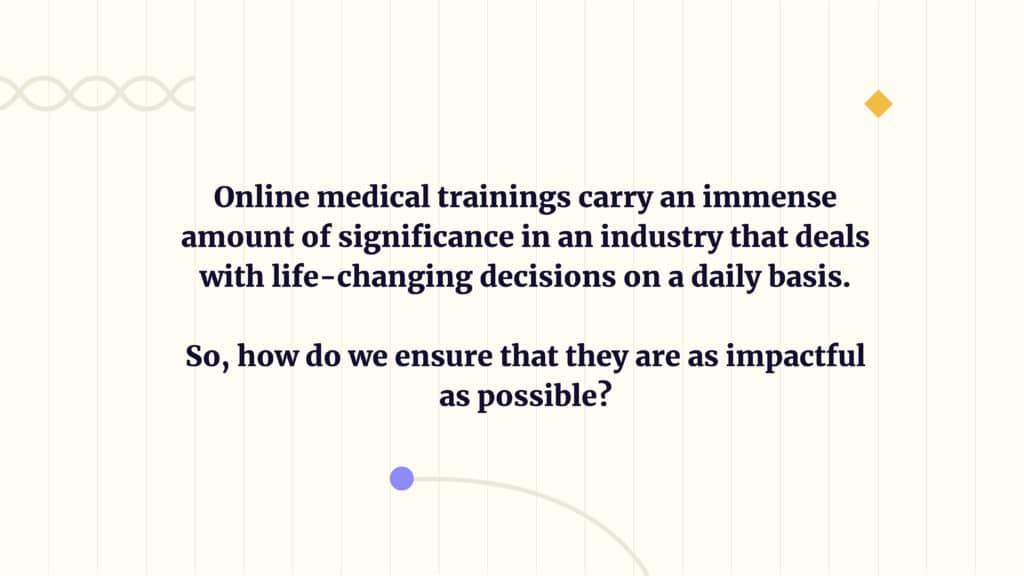 So, how do we ensure that these emerging online medical trainings are as impactful as possible? What can help us get there?
We think that what's needed might just be an expert pedagogical opinion.
Here's what we've observed working on projects across industries: sometimes it takes an "outsider" – someone with specialised expertise not in the industry itself but rather in strong pedagogical principles – to really understand how learning within that industry could be enhanced and optimised.
In that spirit, we had a deep conversation with digital learning expert Hanne Koli who has extensive experience in developing online trainings in medicine, among various other industries. She sheds light on how to effectively implement digital learning principles and develop online medical trainings that can truly get the job done.
Meet Hanne Koli
Based in Helsinki, Hanne Koli is an accomplished pedagogy professional with 25 years of experience working in education and educational businesses. As a learning designer specialising in digital learning, Hanne has worked with and trained a number of organisations and ministries both in Finland and abroad.
Hanne also runs her own education consultation company called House of Leading & Learning which offers consultation and publishes online learning materials centred around various digital learning areas.
When asked about the most common problem that organisations, including medical companies, face when adopting digital learning, Hanne had this interesting tidbit to share:
"I find that when it comes to digital learning, the 'learning' part is widely understood. There is plenty of resources and information that help explain that aspect. But it's the 'digital' or the technical part of the concept that people generally have a hard time with."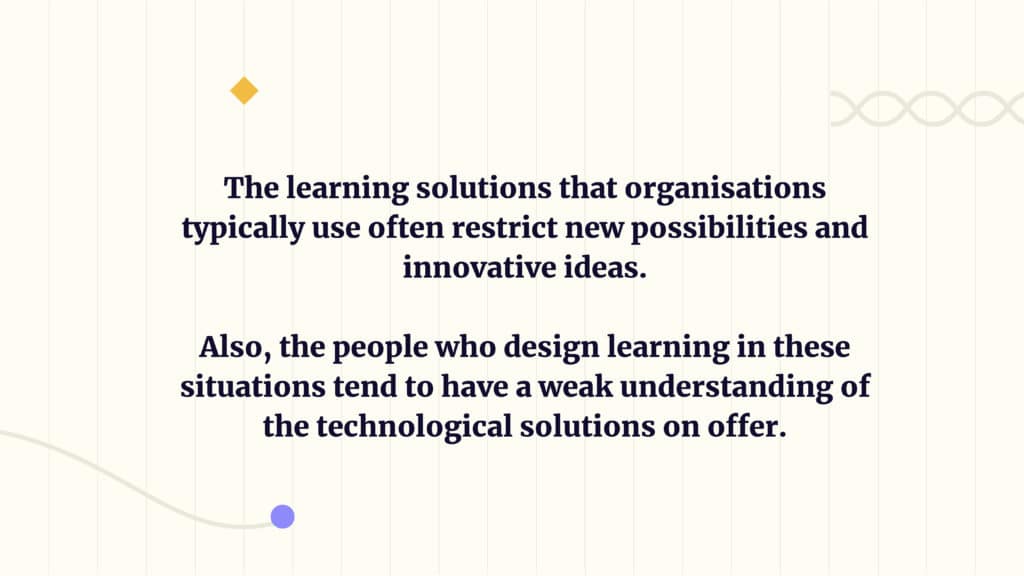 Hanne explains that this is because the learning solutions that organisations typically use often restrict new possibilities and innovative ideas. Another problem is that the people who design learning or work as educators tend to have a weak understanding of the technology or technological solutions on offer.
And that is exactly what makes someone like Hanne an essential asset.
"As a pedagogical expert, you have eyes that are able to gauge the exact kind of learning experience that a particular area or industry could benefit from. An outsider can see through constraints, bring in a pedagogical perspective, and help you plan and organise more suitable learning programs – that's where I come in."
Digitising (and Visualising) a Nursing Studies Programme
It is this astute pedagogical perspective that Hanne brought to her time developing online medical trainings for Laurea University of Applied Sciences. 
The larger goal was to digitise Laurea's highly sought-after nursing degree programme (they are the largest educator of nurses in Finland). It was incidentally also one of their most expensive courses to run, which is why the digital learning solution was to be impactful as well as cost-effective.
But in particular, the course was designed to solve issues with traditional instruction, especially when it came to crucial subjects like drug and dosage calculations. Traditional teaching methods often fail nursing students in this particular area of study, which leads to grave mistakes in hospitals. This new digitised course aimed to ensure that the nursing trainees had a deeper understanding of the subject and learned better.
The first step was to weed out the problem areas. Which in this case, as in most traditional medical trainings, was the overwhelming amount of text and extensive reading required of the trainees.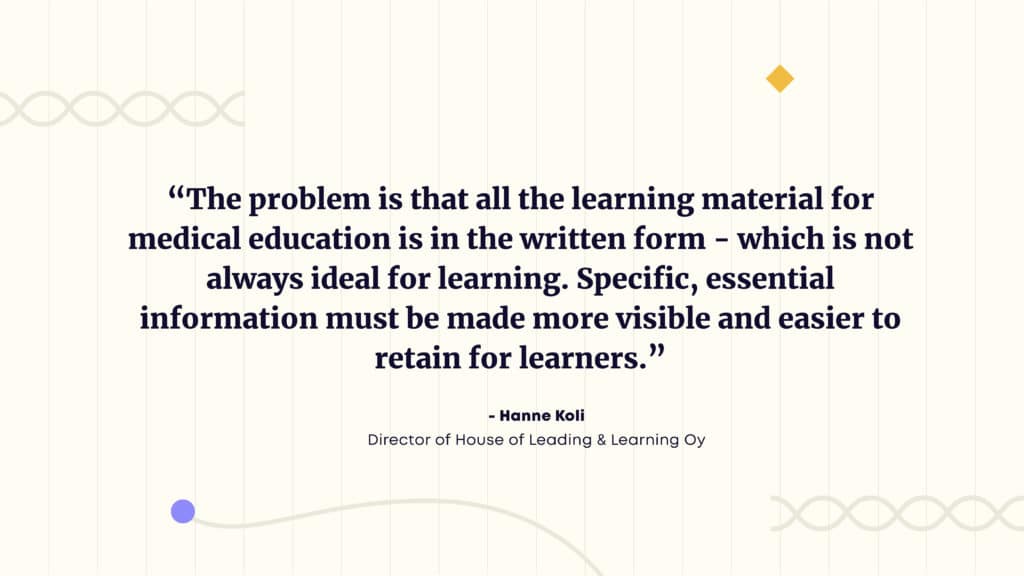 As Hanne explains, "The problem is that most of the learning material for medical education is in the written form – which is not always ideal for learning. Specific, essential information must be made more visible and easier to retain for learners. A lot of the learning experiences for these nursing students did not engage them visually."
To that end, digital learning offered an efficient solution since it allows visual media to be much more easily integrated into the learning process.
"So instead of simply listening to lectures where the medical trainees didn't really learn a whole lot, we made it so that the learners could engage with the content on these digital courses," says Hanne. "We collected different medical-related content and materials and presented them in a way that visually and more naturally highlighted essential information".
It's one of the reasons why Hanne loves the video integration features on Claned. "It's incredibly easy to integrate video hosting platforms like Vimeo and make learning instantly visual. You could also, for example, integrate a 360-degree viewpoint video of a patient room to help trainees better understand real medical situations", she says.
But at Claned, we also understand that it's not just enough to offer learners a series of moving images to look at – they must be given the means to engage with it, too. That's where the contextual learning feature comes in handy, especially in online medical training settings.
In Hanne's words: "It's the only learning platform I've ever seen where you can actually comment on the videos and have people gather around it, discuss it and share perspectives on it. All of this greatly helps people build on and develop their work".
Collaboration in Medical Trainings – Why Social Learning Matters
Hanne's insight touches upon an important element that makes online medical training effective – collaboration.
Collaboration is integral to medicine – the regular sharing and transfer of various forms of information between medical practitioners is key to life or death decision-making (see our previous blog on the topic). In face-to-face medical settings, collaboration is easy, almost natural, to achieve.
Recreating that sense of collaboration in an online medical training setting, however, needs a few extra helping tools. What does Hanne recommend? Social learning.
"I think the idea of social learning should be used more in medical trainings. Face to face discussions are often steered by the most vocal in a group, while others who are quieter might remain unheard", she says. "But in online trainings, a social learning feature can make it easier for everyone to share and have their ideas be seen, which helps open up new perspectives on the learning material."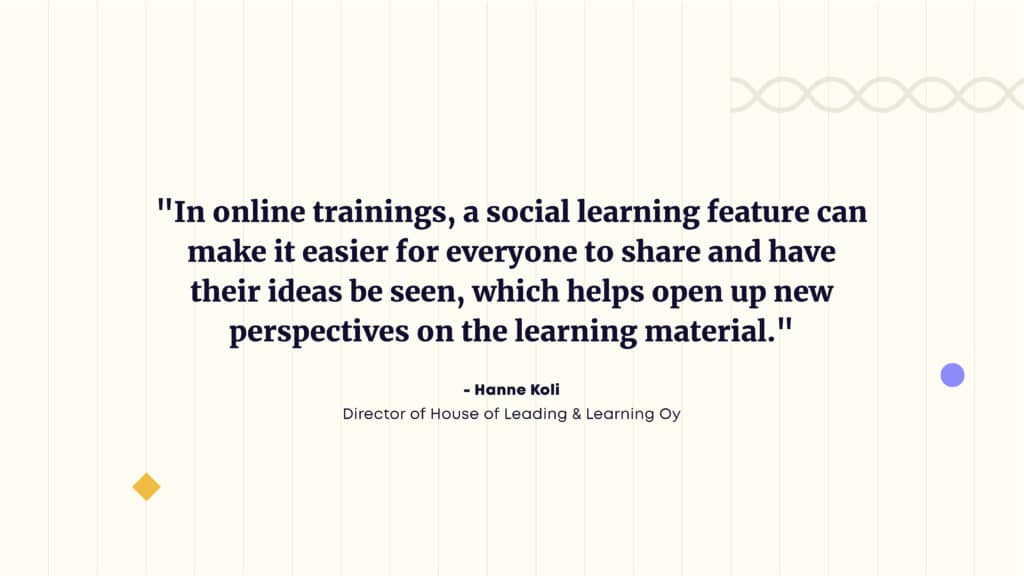 The social learning feature in Claned, for example, not only allows but encourages participants to comment on course material and have extended discussions with each other. This collaborative and interactive element often leads learners to stay motivated and engaged with the course but more importantly, it continually offers them fresh insights into the same experience. 
"In the medical field, having this feature might be crucial. Different trainees might approach the same situation differently and it's important to have discussions around that before they delve into real-life clinical contexts", says Hanne.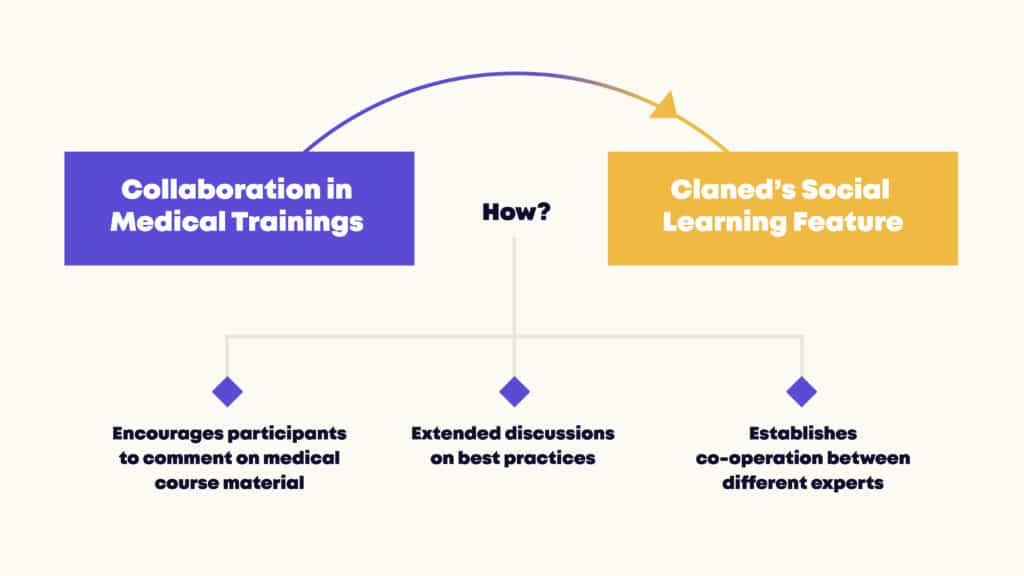 She further adds: "It can also help establish co-operation. At the training stage, when you engage with people who come with different expertise to the table, social learning allows you to have a shared cognition. We learn to work with people who know different things about the content, and we see how this knowledge could be usable for innovating and solving problems".
Helping Medical Students 'Prep' for Real Life with Medical Training
One essential thing that sets medical trainings apart from other forms of training is the immense stakes. When trainees are out there making potentially life-saving decisions, you want to make sure that they're able to turn the knowledge they've gained into practical experience.
But that is not always the case – the theory-practice gap in medical education has long been an unfortunate reality.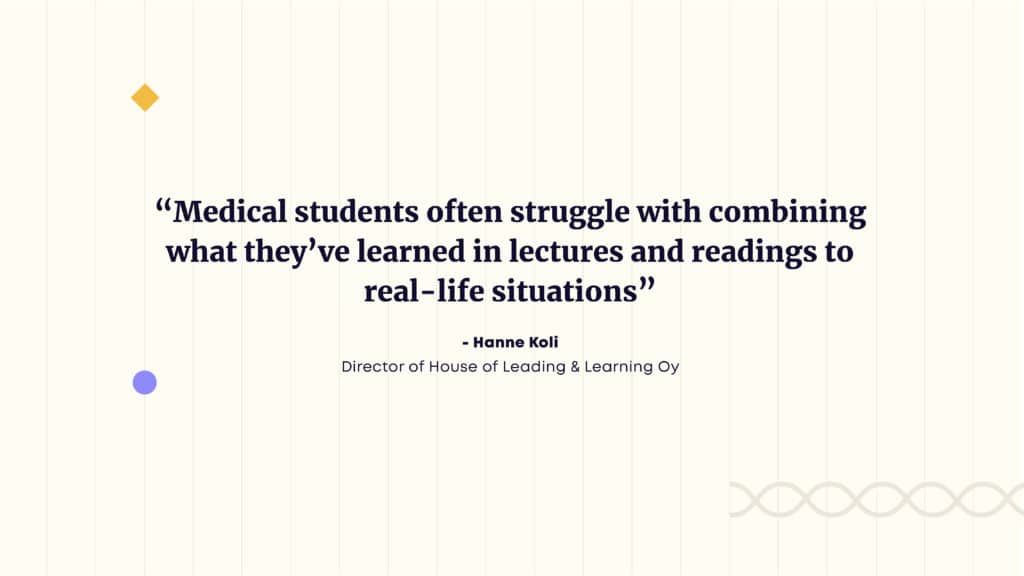 "Medical students often struggle with combining what they've learned in lectures and readings to real-life situations", explains Hanne. "It's almost like the theoretical knowledge and practical applicability are being stored in separate areas of the mind – it's difficult to combine them when they've been learned separately".
But according to Hanne, that is exactly where digital learning solutions could offer some hope. Online medical trainings have the advantage of being able to combine multiple forms of information at the same time and engage learners in a number of distinct ways.
"One way that leading medical institutes achieve this is through animations that demonstrate how, for example, a medicine would go down a person's system and affect it", Hanne says. "Another example is simulations of procedures on digital models or in digital rooms that re-create real-life medical scenarios".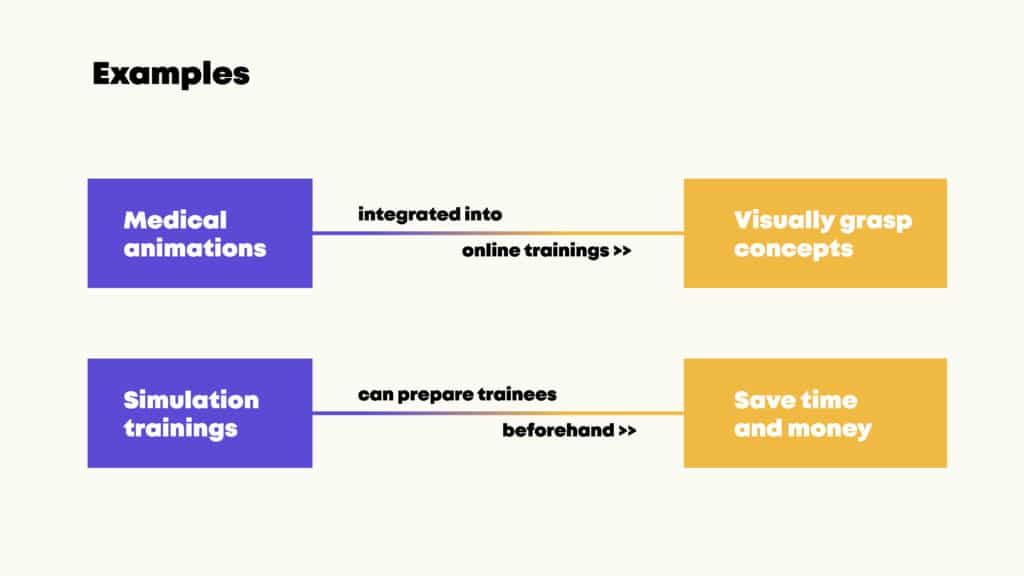 While medical-related animations can be easily incorporated into online learning platforms, simulations cannot be entirely digitised. But even then, like a flipped classroom, online medical trainings can help prime and prepare trainees for the actual simulation experience. Considering how time-consuming and expensive these simulation trainings can often be, these entirely online preparatory courses can help save both money and time.
To this, Hanne also adds another interesting point: "There is scope for learning from watching recordings of simulation trainings. But more than that, when you have a platform like Claned with contextual learning, trainees can comment on, discuss and ask questions about specific parts of the recorded videos together".
"So, they can take the simulation experience and go deeper with the learning takeaways from it. They can also replay, repeat and therefore, better recall specific sections when they eventually perform the simulation training themselves", she elaborates.
Final Thoughts: Making the Right Choice in Medical Training
All of this brings us back to Hanne's nursing programme digitising experience. How did that turn out in the end, both for the institute and for the learners?
"The change was radical", Hanne recalls. 
"In the lecture setting, the learners didn't have any control over their learning experience. But the transfer to self-paced online medical training gave them autonomy. Moreover, with a more visual and interactive testing experience, they also developed a stronger grasp and recall of the concepts".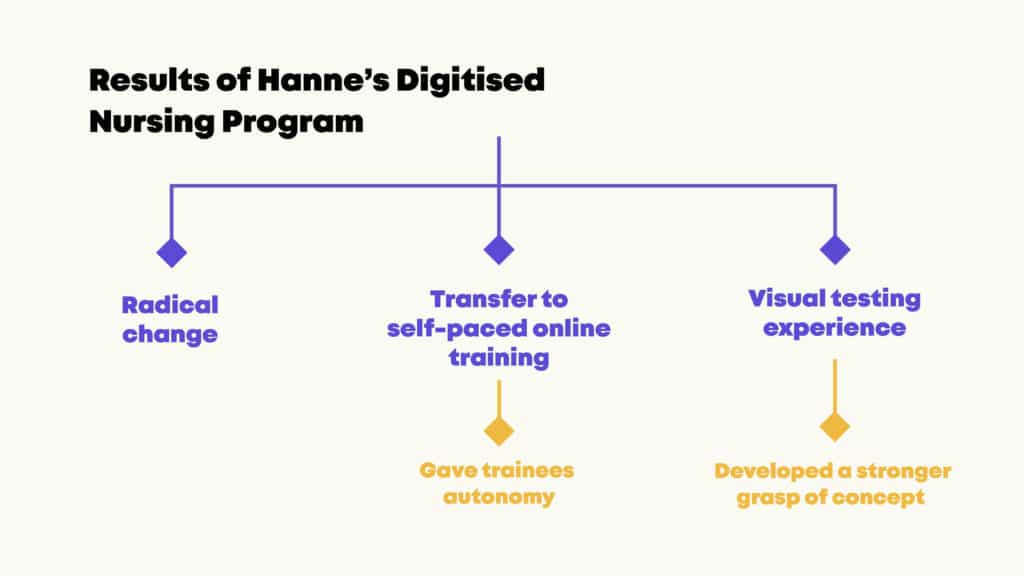 With that said, and this incredible success story behind her, what advice would Hanne like to offer to people building online medical trainings?
"I would say that whatever medical area you're working on, it's true that the information is key. But you also need to think about how this information is learned", says Hanne. "And if you're carrying out this learning process on a digital platform, there needs to be a focus on how you build this learning experience so that it's easier to understand and participate in".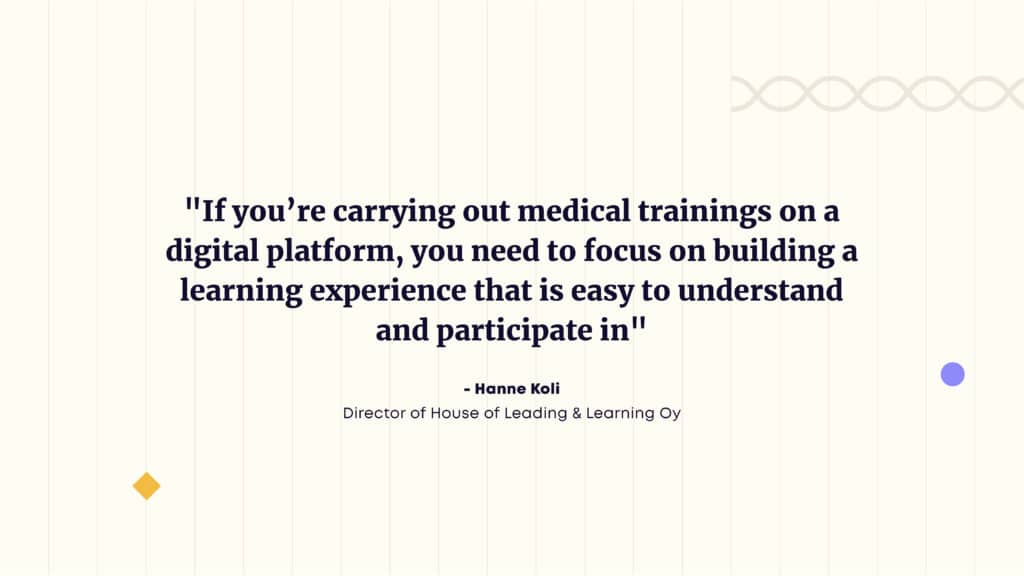 And the best way to achieve that? Choose the right online learning platform. That's a choice Hanne made a while back.
"When it comes to deep learning and content sharing, I've chosen to stay with Claned a long time ago," she says. "It's so easy to manage the courses and create possibilities in the learning experience. And you don't have to explain much since everything you need for the courses is already there for the learners".
Want to build your next online medical training on Claned? Book a demo with us today!