You've been hearing it everywhere: the future of organisational learning is online, or incorporating online trainings.
And it's no longer just individual organisations making "the big switch" to online trainings, either. In a post-pandemic reality, entire industries are looking to move their professional education into the digital realm.
The best part? All of this large-scale transition to online learning is set to pay dividends for its adopters in full, and more.
As many as 42% of companies that use online learning report higher revenue levels. Organisations making use of online trainings report 25% higher profits than those who do not – as well as an increase in average employee-generated revenue of almost 218%.
So, what's the catch?
Well, as cliched as it may sound, it's not so much a "catch" as it is an opportunity – ready to be addressed and resolved. And it goes by the term "learner engagement".
Human learners might be moving away from traditional face-to-face learning environments, but the need to keep them curious and interested in the learning process remains the same.
Now, it falls to the world of online learning to find creative ways to make sure that trainings remain as engaging as traditional learning (if not more) for learners across industries.
Which is exactly why we thought it a great idea to look for direct insights from experts who resolve learner engagement challenges on a regular basis! And, in the process, learned a whole lot about how online learning can benefit businesses and where the trends in online trainings are headed.
Meet Our Experts
Shedding light on learner engagement in online trainings are our two experts from the world of learning consulting – Matteo Crusiglia Cabodi and Massimiliano Mattei.
The two are members of the excellent team at Italy-based Business Performance Institute (BPI) where Matteo is currently a Project Manager and Massimiliano, a Learning Consultant.
BPI was founded in 2009 as a solution to the growing demand for organisational learning and capability building across industries. Today, the company stands as a leading figure in the learning consulting industry with clients around the world in healthcare, finance, technology and transportation among others.
"We partner with leading companies and organisations to build learning programs that can help them develop their capabilities and leadership", explains Massimiliano.
But these are no ordinary learning programs.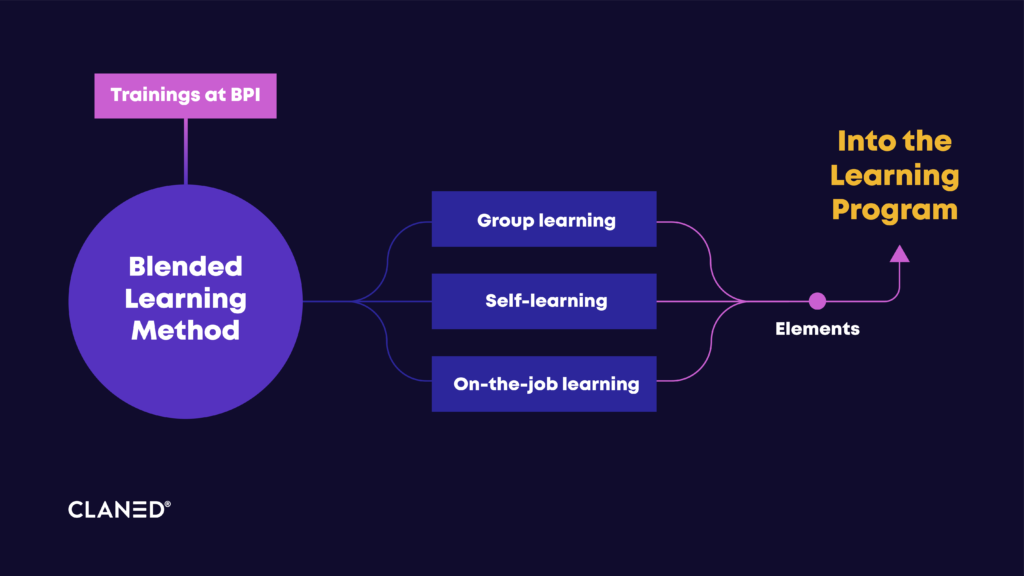 The trainings at BPI apply the latest science of learning studies, believing in a "do and understand" philosophy: learning happens at its best when it's practical. Their learning experiences are built according to a 'blended' model that brings together group sessions, self-learning elements and on-the-job activities to ensure the achievement of business targets and achieve lasting transformation.
BPI learning programs can be effectively delivered in a live setting, but here's what's most interesting: with the advent of the pandemic, the design of their programs has successfully adapted to be entirely online-based!
Solving Engagement: The Big Learning Challenge
As people who are in the business of regularly designing and offering online learning solutions, Matteo and Massimiliano understand the problem of learner engagement better than most. Especially, when it comes to comparing online training experience with face-to-face settings.
"In a live setting, it's so much easier when there are people in a room together following you as the facilitator. So it's a challenge to keep people as interested in the online training experience as they would in a live session", says Massimiliano.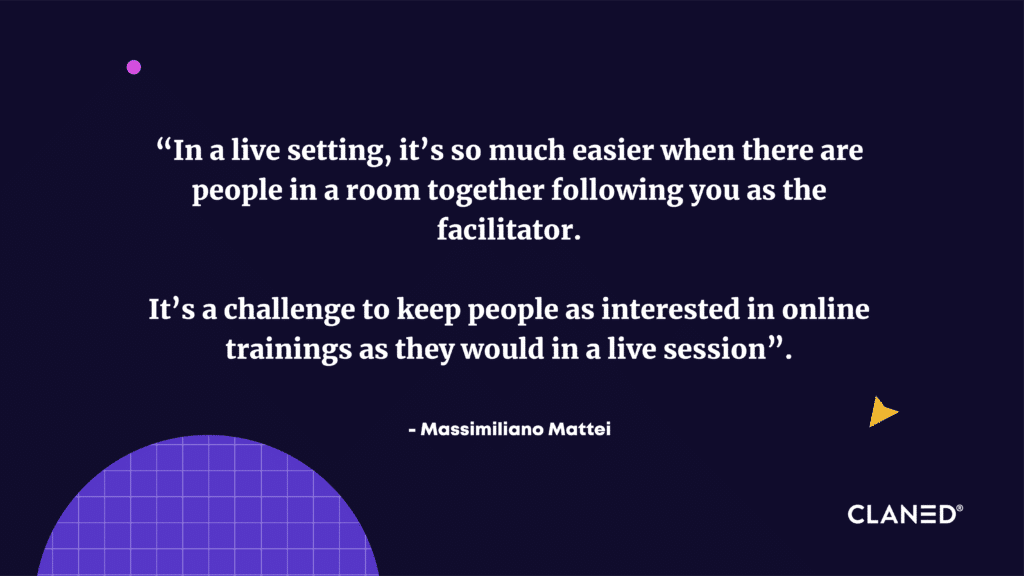 Another major issue that online training programs often face is that of making sure that learners are able to focus or follow along with the overall learning process.
As Matteo explains, "It can be difficult to ensure that you have the learners with you. In a workshop, you can simply ask people to switch off their computers or digital devices. Not so much in an online setting, of course".
But what at first glance seems to be a result of the shift to online learning, is actually an issue that can effectively be resolved with the help of online learning, too. The key, of course, is to know what to prepare for and how.
For Matteo, an important element of engagement lies in nurturing the human component of learning.
As he explains: "Some of our initiatives can go on for as long as a month or two. So in between sessions, it is essential to frequently check-in and interact with the participants and ensure that they're making progress".
Matteo also firmly believes that to ensure high engagement, an online training environment must promote and foster a sense of community among the learners.
"The cohort in an online learning program should be able to come together not only during workshops but also in various other online contexts", he says. "A learning experience platform like Claned allows us to do that extremely well. It helps us ensure that discussions are ongoing and that the participants are not only reactive but proactive".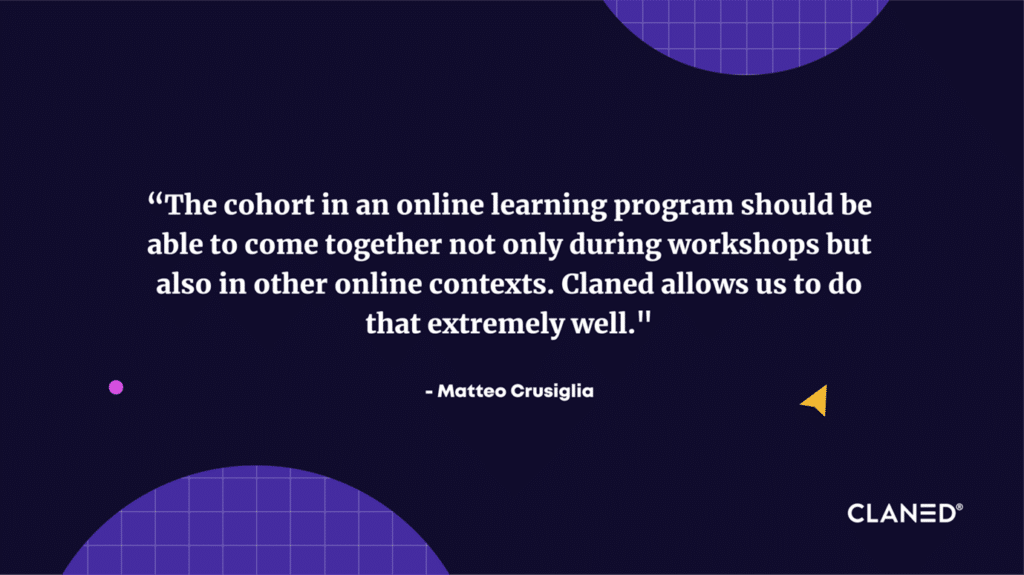 Here, Matteo is referring to features like Contextual Learning and Social Learning that come built-in on the Claned platform. During the course of a Claned program, these features encourage participants to comfortably get together and discuss course materials, leave comments, and offer feedback on each other's progress.
But that's not all. As Massimiliano points out, there's another benefit to online training experiences that goes a long way in keeping participants engaged.
"A well-designed online learning environment also makes it easier for people to manage the asynchronous part of learning. So when it comes to things like blended learning, being online can allow you to have some sessions together as a group and some sessions that you can take at your own pace", he explains.
This convenience is certainly enjoyed by professionals participating in online learning programs across the world, leading to higher morale and productivity. Reports show that as many as 58% of employees prefer learning at their own pace!
"And if you have a platform like Claned that integrates various online tools and features, it allows participants to do this blending of different learning modes in smoother and more comprehensive ways than before", adds Massimiliano.
Picking and Leveraging the Perfect Platform
So when resolving challenges with learner engagement in online trainings, there are two key learnings to keep in mind.
One is of course to have the appropriate strategies in place, right at the level of learning design. Integrating human elements, fostering community and encouraging learner autonomy – all of these help bridge the gap.
But two, and perhaps the one that interests us the most, is the need for a powerful online learning experience platform…to put all of those strategies to good use.
"In so many initiatives where we're being contractualised, there is a clear need from the get-go for a high-end learning experience platform that we strongly believe in. That's when we turn to Claned", says Matteo.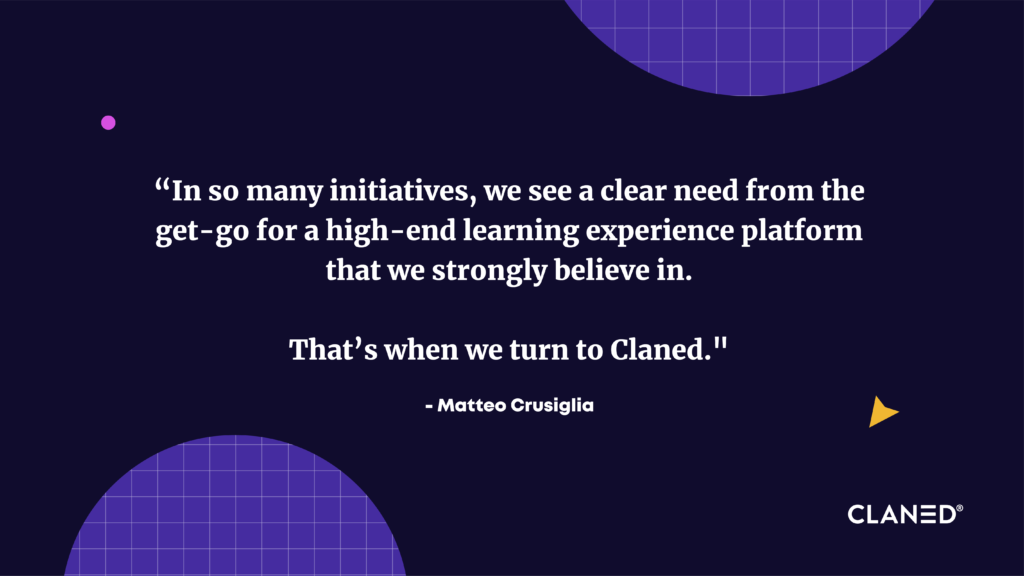 "We have shared a lot of adventures with Claned – from defense organisations and pharmaceutical companies, to a healthcare foundation project in Mongolia with more than a thousand doctors and pharmacists involved ", he adds.
Indeed, our experiences working on projects with the BPI team have been some of the most insightful learning opportunities for us. During our collaborations, we've often used the full potential of the Claned platform to great effect and successfully carried out the engagement strategies described by Matteo and Massimiliano above.
But there's one particular feature of the Claned platform that, to Matteo, signifies one of the greatest benefits of moving organisational trainings online: learner analytics.
"What we really appreciate about the platform is how it helps us recognise a program's learning impact. Apart from tracking engagement, the technology helps us keep track of learning through performance indicators", he says. 
But it's not just about staying apprised of how many people have done how many tasks. It's also about tracking the proficiency levels of the learners in activities, throughout the learning experience.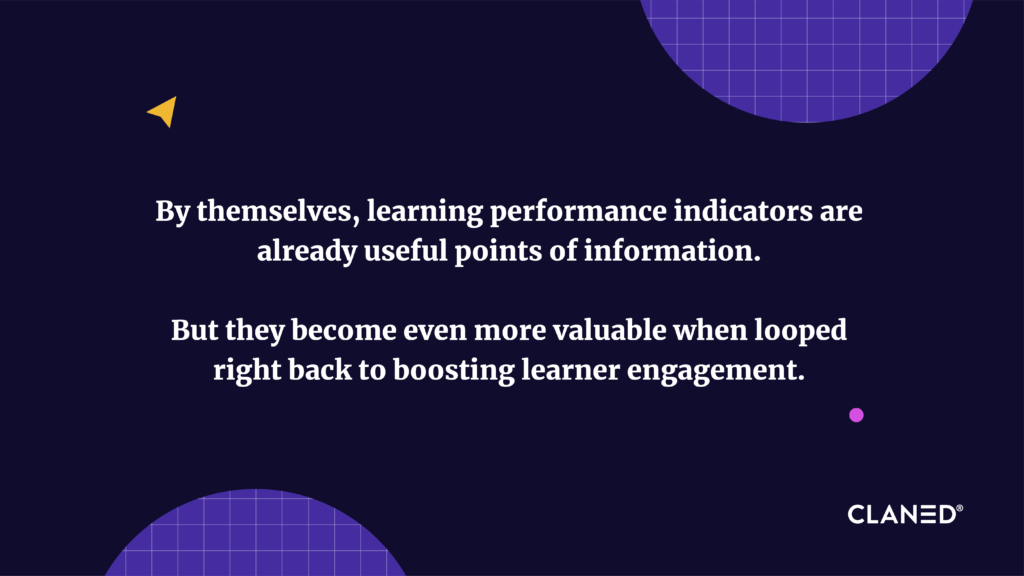 By themselves, these learning performance indicators are already useful points of information. But they become all the more valuable when looped right back into efforts to boost learner engagement.
"If I see that some learners are not engaging with the learning experience, I can selectively engage with them. I can have dedicated discussions to check in and see if things are working fine on their end or if they're in need of help", says Mateo.
For those of us in the online learning world, learner analytics have always been magical numbers with immense hidden potential. But we're happy to report that the magic in these numbers is quickly being recognised by organisations and businesses around the world as well.
Online Trainings: The Turning Tide of Customer Sentiment
Matteo and Massimiliano remember a time when making the push to take trainings online was nothing short of an uphill battle. But as technology has evolved, and online learning with it, the expectations of clients have changed drastically.
"I've noticed that today, clients take online learning as a given and view it as a starting point for learning opportunities. They've become less and less skeptical as online learning experiences prove their value in industries everywhere", says Massimiliano.
"The feedback from our clients, especially when it comes to leveraging a platform like Claned, has only been growing in positivity as the years go on", Matteo adds. "In the past few years, in almost every learning experience we've designed, online learning and the use of a good learning experience platform has been a heavy component".
And this shift in client sentiment has been made all the stronger by those wondeful 'magical numbers'.
When a platform like Claned provides a company with solid, tangible data for its learning impact, it indicates good things for the company's business outcomes too.
"We are able to provide clients with granular, in depth learning data instead of the traditional KPIs for learning like 'participation' or 'knowledge growth'. The focus is on building dense impact reports with deep data points", Matteo explains. "That is where the luxury of working with a learning platform like Claned proves so valuable".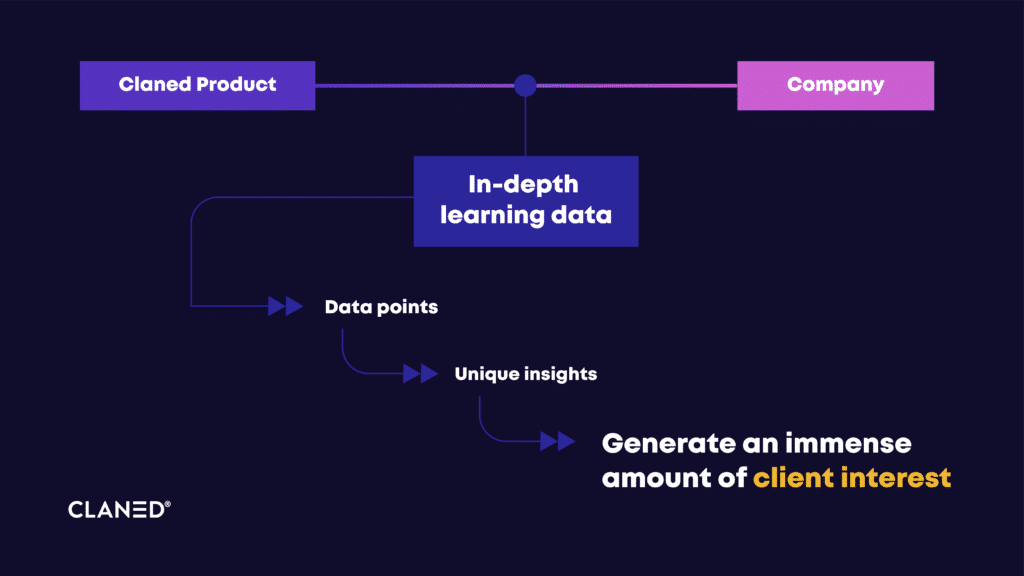 These data points offer unique insights into the learning experience, and therefore generate an immense amount of client interest. There is a lot a company can take away even from unconventional data points, like engagement on individual pieces of content. The idea is to create a full 360-degree view of the learning experience.
And of course, there is the lucrative element of being able to link learning performance data to business targets.
"There are, of course, a million parts in that. But the idea is to be able to gauge whether a learning program has been able to produce a middle to long term impact on the business output", Matteo explains.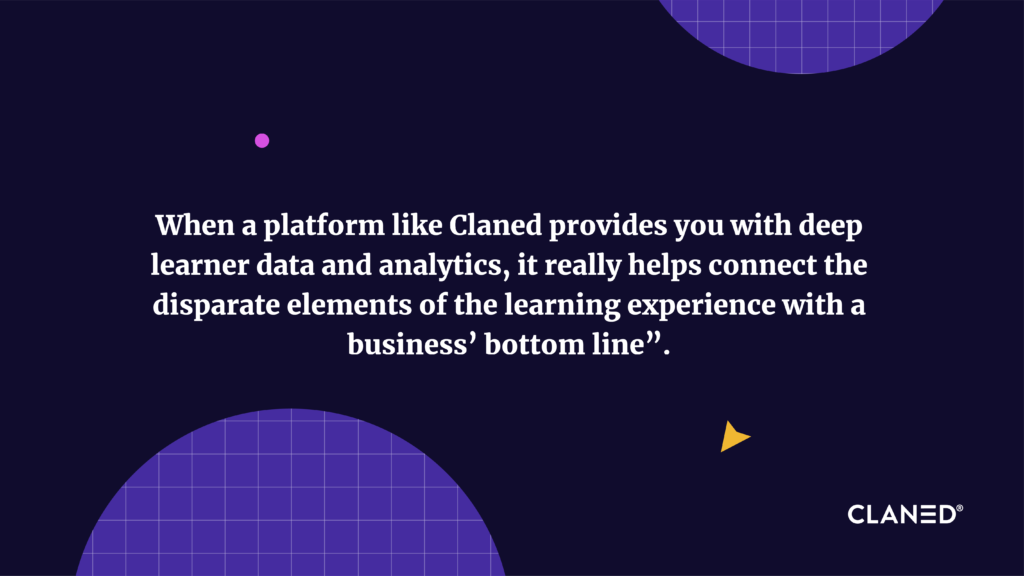 "So when a platform like Claned provides you with this deep learner data and analytics, it really helps connect all these disparate elements of the learning experience with a business' bottom line".
And that's just what we like to hear!
Beyond Engagement for Online Trainings – with Claned
Here at Claned, we're glad to be able to offer organisations training experiences that are full of insight from multiple perspectives. On the one hand, an organisation can use the platform to put various engagement strategies to use – and use learner engagement data to boost the efforts.
On the one hand, an organisation can use the platform to put various learner engagement strategies to use – and use our learner engagement data to boost the efforts. On the other hand, companies also get an opportunity to dig deeper into how engagement can translate into business outcomes with our learning analytics feature.
Want to get the best of both worlds — boosting learner engagement and gaining valuable insights – for your business too?
Reach out to us at sales@claned.com and let's get building online training programs for your organisation today!