2020 was (and 2021 is) a year of digital revolution in learning and online learning. Revolution in this case means that so many schools, educational institutions and companies had to abandon their traditional face-to-face classroom education and replace it with online classes and digital educational materials. Some had more experience while others had to start basically from scratch.
Us being a group of professionals who specialise in creating digital learning environments, you can only imagine how busy and exciting our year was. We completed varying projects to a whole host of schools and companies, fulfilling their specific educational needs and helping them realize the advantages online learning has to offer.
There was one with CAPYEI, an organization that trains job skills to out-of-school youth in Kenya, who needed to completely digitalise their teaching in a very short amount of time. Then there was another project with Professio, a company providing corporate training, who had to move from 95% onsite training to 95% online training without losing the quality of their courses.
Looking back at 2020, we found some key insights that we think are crucial to offer quality digital education and training. Although every organization is unique and have their own way of doing things, here are some near-universal lessons that every trainer and educator should take notice of.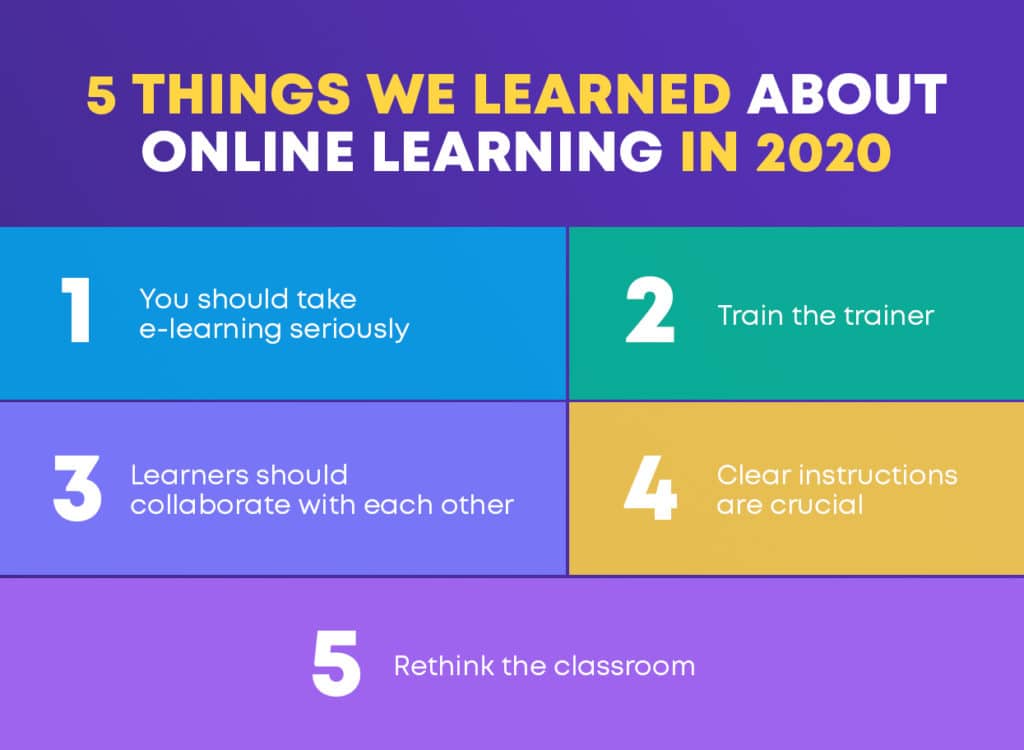 You should take e-learning seriously
The role of digital learning is only going to increase in the future, so you should not scoff at e-learning. This means that when you do digital classes, you should make sure they are done in an engaging way. Many have migrated their face-to-face training to a video conference format, but sitting on these calls can be intensive. Managing big masses is difficult, and participants' chances for interaction are limited.
Treating digital learning like a "normal" classroom, where learners are expected to listen to long lectures, isn't often the best way to conduct classes. Instead, you should try to include elements that promote interaction and activate learners, so that the people on the other end of the line won't doze off after 20 minutes. Embrace the advantages of online learning and the possibilities of 21st century education. 
Train the trainer for online learning
For a teacher to become familiar with digital education isn't something that happens by itself. The trainer also requires access to quality training. Teachers should be retrained so that they are able to deliver effective online learning to their students. This includes practical skills, like the use of various technologies and tools, as well as taking in theoretical knowledge about how to deliver effective online learning.
Even if you know the subject inside and out, you still have to adapt to presenting in a new environment and with a new set of tools. It's almost like moving to work in a new city: it's easier to settle down and continue doing what you do best if you have someone to show you how to get around.
Learners should collaborate with each other in the online learning platform
With increased distance and remote learning, one of the biggest things that suffers is the sense of community, or a group atmosphere, surrounding the learning. Studies have shown that learning together increases motivation and promotes better results. Teachers and trainers should pay special attention to techniques and strategies that make team work an essential part of learning. They should create spaces for collaboration and strive for an atmosphere that promotes learning together.
Aspire to build and foster a sense of community. When you see an opportunity to have learners collaborate, use it. Even if learners are communicating remotely, they should feel like they're in this together. This is key to making your courses feel engaging. 
Clear instructions are crucial in online learning
Instructions are crucially important in remote learning. Because of the lack of face-to-face instructional sessions and the spontaneous "aha" moments they might provoke, a learner might not have the same kind of opportunities to really understand how to proceed with their work and studies.
Supplying learners clear and comprehensive instructions play a major role in mitigating feelings of confusion and a sense of being lost with their materials or studies. By clearly stating learning goals, expectations, and how to proceed, learners will feel confident to continue. Additionally, having clear instructions on how and who to contact when questions arise is critical to avoid unnecessary speed bumps. 
Rethink the classroom
When transferring from a physical classroom to a digital one, you should at the same time rethink the classroom structure. Consider using a "flipped" model for more effective remote learning. What this means in practice is supplying learners with all materials and instructions well before any digital meet ups or conference calls. Learners will first have time to study their materials and then discuss them during the digital meet up. At that the time you are both well prepared to go through any outstanding questions and clarify any uncertainties.
In conclusion
Online learning can be the premium option if done in a smart way. In 2020, the biggest successes were those who managed to utilize asynchronous learning as part of their learning events. This means that they first prepped everybody in advance through an LMS (learning management system), then held an event (e.g. an online lecture), and then offered the chance for participants to interact after the live event. This way there is a lower threshold to participate, you use your time more efficiently, and, with the proper analytics, you can have insights on what effects the training actually had. When done right, digital learning has much to offer.
If you are considering digitalising your classes or training in an efficient way, we would be more than happy to help you get the full advantages of online learning. Take a look at our learning platform and feel free to book a demo today!