In today's highly competitive business world, customer training has become a vital aspect of every organization. It not only helps in retaining customers but also enhances their overall experience with the brand.
But how can you ensure that your training program is effective and engaging? The answer lies in selecting the right Learning Management System (LMS) for your customer training needs.
We will take a deep dive into the top 5 LMS platforms designed and yet popularly used for customer training and we will also highlight their unique features, price points, and benefits.
What is Customer Training LMS?
A Customer Training LMS is a Learning Management System that helps businesses train their customers on how to use their products or services. It can be used to deliver online courses, create training materials, assess customer knowledge, and track customer progress.

A Customer Training LMS can help businesses improve customer satisfaction and reduce support costs. It can also help businesses scale their training programs and expand into new markets.
How To Choose The Best Customer Training Learning Management System
Choosing the best Customer Training Learning Management System (LMS) can be a challenging task to do, but it's a critical decision that can make or break your customer training program's success.
We are here to make it even more fast for you to choose, here are some of the most important factors to consider when making your choice:
User-Friendly Interface: The LMS should have an intuitive and easy-to-use interface that is accessible and understandable to both your customers and your training staff.

Customizability: Make sure the LMS you choose is customizable to meet the specific needs of your business and training program. This includes features such as white labelling, branding, custom workflows, and integrations with other systems via API.

Scalability: Ensure that the LMS can scale with your growing customer base and training needs. It should be able to accommodate an increasing number of users, courses, and content without affecting the user experience.

Course Authoring Tools: The LMS should have robust course authoring tools that allow you to create engaging and interactive courses that meet the needs of your customers.

Assessment and Tracking: Making sure the customer training LMS you want to consider include built-in assessment and tracking features that allow you to monitor your customers' progress and identify areas where they may need additional training.

Reporting and Analytics: The platform should provide comprehensive reporting and analytics features that allow you to track the effectiveness of your customer training program and identify areas for improvement.

Support and Training: The LMS provider should offer excellent customer support and training resources to help you and your team get up and running quickly and efficiently.

Security and Compliance: The LMS should be secure and comply with industry standards and regulations to protect sensitive customer data and ensure that your training program meets all necessary requirements.
By considering these factors, you can select the best Customer Training LMS that meets the unique needs of your business and training program.
With that in mind, here are some of the best customer training LMS options in the industry.
5 Best LMS for Customer Training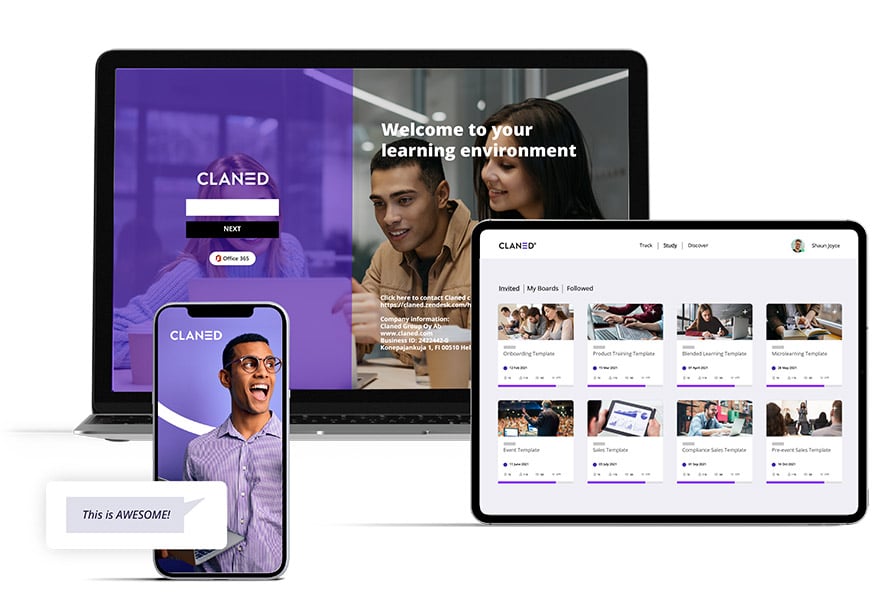 Claned is a cloud-based corporate LMS that maximizes learning outcomes for businesses by combining AI (Artificial Intelligence), collaborative learning, and world-class pedagogy.
It features an intuitive, easy-to use course builder that helps companies set up effective customer training courses quickly. It also generates AI-powered learning insights and recommendations that showcase and improve the value of customer training programs. Lastly, it uses pedagogical insights to drive home the skills and knowledge that employees learn during trainings.
Core Features:
Easy-to-Use Course Builder: Intuitive course-building experience and a library of templates to set up learning programs quickly and efficiently .
Learning Analytics: Offers deep data-driven learning insights and recommendations based on learner activity, progress, performance and more.
Learning Design: Uses pedagogical research and education psychology to build courses that are effective in the long run..
Social Learning: Features a social-media-like space for learners to interact and discuss trainings and course materials.
Import Existing Learning Materials
Multiple Grading & Assessment Options
Mobile Learning Support
Support (Chat, Email, FAQ's Robust Knowledge Base)
API integration
Related Reviews:
"Claned's strength is in its modern interface, which is simple to use for both our customers and us."
" I like the adaptability of the platform with our own material, the pleasant user interface and especially the feasibility of the platform as well as the social aspect of it for users."
Source: Capterra
Price Point:
Free One Month Trial Available, Try Clane Now
Starter (50 users per month): €196.00
Professional (150 users per month): €500.00
Expanded (300 users per month): €956.00
Custom quotes are also available for more users and specific requirements.
#2 – Docebo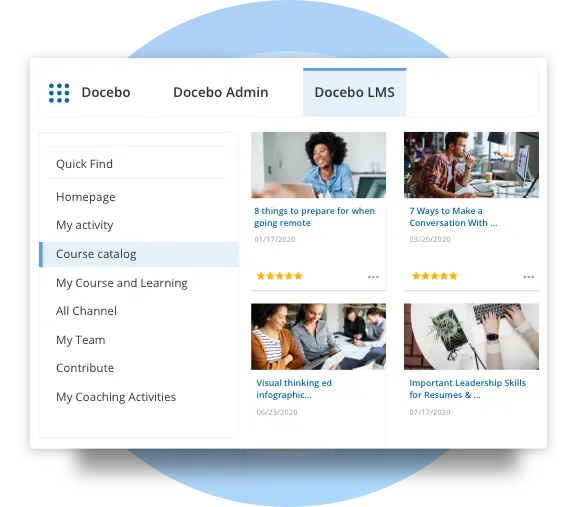 Docebo Learn LMS is a powerful platform that offers a wide range of features for customer training, including drag-and-drop course creation functionality, social learning, progress tracking and support for multiple languages. This customer training lms is also ideal if your organisation uses tools like Salesforce and Microsoft Teams, as it allows for seamless integrations with both.
The Docebo Learn LMS is part of Docebo's multi-product learning suite designed to help companies create, update and get a detailed look into the effectiveness of their customer training programs.
Core Features:
Wide Variety of Integrations: Docebo Connect Integrations Marketplace allows you to bring together all of your organisation's systems together in one learning environment.
Built-in Course Authoring: Docebo's course authoring tool offers an easy drag-and-drop functionality to help build courses faster.
AI-Powered: Offers AI-powered features such as virtual coaching, auto tagging, content suggestions and more.
Allows for Easy Asynchronous Learning
Assessment Management
SCORM Compliant
Learner Portal
Related Reviews:
"They have been the most phenomenal partners for our organization. We truly believe that their success has allowed us to experience the growth and success we have driving a learning culture."
" I liked the fact that Docebo is highly customizable and has lots of features and tools that can be used to create great learning experiences. Additionally, the support from the Docebo team has been great. They give prompt responses and help resolve any queries I have quickly"
Source: Capterra
Price Point:
Plans start at $25,000 per year.
#3 – TalentLMS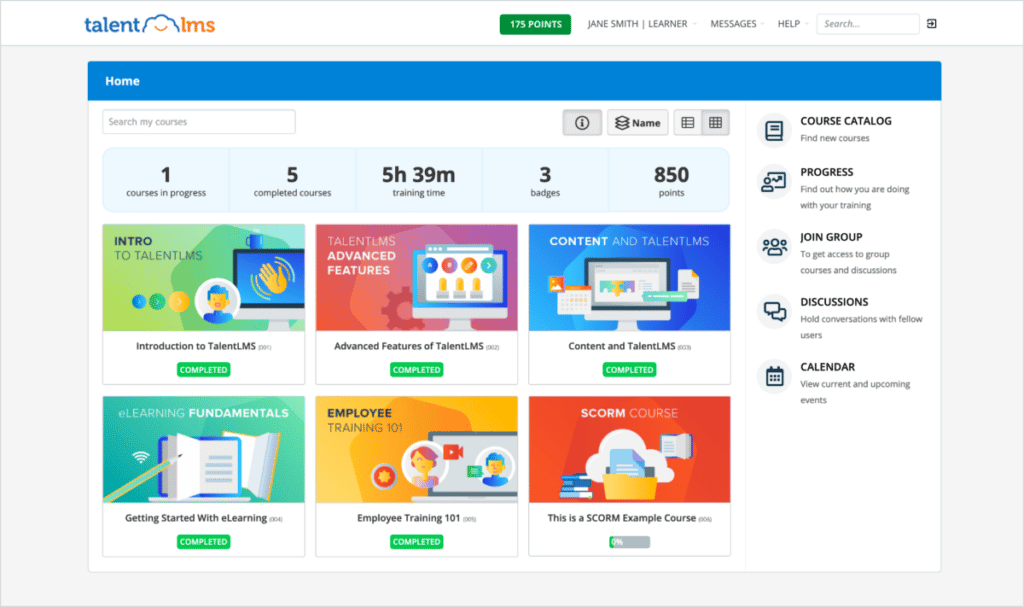 TalentLMS is a cloud-based LMS known for its super-easy course building and hassle-free user experience. TalentLMS is a good choice for large organisations as well as companies looking for a platform that can scale up along with them.
This customer training lms offers a unique course building feature known as "branches" that allows different groups of users to access different parts of the customer training program. It also offers integrations with popular tools like Google Drive and Slack.
Core Features:
Easy Course Building: Drag and drop a variety of media into your training programs. Allows you to build courses from scratch or import existing training materials.
Learner Management: It allows organisations to set up different learning paths, roles and permissions for different learners. It also allows for the grouping of courses into relevant categories.
Gamification: With TalentLMS, you can make training programs more engaging by gamifying courses with badges, points, levels, leaderboards, and rewards.
Localisation and Support for over 30 Languages
View Stages of Certification Life-Cycle
Create Sub-Accounts
Admin Task Automation
Related Reviews:
" So far it's been great. We're already getting feedback from our users (sales people mostly from our customers) and regardless of the quality of the content, their experience compared to our previous platform is already better"

"TalentLMS is fairly easy for non-technical users to set up and maintain courses. In fact, I've taught many of my colleagues to do so. The process for setting up new courses is pretty straightforward and well documented. While the default process doesn't have a lot of bells and whistles, there are some customizations available for those who look under the hood a bit (such as with custom CSS and Javascript)."
Source: Capterra
Price Point:
TalentLMS offers 6 variants of Standard plans:
$0 / month
Best for up to 5 users
$69 / month
Best for 6-40 users
$149 / month
Best for 20-100 users
$279 / month
Best for 50-500 users
$459 / month
Best for 400-1000 users
Talent LMS also offers "Active Plans" that allow an organisation to register an unlimited number of users. The pricing for the Active Plans is based on the number of different users that log in to the platform each month.
#4 – iSpring Learn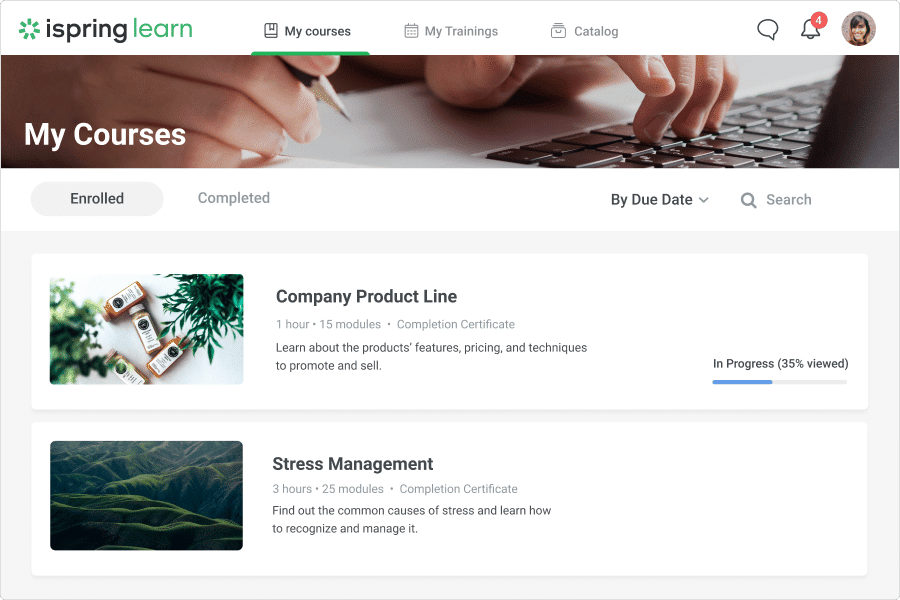 iSpring Learn is an online learning platform designed to help organisations create, deliver, and track courses for a number of training scenarios. he platform offers a clean, interactive user, experience that makes it easy to use for both learners and organisations.
This customer training lms is also an ideal choice if you plan on implementing trainings that incorporate blended learning (combining in-person and online elements). You can either upload existing training materials or create new ones on iSpring's course authoring tool.
Core Features:
User and Course Experience: iSpring Learn has a clear focus on creating interactive, engaging courses that can feature content in a wide variety of formats.
Blended Learning: iSpring Learn also allows companies to seamlessly bring together both in-person and online elements of customer training.
Social Learning: The platform also features a dedicated newsfeed where learners can get together and discuss training materials and react to comments.
Real-time Data Reports
Reliable and Prompt 24/7 Customer Service
Available on a Variety of Devices
Related Reviews:
"My overall experience has been very positive. The process of uploading and assigning training is very simple, and gathering reports is even better now with the recent upgrades."
" Our account rep is always responsive, and proactive as our renewal time rolls around. Honestly, the product is terrific on it's own — but the support puts it completely over the top!! "
Source: Capterra
Price Point:
Based on the number of users, an organisation can select one of iSpringLearn's three plans:
100 Users: $3.66 per user/month
300 Users: $3.00 per user/month
500 users: $2.82 per user/month
Custom pricing available for 500+ users.
#5 – Cornerstone LMS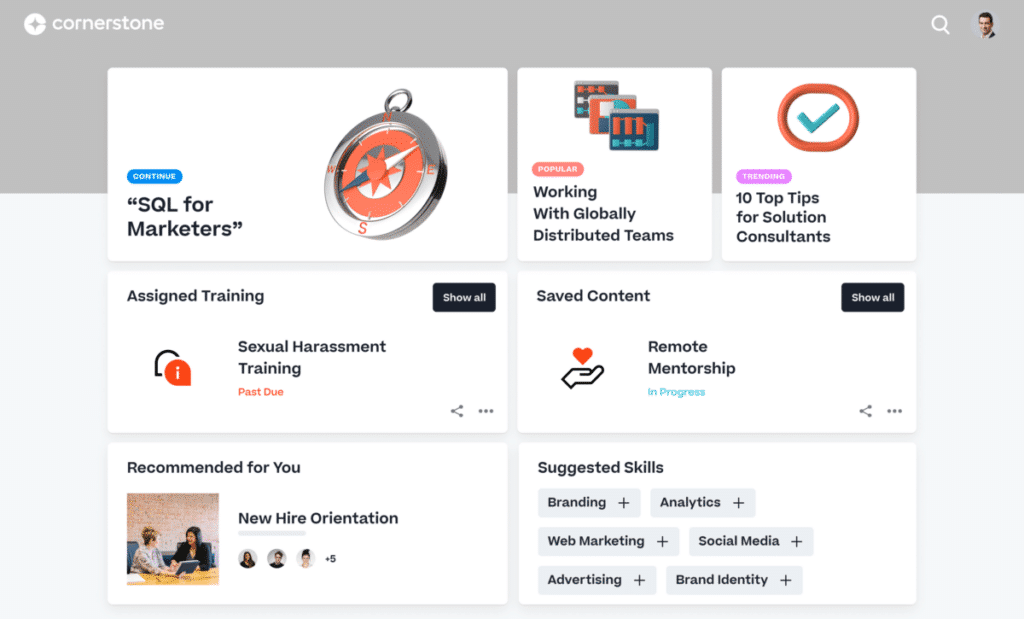 Cornerstone LMS is a cloud-based learning platform and is a part of the Cornertsone Learning system that combines a variety of corporate tools and products. The customer training lms has a unique focus on offering personalised training experiences for customers. It also offers data-driven insights and is an ideal partner as a scalable, unified corporate learning platform for organisations.
Core Features:
Skill Development: Cornerstone LMS offers organisations insights into the progress and profiles of employees and highlights opportunities for skill development in customer training programs.
Personalised Learning: On Cornerstone LMS, organisations can create personalised learning paths for learners with AI-recommended content.
Learning Analytics: Companies can track and understand employee progress and performance across a range of learning data points.
Customisable User and Learner Experience
Cornerstone LMS App and Mobile Learning
Activity Dashboard
Related Reviews:
"There is a great underlying structure to Cornerstone Learning. The functionality is there and they are some very powerful features to help with automation and managing learning for your organization."
"The continuous improvements make it a platform with a lot of potential that we will be with for a long time to come."
Source: Capterra
Price Point:
Not available.
FAQs About Customer Training
How Do I Provide Customer Training?
To provide effective customer training, you must first understand your audience's needs and preferences. One way to do this is by conducting a needs assessment to identify knowledge gaps and learning objectives.

Once you have identified these, you can design a training program that incorporates various learning modalities, such as online courses, instructor-led sessions, and on-the-job training.

It's also crucial to evaluate the effectiveness of your training program and continuously make improvements.
What is The Importance Of Customer Training?
Customer training is essential for businesses that want to improve customer satisfaction, loyalty, and retention. By providing training, you can help your customers better understand your products and services, which can reduce support requests and increase sales.

Additionally, training can help your customers feel more confident and empowered, which can lead to a better overall experience with your company.
What is Customer First Training?
Customer first training is a training approach that prioritizes the customer's needs and preferences. It involves developing training programs that are focused on addressing the most common customer issues, providing solutions that are easy to understand and implement.

Customer first training also emphasizes the importance of empathy and active listening, which can help trainers better understand and respond to customer concerns.
What is Customer Training Called?
Customer training is also referred to as client training, user training, or customer education. Regardless of the term used, the goal remains the same: to help customers understand and effectively use your products or services.