TL;DR: Claned is the best lms for small business that helps in creating engaging online course for their business needs in seconds. With inbuilt analytics, owners can identify what is working and which area leaners needs help. Other LMS are AbsorbLMS, Talent LMS, LearnUpon, and Tovuti LMS
AI-powered knowledge management software tool for growing teams. It's free, simple and easy-to-use for managing information. Other great options include Slite, Document360, Zendesk, or Confluence.
If you're on the hunt for the perfect LMS to suit your small business needs, you've come to the right place!
In this blog post, we'll introduce you to the top 5 best LMS platforms that are tailor-made for small businesses.
Let's dive in and discover the key features, benefits, and considerations to make an informed decision that will take your small business to new heights.
What is LMS For Small Business?
Learning Management System, and it is a software platform designed to help organizations manage, deliver, and track their training and educational programs.
An LMS for small business can be a valuable tool for employee training, onboarding, skill development, and compliance training and identifying the best one for you is very important. And below are some consideration for you.
What to Consider When Choosing an LMS for Small Business
Here some you should consider when choosing the best LMS for your small business.
Budget: Small businesses often have limited resources, so it's essential to find an LMS that fits within your budget. Consider both upfront costs (licensing fees, implementation costs) and ongoing costs (maintenance, support, hosting fees). Look for LMS options that offer pricing plans or packages suitable for small businesses.
Scalability: While you may be a small business now, you should consider whether the LMS can scale as your business grows. You don't want to invest in a solution that will become obsolete as your training needs expand.
Ease of Use: Look for an LMS with a user-friendly interface. It should be easy for both administrators and learners to navigate and use. Training your staff to use a complex system can be costly and time-consuming.
Content Management: Consider how easy it is to upload and manage your training content. The LMS should support various content formats, including videos, documents, quizzes, and SCORM-compliant e-learning courses.
Customization: Your small business may have unique training needs and branding requirements. Choose an LMS that allows you to customize the platform's appearance, such as adding your logo and colors, and tailoring the content to your specific requirements.
User Management: Ensure the LMS provides robust user management features. You should be able to add, edit, and delete users easily, assign courses, and track individual progress. Additionally, it should support user roles and permissions to control access.
Reporting and Analytics: The LMS should offer reporting and analytics tools to track learner progress, performance, and engagement. This data is valuable for assessing the effectiveness of your training programs and making improvements.
Mobile Compatibility: With remote work and on-the-go employees becoming increasingly common, consider whether the LMS is mobile-responsive. It should work well on smartphones and tablets to accommodate a diverse workforce.
Integration: Check if the LMS can integrate with other tools and systems you use, such as HR software, CRM, or third-party content providers. Integration can streamline data flow and improve efficiency.
Support and Training: Evaluate the level of customer support and training resources provided by the LMS vendor. Small businesses may need extra assistance during implementation and troubleshooting, so responsive customer support is crucial.
Security and Compliance: Ensure the LMS complies with data security regulations and offers features like user authentication, data encryption, and regular updates to protect your training data and user information.
Feedback and Reviews: Research user reviews and testimonials to get an idea of the experiences of other small businesses with the LMS you're considering. This can provide valuable insights into its strengths and weaknesses.
Free Trials and Demos: Many LMS providers offer free trials or demonstrations. Take advantage of these opportunities to test the LMS and see if it meets your specific needs before committing to a purchase.
The Best Learning Management Systems For Small Business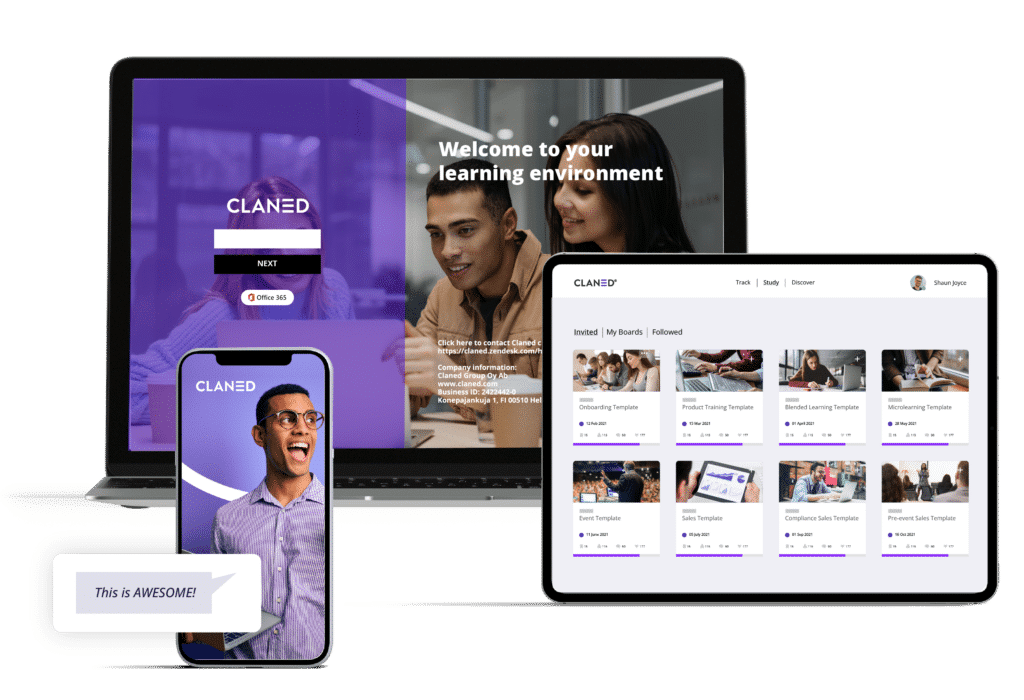 #1: Claned
Claned confidently stands as the preferred choice for small businesses seeking a user-friendly and feature-rich online course creation platform. Couses creator and instructores at all levels can seamlessly harness the power of our reliable software to effortlessly upload and personalize their content.
Our ready made, yet customizable course template, is available to help your course creation process go smoothly. You can also start building your course from scratch with no asle. Your learners gain immediate access to your course, assessments, and analytics, allowing them to easily monitor their progress. Inclusiding the admins.
Claned Features:
Easy-to-Use Course Builder: Intuitive course-building experience and a library of templates to set up learning programs quickly and efficiently .
Learning Analytics: Offers deep data-driven learning insights and recommendations based on learner activity, progress, performance and more.
Learning Design: Uses pedagogical research and education psychology to build courses that are effective in the long run..
Social Learning: Features a social-media-like space for learners to interact and discuss trainings and course materials.
Import Existing Learning Materials
Multiple Grading & Assessment Options
Mobile Learning Support
Support (Chat, Email, FAQ's Robust Knowledge Base)
API integration
Price Point:
Free One Month Trial Available, Try Clane Now
Based on the number of users, Claned offers three pricing plans:
Starter (50 users per month): €196.00
Professional (150 users per month): €500.00
Expanded (300 users per month): €956.00
Custom quotes are also available for more users and specific requirements. Book Demo Here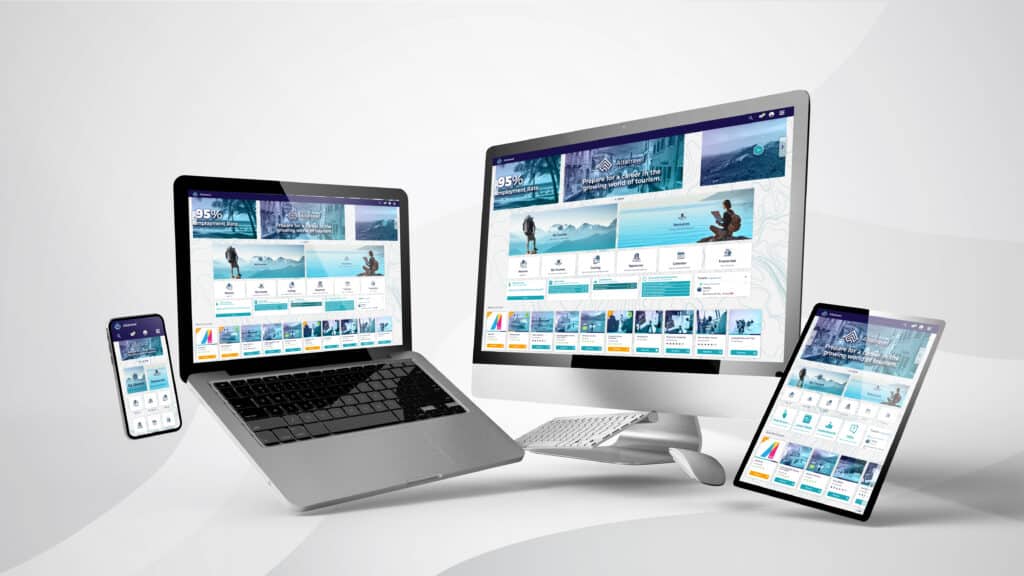 #2: AbsorbLMS
AbsorbLMS is an award-winning learning platform with a focus on helping small businesses train and skill employees to keep up with the demands of today's fast-paced world. This corporate LMS is designed to fit the needs of organisations of various sizes and boost business productivity.
AbsorbLMS boasts of a wide list of features and is a part of the Absorb suite of corporate products.
AbsorbLMS Features:
LMS Administration: The LMS admin view on AbsorbLMS offers a lot of flexibility, allowing you customise training experiences in a variety of ways to suit per your organisaiton's needs.
Learner Engagement: AbsorbLMS aims to keep learners engaged by incorporating various media formats into your training programs and offering access on mobile devices.
Training Data and Analytics: The AbsorbLMS administrator dashboard displays a host of important progress and performance data that you can filter and export as insightful reports.
Instructor-led Courses
Easy Integration of Tools and Sytems
Price Point:
Not available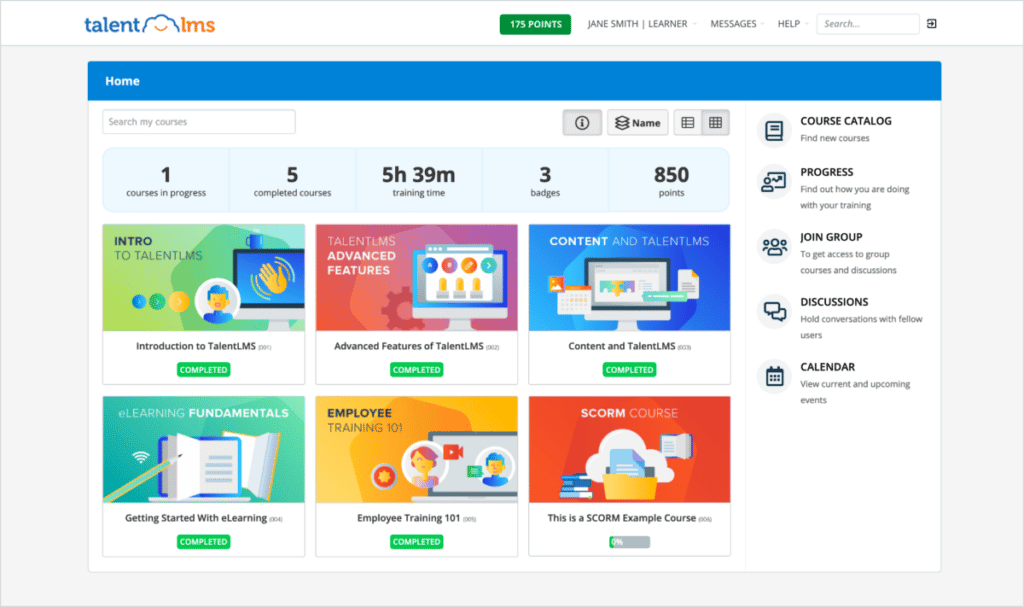 #3: TalentLMS
TalentLMS is a cloud-based LMS renowned for its user-friendly course creation and seamless user experience. It is an excellent option for small business seeking to create a centralized place for learningn.
Additionally, this LMS suitable for small businesses provides a distinctive course building function called "branches," enabling various user groups to access specific sections of the training program. Furthermore, it offers integrations with widely-used tools such as Google Drive and Slack.
TalentLMS Features:
Easy Course Building: Drag and drop a variety of media into your training programs. Allows you to build courses from scratch or import existing training materials.
Learner Management: It allows organisations to set up different learning paths, roles and permissions for different learners. It also allows for the grouping of courses into relevant categories.
Gamification: With TalentLMS, you can make training programs more engaging by gamifying courses with badges, points, levels, leaderboards, and rewards.
Localisation and Support for over 30 Languages
View Stages of Certification Life-Cycle
Create Sub-Accounts
Admin Task Automation
Price Point:
TalentLMS offers 6 variants of Standard plans:
$0 / month
Best for up to 5 users
$69 / month
Best for 6-40 users
$149 / month
Best for 20-100 users
$279 / month
Best for 50-500 users
$459 / month
Best for 400-1000 users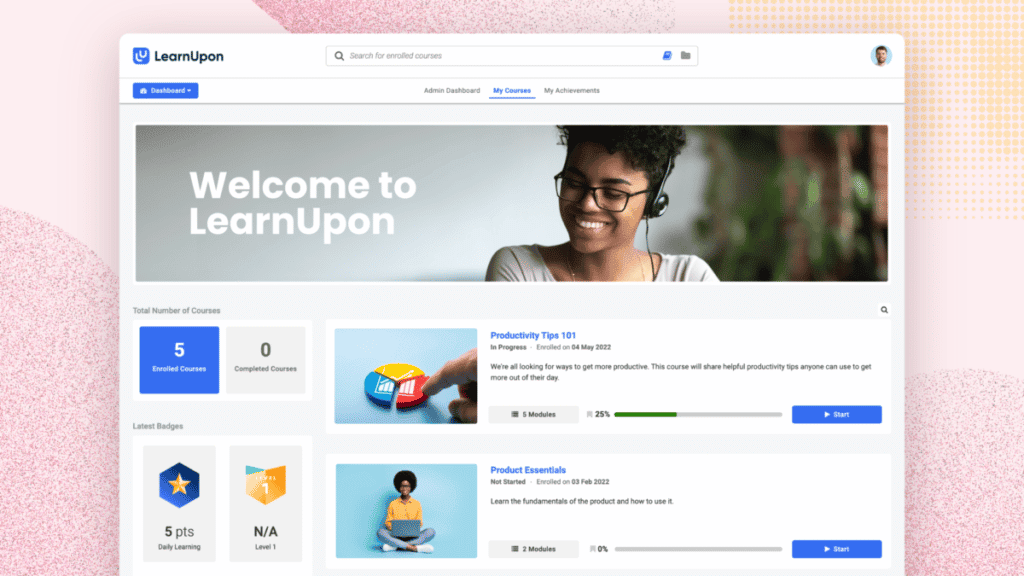 #4: LearnUpon LMS
The LearnUpon LMS is a another user-friendly, centralized learning platform created to provide efficient business training experiences enriched with interactive elements and gamification.
LearnUpon stands out in the competitive landscape by its commitment to consolidating various corporate training initiatives within an organization into one cohesive platform. This award-winning platform is renowned for its dedication to user satisfaction as a "user-centric LMS" and its prompt customer service.
LearnUpon LMS Features:
Intuitive Course Builder: Allows organisations to create personalised learning paths for different learners. Offers a variett of content formats.
User Management: Allows access to a variety of users, external and internal. Automates the user creation process, allowing for bulk uploads and API integrations.
Performance Tracking and Reports: Generates insights about learner progress and performance. Offers the functionality to automate and schedule training data reports.
Certification and Licensing
Activity Dashboard
Learning Portals
Price Point:
Based on the number of users, an organisation can select one of LearnUpon's three plans:
Essential (50 to 150 users)
Premium (150 to 300 users)
Enterprise (300+ users).
Plans start at $15,000 USD.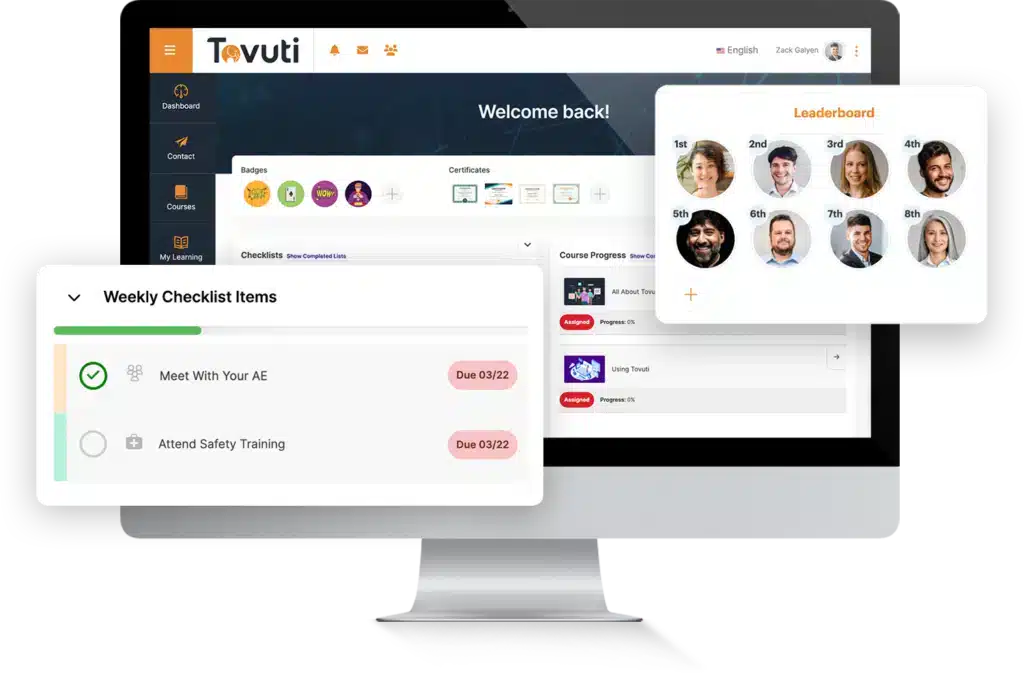 #5: Tovuti LMS
Tovuti's cutting-edge learning management system serves as the ultimate hub for consolidating and streamlining your diverse training programs, offering you unparalleled ease of administration and the ability to comprehensively measure their effectiveness.
Tovuti LMS Features:
Custom course creation: It provides a user-friendly interface that makes it easy to develop engaging and interactive content, including multimedia elements such as videos, quizzes, and assessments.
Analytics and reporting: Tovuti LMS provides robust analytics and reporting tools to track learners' progress and evaluate the effectiveness of training programs.
Mobile-friendly design
Gamification and rewards
Integration capabilities
Compliance management
Price Point:
Tovuti Lite
Starter plan is $1997month
Growth Plan is $299/month
Business Plan is $399/month
Professional Plan, you contact
Tovuti Pro
1 Year is $11,160 for 50 users and a setup fee of $2,500