In a world of ever-changing industry standards and market conditions, corporate trainings have become more essential than ever. Want to quickly familiarise new employees with your company's culture and priorities? Or do you want to help existing employees level up their skills and knowledge base? All you need is a well-designed, high-quality, corporate training LMS to make the most of any organisation's time and resources.
Today, with the advent of online learning – and the sleek, modern platforms that host them – the opportunities in corporate training have become more effective, engaging and cost-effective than ever before. As long as you have the right learning management systems (LMS), there are no restraints to the types of corporate trainings you can create for your specific organisation's super-specific needs.
With the aid of a corporate LMS, organisations can deliver a wide range of corporate training content in a variety of formats including text, videos, audio, PDFs, audio and VR,. Apart from just platforming trainings, modern LMSs are also accompanied by helpful features for progress tracking, learning analytics, community building and more.
When it comes to making the all-important choice though, it's good to remember that no two corporate LMSs are exactly alike. There's an ever-growing list of top LMS options available in the market for corporate training, and each comes with its own pros and cons, attractive features and capabilities and pricing plans. When choosing a corporate training platform for your organisation (more tips on that below), all of these factors will come into play!
What is a Corporate LMS
A corporate LMS is a type of digital platform that allows organisations to create, manage, track, and deliver online trainings to their employees, customers and partners.
With that in mind, here are some of the best LMS options in the industry for corporate training:
10 Top LMS for Corporate Training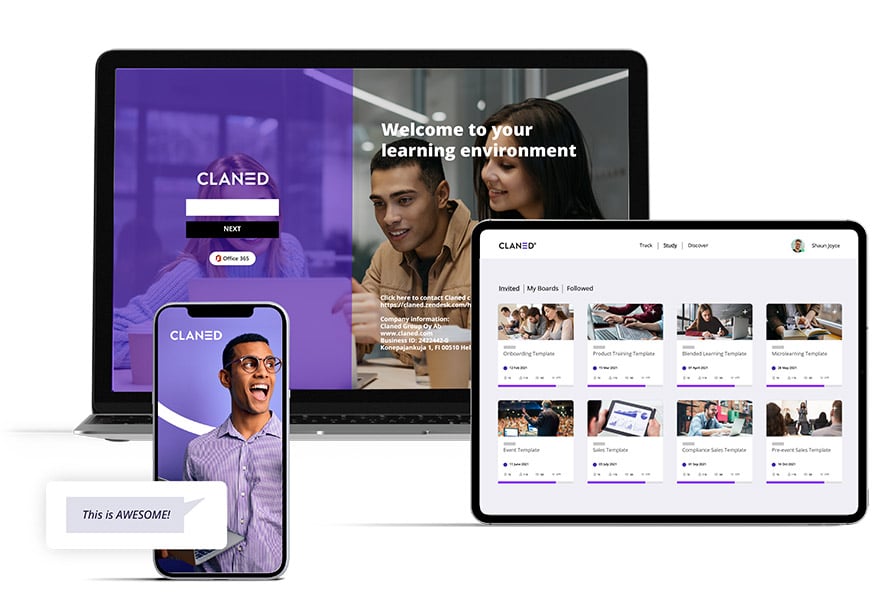 Claned is a cloud-based corporate LMS, It is a robust platform that provides an extensive array of features tailored for corporate training purposes.
This is done to maximizes learning outcomes for businesses by combining AI, collaborative learning, and world-class pedagogy.
It features an intuitive, easy-to use course builder that helps organisations set up effective courses quickly. It also generates AI-powered learning insights and recommendations that showcase and improve the value of corporate training programs. Lastly, it uses pedagogical insights to drive home the skills and knowledge that employees learn during trainings.
Read More About Our Learning Design
Best Use Case For Claned:
Employee Training, Onboarding, Skill Development, Product Training, Customer Training, Sales Training, Compliance Training
Core Features Of Claned:
Easy-to-Use Course Builder: Intuitive course-building experience and a library of templates to set up learning programs quickly and efficiently .
Learning Analytics: Offers deep data-driven learning insights and recommendations based on learner activity, progress, performance and more.
Learning Design: Uses pedagogical research and education psychology to build courses that are effective in the long run..
Social Learning: Features a social-media-like space for learners to interact and discuss trainings and course materials.
Import Existing Learning Materials
Multiple Grading Scales
Mobile Learning Support
Webhooks support
What Customers Says About Claned:
"Claned's strength is in its modern interface, which is simple to use for both our customers and us."

"We have people around the world working online. Claned has helped us to bring all these people on the same level in terms of availability, accessibility and high quality of employee training."

"Claned is very user friendly. We have received a great support to achieve our own goals."
Source: Capterra
Read How Solita Semi-Automate Complex Customer Training and New Employee Onboarding with Claned Platform
Price Point:
Free One Month Trial Available, Try Clane Now
Based on the number of users, Claned offers three pricing plans:
Starter (50 users per month): €196.00
Professional (150 users per month): €500.00
Expanded (300 users per month): €956.00
Custom quotes are also available for more users and specific requirements. Book Demo Here
2. Eloomi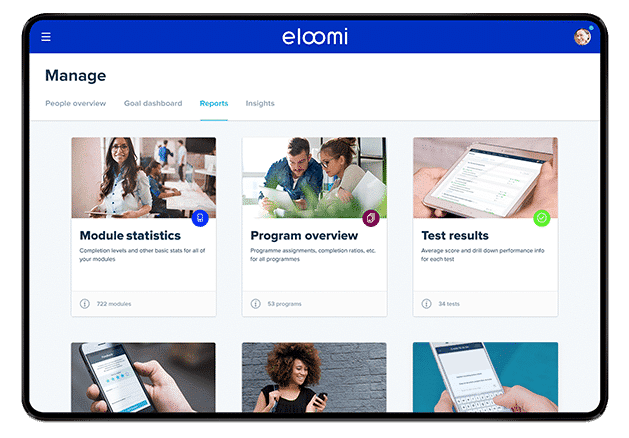 eloomi is a cloud based Performance Management and Learning Management System that helps organise, create and deliver custom corporate training programs. Organisations can use Eloomi to create and upload training materials in the form of text, audio, and video content and arrange them in modules and courses.
As a corporate LMS, eloomi offers reporting features to gauge how much time employees spend on a course or module, as well as their performance on various assessments. This data can be used to identify areas where employees may need additional support or training.
Best Use Case Of Eloomi:
Onboarding, Compliance Training, People Development, Skill Development
Eloomi Core Features:
Built-in Course Authoring: Allows use of their pre-built templates to quickly create interactive online training modules in the Eloomi authoring tool.
Engagement Tracking: Offers real-time visual of how training courses are being received by your users.
Activity Dashboard: Eloomi offers organisations a sleek, comprehensive dashboard to track learner activity, progress, performance and various other metrics.
Allows Importing of Existing Learning Materials
Performance Metrics and Performance Management
View Course History
Related Reviews:
"The LMS platform is robust, well constructed, logical and easy to use for final users. Plus, you can configure pretty much anything you want on the platform the way it best suits you."
"We use eloomi mainly for internal formal training. The migration from our previous platform and roll out went smoothly, with great support from everyone at eloomi."
Source: Capterra
Price Point:
Pricing starts from $3.00/month per user.
3. Docebo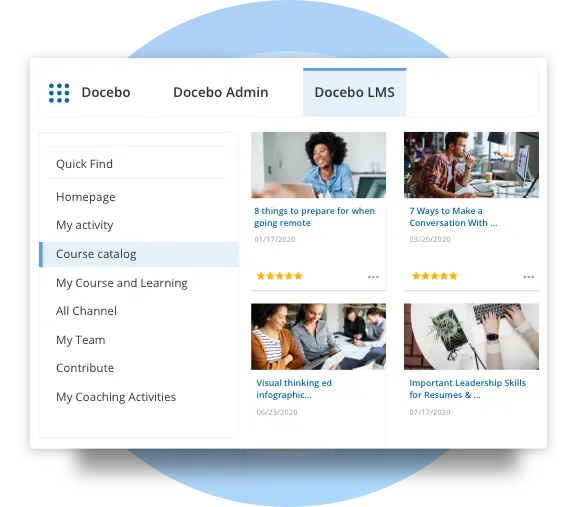 Docebo Learn LMS is a powerful platform that offers a wide range of features for corporate training, including drag-and-drop course creation functionality, social learning, progress tracking and support for multiple languages. This corporate LMS is also ideal if your organisation uses tools like Salesforce and Microsoft Teams, as it allows for seamless integrations with both.
The Docebo Learn LMS is part of Docebo's multi-product learning suite designed to help organisations create, update and get a detailed look into the effectiveness of their corporate training programs.
Best Use Case Of Docebo:
Skill Management: Upskilling and Reskilling, Customer Training, Sales Training
Docebo Core Features:
Wide Variety of Integrations: Docebo Connect Integrations Marketplace allows you to bring together all of your organisation's systems together in one learning environment.
Built-in Course Authoring: Docebo's course authoring tool offers an easy drag-and-drop functionality to help build courses faster.
AI-Powered: Offers AI-powered features such as virtual coaching, auto tagging, content suggestions and more.
Allows for Easy Asynchronous Learning
Assesment Management
SCORM Compliant
Learner Portal
Related Reviews:
"They have been the most phenomenal partners for our organization. We truly believe that their success has allowed us to experience the growth and success we have driving a learning culture."
"Docebo is one of the top notch solutions when it comes to LMS tools. It helped us setting up a whole new business within a really short time range because of good onboardings."
Source: Capterra
Price Point:
Plans start at $25,000 per year.
4. LearnUpon LMS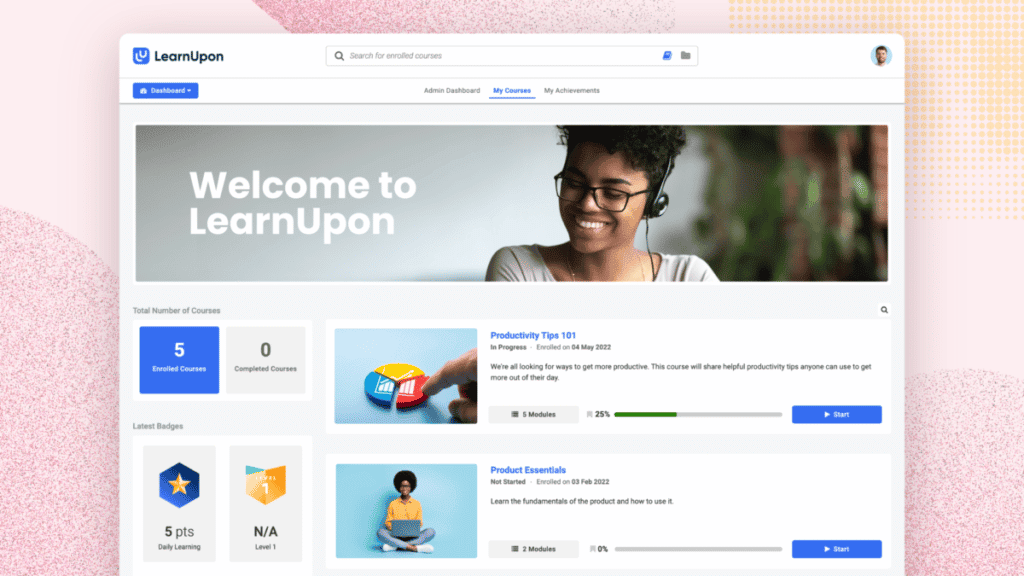 LearnUpon LMS is a centralised, easy-to-use learning platform, designed to offer quick and easy corporate trainings with interactive features and gamified elements.
LearnUpon's competitive edge comes from its focus on unifying and streamlining a number of corporate trainings across an organisation's network into a single platform. The award-winning platform prides itself on being a "user-focused LMS" and its reputation for prompt customer service.
Best Use Case Of LearnUpon:
Employee Onboarding, Employee Development, Customer Training, Sales Training, Compliance Training
LearnUpon Core Features:
Intuitive Course Builder: Allows organisations to create personalised learning paths for different learners. Offers a variett of content formats.
User Management: Allows access to a variety of users, external and internal. Automates the user creation process, allowing for bulk uploads and API integrations.
Performance Tracking and Reports: Generates insights about learner progress and performance. Offers the functionality to automate and schedule training data reports.
Certification and Licensing
Activity Dashboard
Learning Portals
Related Reviews:
"Thus far I am nothing but impressed, and I can't wait to see how our company will be able to use an LMS like LearnUpon in our business. We are so pleased to have chosen such a dedicated vendor."
"They are integral to my business now and I deeply appreciate the ongoing support and product developments which make the system bigger and better every year."
Source: Capterra
Price Point:
Based on the number of users, an organisation can select one of LearnUpon's three plans:
Essential (50 to 150 users)
Premium (150 to 300 users)
Enterprise (300+ users).
Plans start at $15,000 USD.
5. TalentLMS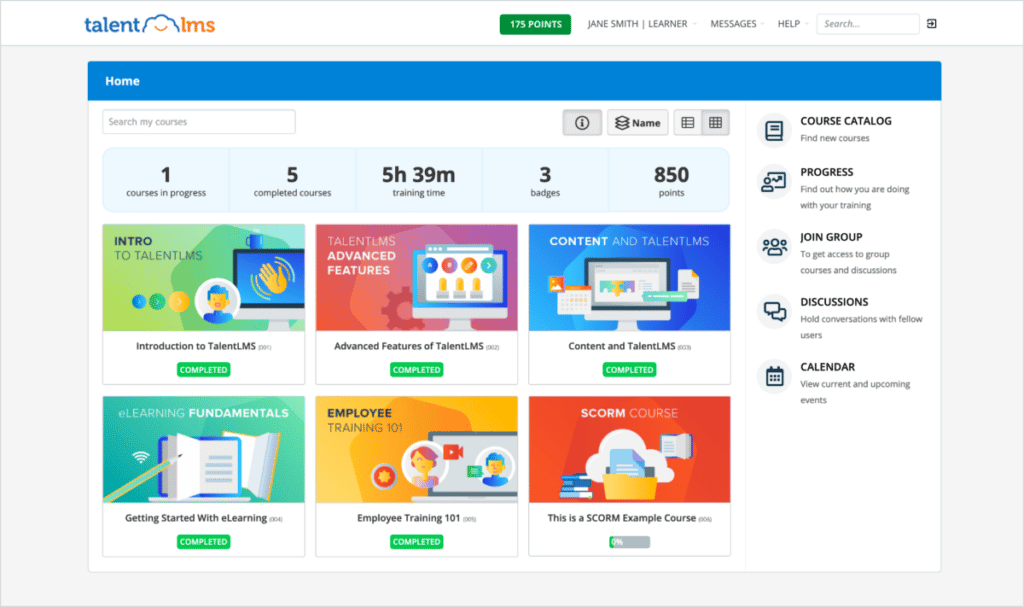 TalentLMS is a cloud-based LMS known for its super-easy course building and hassle-free user experience. TalentLMS is a good choice for large organisations as well as companies looking for a platform that can scale up along with them.
This corporate LMS offers a unique course building feature known as "branches" that allows different groups of users to access different parts of the corporate training program. It also offers integrations with popular tools like Google Drive and Slack.
Best Use Case Of TalentLMS:
Onboarding Training, Compliance Training, Customer Support Training, Customer Training, Remote Workforce Training, Marketing Training
TalentLMS Core Features:
Easy Course Building: Drag and drop a variety of media into your training programs. Allows you to build courses from scratch or import existing training materials.
Learner Management: It allows organisations to set up different learning paths, roles and permissions for different learners. It also allows for the grouping of courses into relevant categories.
Gamification: With TalentLMS, you can make training programs more engaging by gamifying courses with badges, points, levels, leaderboards, and rewards.
Localisation and Support for over 30 Languages
View Stages of Certification Life-Cycle
Create Sub-Accounts
Admin Task Automation
Related Reviews:
"It is feature-rich and is super easy to implement, manage and maintain. We did a lot of reserach before selecting TalentLMS and are extremely happy with it."
"One of the most important features for us was the ability to create separate branches for our clients. We can customize the branches to our clients' needs and it is fast and easy to set up."
Source: Capterra
Price Point:
TalentLMS offers 6 variants of Standard plans:
$0 / month
Best for up to 5 users
$69 / month
Best for 6-40 users
$149 / month
Best for 20-100 users
$279 / month
Best for 50-500 users
$459 / month
Best for 400-1000 users
Talent LMS also offers "Active Plans" that allow an organisation to register an unlimited number of users. The pricing for the Active Plans is based on the number of different users that log in to the platform each month.
6. Moodle Worksplace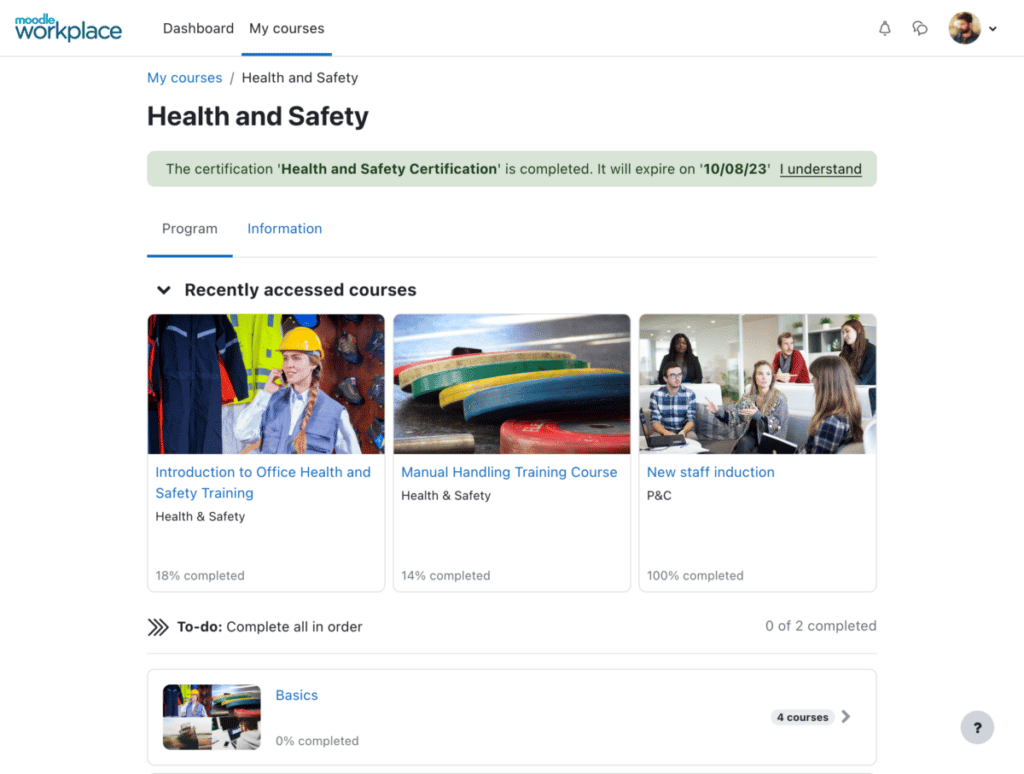 Moodle, an open-source LMS, has long been an established player in the online learning world. The platform is known for its widespread use in the educational field, but with Moodle Workplace, the company has managed to establish a strong presence in the corporate training space as well.
Moodle Workplace describes itself as "a flexible enterprise learning management platform that streamlines corporate training". As a corporate LMS, it aims to combine the benefits of the standard Moodle LMS with features and tools designed for employee training and development.
Best Use Case Of Moodle Worksplace:
Employee Training, Onboarding, Compliance Training, Certifications
Moodle Worksplace Core Features:
Course Management: Moodle Workplace offers the unique feature of creating multiple corporate learning platforms for different departments in an organisation.
Wide Variety of Integrations: Moodle Workplace allows you to integrate your training platform directly into existing HR databases. You can also integrate it with external software and content repositories.
Training Impact: Use Moodle Workplace's insights and custom data reports to make necessary improvements to your corporate training programs.
Moodle Certified Integrations and Add-Ons
Create Learning Journeys and Offer Certification
Workflow Automation with Dynamic Rules
Related Reviews:
"Moodle Workplace is a great platform, which allows digitalizing an organization's internal learning process."
" As a learner, it is excellent. I have been able to move at ease among the different courses I have taken."
Source: Capterra
Price Point:
Not available
7. iSpring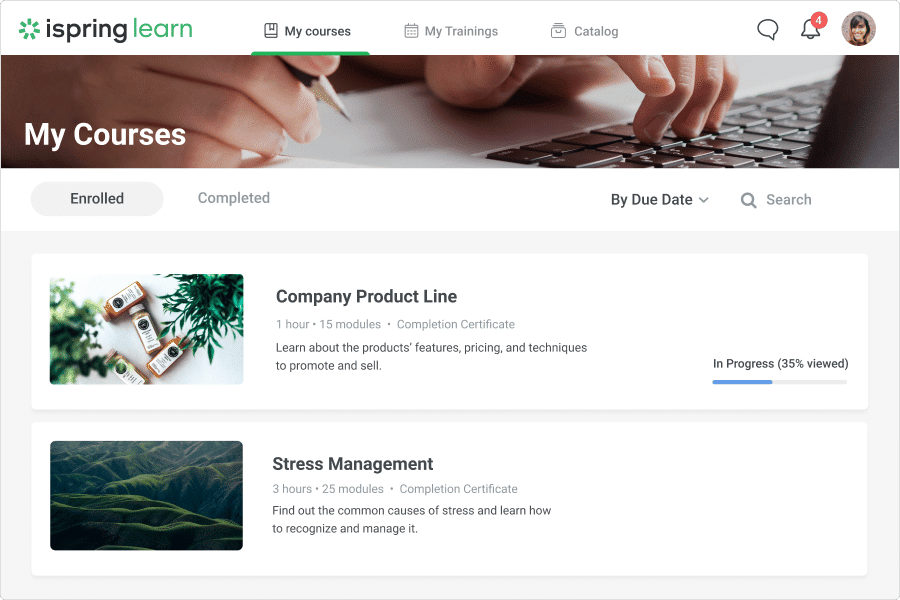 iSpring Learn is an online learning platform designed to help organisations create, deliver, and track courses for a number of training scenarios. he platform offers a clean, interactive user, experience that makes it easy to use for both learners and organisations.
This corporate LMS is also an ideal choice if you plan on implementing trainings that incorporate blended learning (combining in-person and online elements). You can either upload existing training materials or create new ones on iSpring's course authoring tool.
Best Use Case Of iSpring:
Preboarding and Onboarding, Product Trianing, Channel Training, Attestation, Compliance Training, Certification
iSpring Core Features:
User and Course Experience: iSpring Learn has a clear focus on creating interactive, engaging courses that can feature content in a wide variety of formats.
Blended Learning: iSpring Learn also allows organisations to seamlessly bring together both in-person and online elements of corporate training.
Social Learning: The platform also features a dedicated newsfeed where learners can get together and discuss training materials and react to comments.
Real-time Data Reports
Reliable and Prompt 24/7 Customer Service
Available on a Variety of Devices
Related Reviews:
"My overall experience has been very positive. The process of uploading and assigning training is very simple, and gathering reports is even better now with the recent upgrades."
"We have been able to track training and identify areas of improvement and even get more departments on board with the training process. I also love the iSpring takes ideas for improvements."
Source: Capterra
Price Point:
Based on the number of users, an organisation can select one of iSpringLearn's three plans:
100 Users: $3.66 per user/month
300 Users: $3.00 per user/month
500 users: $2.82 per user/month
Custom pricing available for 500+ users.
8. AbsorbLMS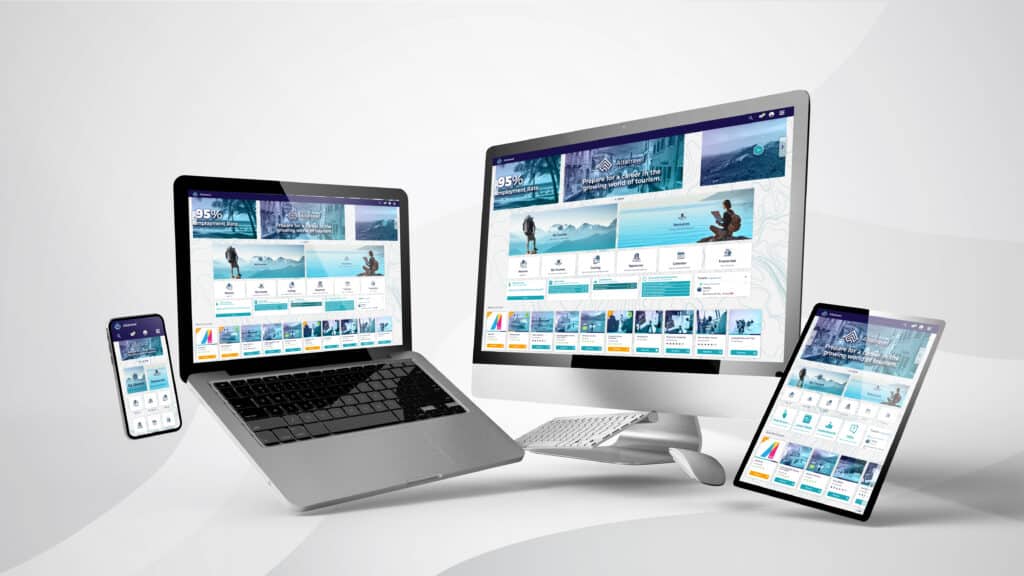 AbsorbLMS is an award-winning learning platform with a focus on helping organisations train and skill employees to keep up with the demands of today's fast-paced world. This cloud-based corporate LMS is designed to fit the needs of organisations of various sizes and boost business productivity. AbsorbLMS boasts of a wide list of features and is a part of the Absorb suite of corporate products.
Best Use Case Of AbsorbLMS:
Extended Enterprise Training, Employee Onboarding Training, Employee Development, Compliance Training, Sales Training, Mobile Learning
AbsorbLMS Core Features:
LMS Administration: The LMS admin view on AbsorbLMS offers a lot of flexibility, allowing you customise training experiences in a variety of ways to suit per your organisaiton's needs.
Learner Engagement: AbsorbLMS aims to keep learners engaged by incorporating various media formats into your training programs and offering access on mobile devices.
Training Data and Analytics: The AbsorbLMS administrator dashboard displays a host of important progress and performance data that you can filter and export as insightful reports.
Instructor-led Courses
Easy Integration of Tools and Sytems
Related Reviews:
"Compared to other LMS, the platform itself is easy to use while providing a good breadth of features for our use. It's a mature product, with a solid backend."
"As novices moving into the E-Learning space, the Absorb Team showed a great deal of patience answering some questions more than once, even the most mundane."
Source: Capterra
Price Point:
Not available
9. Blackboard Learn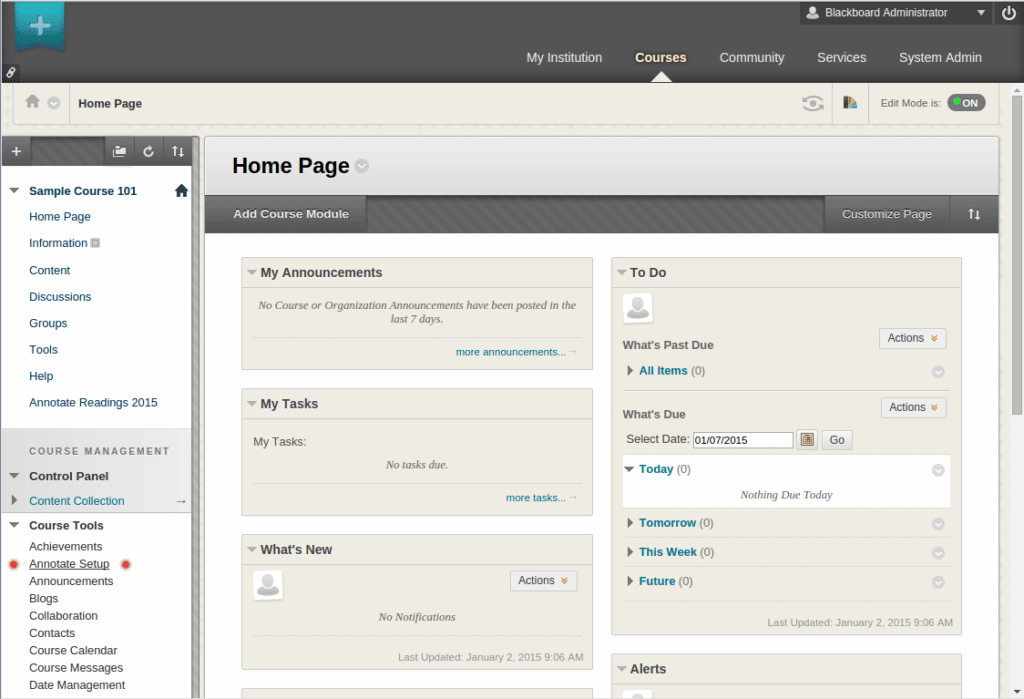 Blackboard Learn is a corporate LMS with a focus on delivering effective, high-quality learning experiences. While Blackboard Learn is largely known for its presence in the educational field, the platform serves well as a comprehensive corporate LMS, too. Blackboard LMS aims to offer an engaging, intuitive user experience armed with useful features such as video-conferencing integration, progress reporting and mass notifications.
Best Use Case Of Blackboard Learn:
Employee Training, Compliance Training, Certifications, Sales Training, Leadership Development
Blackboard Learn Core Features:
Course Content Management: Blackboard Learn allows organisations to easily store, organise and manage a host of corporate training materials.
Learner Experience: Blakcboard Learn allows for automated registration of learners. It also offers learners the option for self-regulated tracking, giving them the autonomy to learn better.
Progress Tracking: Organisations can easily stay on top of learner performance, view their entire course history, and track their progress towards course completion and certifications.
Web Conferencing & Collaboration
Mass Notification System
Related Reviews:
"Blackboard is a rather intuitive learning platform, packed with a huge amount of features."
"Overall Blackboard is a good option to consider if you are interested in online learning. It will have everything you need, just possibly in a different style than what you might be accustomed to."
Source: Capterra
Price Point:
Not available.
10. Cornerstone LMS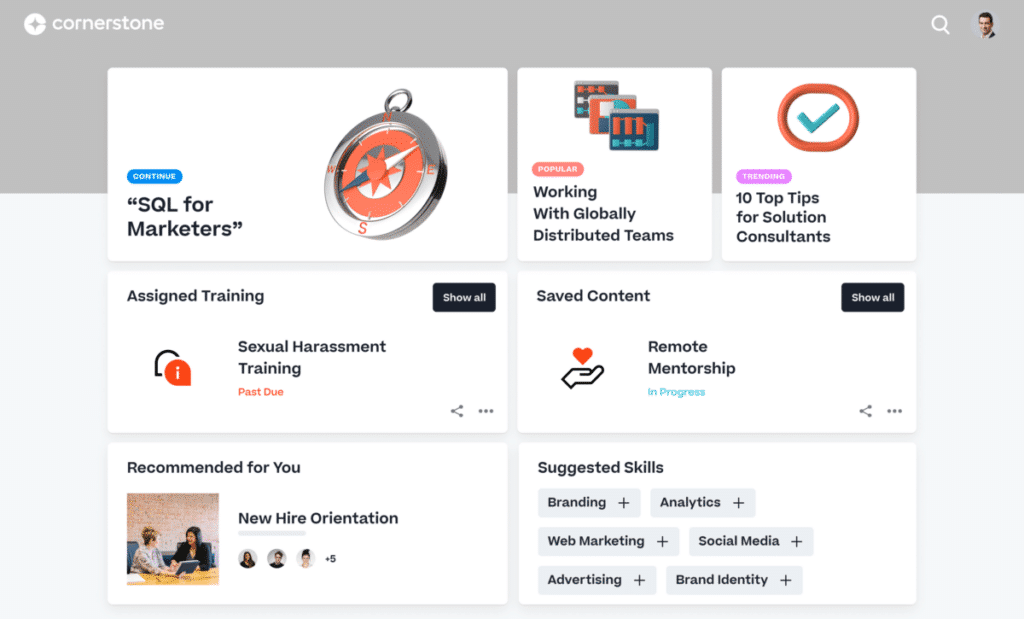 Cornerstone LMS is a cloud-based learning platform and is a part of the Cornertsone Learning system that combines a variety of corporate tools and products. The corporate LMS has a unique focus on offering personalised training experiences for employees. It also offers data-driven insights and is an ideal partner as a scalable, unified corporate learning platform for organisations.
Best Use Case Of Cornerstone LMS:
Employee Training, Skill Development, Compliance Management, Customer and Partner Training, DEIB Training, Virtual Training at Work
Cornerstone LMS Core Features:
Skill Development: Cornerstone LMS offers organisations insights into the progress and profiles of employees and highlights opportunities for skill development in corporate training programs.
Personalised Learning: On Cornerstone LMS, organisations can create personalised learning paths for learners with AI-recomended content.
Learning Analytics: Organisations can track and understand employee progress and performance across a range of learning data points.
Customisable User and Learner Experience
Cornerstone LMS App and Mobile Learning
Activity Dashboard
Related Reviews:
"There is a great underlying structure to Cornerstone Learning. The functionality is there and they are some very powerful features to help with automation and managing learning for your organization."
"The continuous improvements make it a platform with a lot of potential that we will be with for a long time to come."
Source: Capterra
Price Point:
Not available.
How To Choose The Best Corporate Learning Management System
The question of what makes up the perfect LMS will ultimately boil down to the needs of your specific organisation. Truth is, there truly is no "best corporate training LMS" out in the market, only the one that best meets your company's corporate training requirements.
With that in mind, here are some of the most important factors to consider when making your choice:
Training needs and priorities: What exactly is your organisation looking to achieve with the LMS? Corporate training is a wide playground of opportunities. Focusing on the most important needs, goals and priorities for your company will help you narrow down on features and functionalities that help serve your purposes best.
User experience: Online corporate trainings are meant to make learning more engaging for employees and customers. No to mention that they are supposed to make trainings easier to implement for organisations. 

That is why user experience is a crucial factor to consider when choosing a corporate training platform. The ideal LMS experience should be sleek, intuitive and easy to navigate, and it certainly helps it the platform can also be accessed on various types of devices.
Integrations and customisation: Speaking of making things easier, it can be extremely useful to have a corporate training platform that integrates with your organisation's existing tools, systems and databases. It saves your business an incredible amount of time and effort, and helps set you up for building trainings quickly and efficiently.
Customer support: The value of the right corporate training platforms extends beyond its basic features and functionalities. Once the platform has been chosen, purchased and integrated, there are a number of ways in which members of your organisation could need additional support and assistance. 

That is why it is important to select an LMS vendor that offers dedicated, prompt and reliable customer support through various channels such as email, phone or live chat. To get a better understanding of an LMS provider's customer service performance, consider perusing their customer reviews and online feedback. 
Cost: LMS options come on a wide spectrum of price points. At first, it might make sense to choose the one priced lowest among a string of similar-sounding products. But the wrong LMS can end up costing your organisation in the long run, in the form of lost revenue and wasted time and resources. On the other hand, a higher-priced LMS might not be superior to its peers in the ways that matter most to your organisation.
It's recommended to weigh the pros and cons of each platform and consider all the costs, fees and long-term benefits before making the crucial financial choice.
Benefits Of Using an LMS Platform
The right corporate LMS can be a real game-changer for your organisation. Traditional modes of training and development are quickly going out of style. And in today's highly competitive corporate space, having a modern, versatile mode of training that can easily adapt with the changing times can be the edge your business needs.
Moreover, moving your corporate trainings online can help your organisation save an incredible amount of time, money, effort and resources on trainings.
But there's even more! Here is a brief look at the various benefits of using a corporate LMS platform:
Centralised learning: Having a variety of trainings spread across multiple channels can be tedious, confusing and time-consuming. A corporate LMS helps provide a centralised location where you can store training materials as well as host and run training experiences. Employees and customers have a single space to log in to and access trainings. Meanwhile, the organisation has a single space to track progress and access and analyse valuable learner data.
Accessibility: Speaking of access, LMSs can also help solve a variety of accessibility issues. Have team members spread across locations? Or do you need to offer flexible trainings that learners can access at their own convenience? A corporate LMS helps learners log in, access and pick up trainings whenever they want, regardless of location and time zone.
Track performance: A corporate training is only worthwhile if it provides value to your organisation and employees. A great way to gauge that value is to track and measure progress, performance and various other data points relating to your training programs. Various corporate LMSs offer deep learning data features and analytics reports that can shed light on what's working in your trainings, and how they can be improved.
Scalability: As your company grows and changes, so will your corporate trainings. A robust, versatile corporate LMS will be able to scale up with your growing needs and offer more value with each passing year, thereby making for a great return on investment.
READ:

7 Ways LMS Platforms Provide Peace of Mind to HR and Managers

Top LMS Companies in Finland
Corporate LMS FAQs
What is a corporate LMS?
A corporate learning management system or LMS is a type of digital platform that allows organisations to manage, track, and deliver trainings to their employees, customers and partners.

Corporate LMSs come with useful features such as easy course creation, progress tracking, testing and assessment, and performance reporting.
How does a corporate LMS benefit an organization?
The right corporate LMS can help an organisaiton in a number of ways:
It can create more effective training programs, thereby improving employee productivity and engagement

Corporate LMSs can also help an organisation reduce the amount of time and money an organisation spends on a variety of corporate training
It helps an organization to standardise its training experience and maintain a certain level of quality in learning across the board
Can a corporate LMS integrate with other HR systems or tools?
Absolutely. Certain corporate LMSs (Learning Management System) are designed to easily integrate with an organisation's internal systems, databases or tools.

This can be offered in the form of built-in integrations or via APIs (application programming interfaces). Integrations help offer a more comprehensive learning experience, and makes it easier for learners and organisations to access and track training progress.
Can a corporate LMS support remote or virtual learning?
A corporate LMS (Learning Management System) can not only support remote or virtual learning but also help organisations make the most of them.

Through the internet, learners can access their corporate LMSs remotely and peruse course materials, complete assignments, and participate in online discussions from anywhere. Corporate LMSs also allow trainings to bridge distances between learners and instructors by offering features like video conferencing, live webinars and virtual classrooms.
How do I choose the right corporate LMS for my organization?
Consider these factors when choosing the right corporate LMS for your organization:

Purpose: focus on features and functionalities will help your organisation achieve its training purposes.
User experience: go for an LMS that is easy to use and navigate, and that allows you to set up trainings quickly and efficiently.
Integrations:it's always helpful to choose a corporate LMS that can seamlessly integrate with your organisation's existing systems and databases.
Customer support:make sure the LMS vendor offers prompt and reliable customer support.
Cost: Consider the overall cost of the LMS, factoring in pros and cons, features and long-term benefits.