The online learning renaissance
The internet. It's countless things to billions of people involved in most human (and non-human) activities every second of every day. But it wasn't always that way when it was conceived and invented; it was essentially a learning aid – scientists at CERN wanted a way to share online the results of their studies and research quickly and more effectively.
With this in mind, it is funny and ironic that today, decades after its widespread use and application to countless other ideas, one of the most significant challenges, being how to use it effectively, is learning and education. While it is no doubt almost every second of the day, people use it to learn something. Developing next-generation, inclusive online learning systems that deliver learning effectively, in measurable, and engaging ways is still a tough nut to crack. Due in part perhaps to how we as humans are still developing an understanding of how to best manage and work in a virtual world and how our patterns of behaviour change when engaged with it.
As most of our day-to-day interactions underwent a fundamental shift, think shopping after Amazon or streaming on Netflix after DVDs, education and learning, for the most part, kept with the traditional approaches and have used online systems as a distribution and storage system.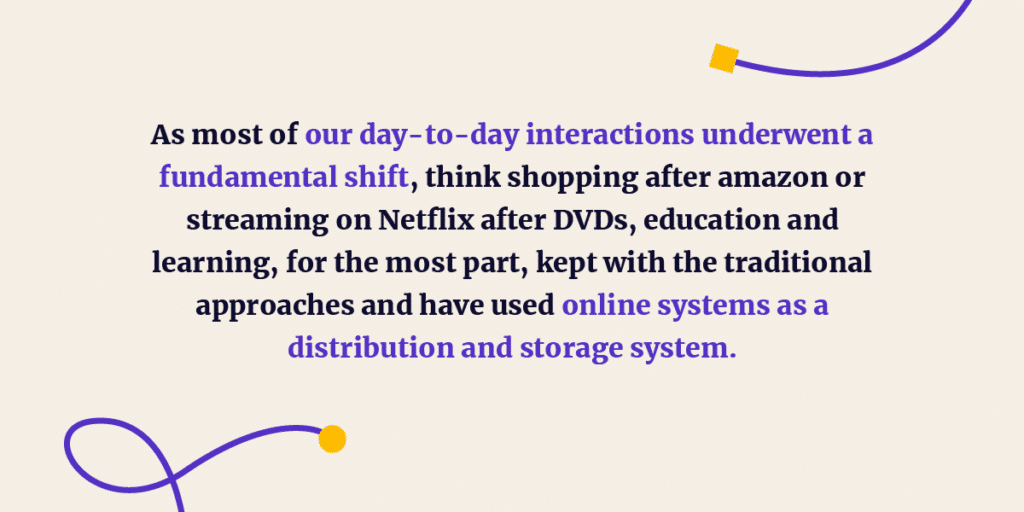 As most people who have ever taken an online course, you likely recognise this kind of behaviour and have felt that it is much like the classroom setting, except you are sitting at your laptop instead of a lecture hall or desk.
If the above is true, then there is an excellent opportunity in learning and education to re-imagine how it can take place in online environments. By taking full advantage of all that connected technology, rich-media delivery, AI, and machine learning possibilities offer and using them to enrich, enhance, and embrace all that learning in online environments and can be. Enter CLANED® in 2013.  
So, what exactly is meant when we talk about a "new way of doing online learning"? Well, CLANED is based on a trinity of three connecting elements – the platform, learning design, and robust analytics – creating an online learning environment and experience that uses the opportunities and possibilities of technology, making learning more effective with measurable results. None of these elements is separate or stand-alone, they are designed to feed into and support one another, forming an inter-reliant system to enhance, deliver, and evaluate learning.
The Online Learning Platform we hoped for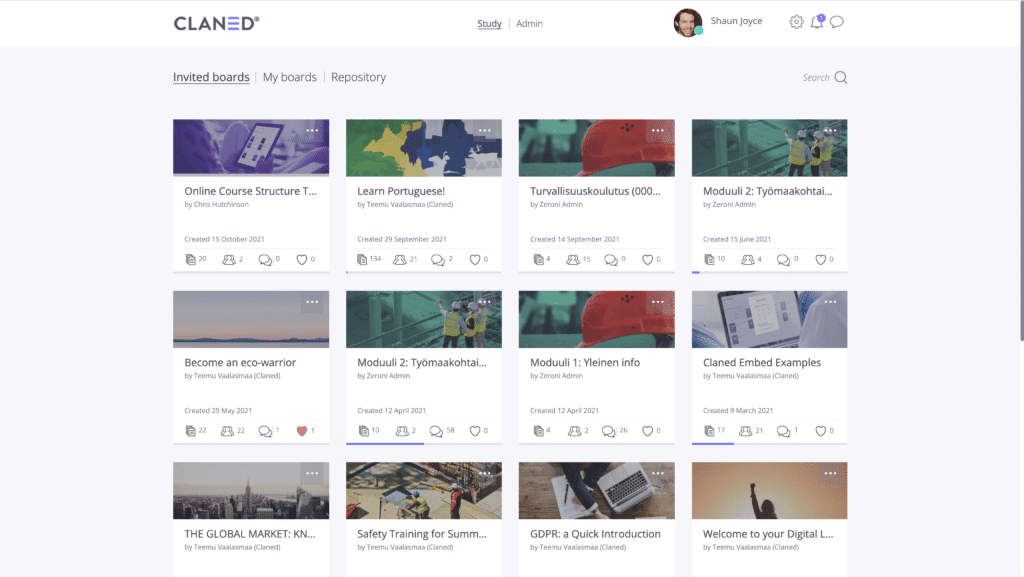 Perhaps an overlooked element in almost all online learning experience design. While the concept is simple enough – a place to organise and access learning materials – it's easy to forget it can – and should – be more than that. The platform serves as the digital classroom, and we know that classrooms are more than feeding rooms for information and assessment. They are communities, and friendships are formed, debates are engaged in, and rivalries are spurned. In classrooms, people laugh and learn with each other. Somehow when these classrooms move online, all this stuff is left out. This is not the fault of "online" because we KNOW that we can be just as social online and be engaged, entertained, and deeply committed to digital activities. So, what if we can bring that into online learning. 
CLANED's learning platform is built to be different. From the login page to the layout of the course, the platform is designed to be easy to use, with a user experience that can stand alongside other online experience platforms. The courses are laid out grid-style like Pinterest boards.
CLANED is a space for social behaviour, group and private messaging allows for discussion with peers and the passing of notes. Learning materials such as documents and videos are essentially a shared, group copy, so the notes, thoughts (in the form of comments) and questions of peers are visible to everyone, making the step to engaging in meaningful discussion about the content intuitive and as natural as in a face-to-face classroom. Likewise, learners can easily add their assignments and projects to course spaces or their own dedicated spaces, allowing their peers to learn from them and provide feedback and suggestions.
The purpose behind all these features in CLANED is to support the community of learners. Learning scientists have long been aware that learning is a social process, that is to say, that people learn best when they can learn with and from each other. When we are engaged with other learners around a topic, we switch from passively reviewing information to actively expressing how we interpreted it. This means we need to recall past experiences and knowledge, combine it with the new information and then share all that in a way that others will understand. Engaging in these types of cognitive activities takes tremendous effort and work on our part. We have something to "show" at the end of the process. This means that the new information is much more likely to have a lasting impression, affecting future thinking, learning and activities.
So, while it may seem like a simple thing on the surface, the CLANED platform is a place to deliver and organise content and instructions and a space for social interaction and communities around learning to grow and develop.
Learning Design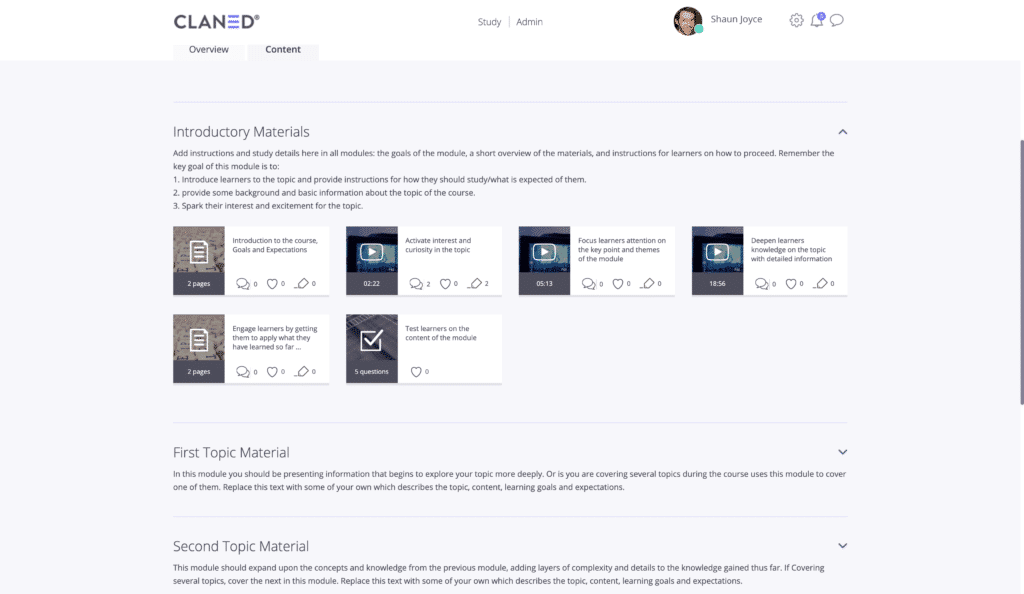 New tools require new training to be used effectively. In the case of online learning, even more so. Teachers, professors, and instructors are undoubtedly deeply knowledgeable experts in their fields and (hopefully) the act of teaching. However, most education is built on the foundations and history of people learning face to face. While this well-established practice has taught us how people learn and what methods work best to support them, it was not developed with online learning in mind.  
Does that matter? Can't the methods and ideas be carried over to the online environment? Well, no, not exactly and not in all cases. Look no further than the drop-out rates of MOOC's (massive open online courses) and the generally lower rates of achievement and success reported from schools, universities and businesses doing online learning and training. Not because online learning is not as effective but more to do with the fact that the learning approach and methods were not suited to online practices. Online learning is a new field of experience for people and requires us to develop new strategies and understand how to make it successful. To make space for this, we need to be willing to let go and throw away some long-held approaches or adapt some of the knowledge from the past to make way for the new, and this is where learning design comes in.
Learning design involves understanding how learning happens and applying it to the structure, delivery, and contents in an online environment to ensure they support natural learning processes and work in sync with online learning environments' opportunities, tools, and flow.
CLANED takes a two-pronged approach to this challenge – by "baking in" tools, elements and functions to the platform that support effective online learning practices and provides guiding information and training for those building and delivering courses so that they can do so in the most effective manner.
Consider how this works: in an online learning situation, learners are often studying at different times and from different places; as mentioned before, the chat and commenting tools allow for learners to discuss and engage with each other regardless of this, but how does an instructor or teacher engage with the learners' discussion? They can quickly and easily view all the comments and discussions around a particular content, get a sense of where learner interest lies or any uncertainty still exists, and use this information to reply with leading questions or additional explanations.
Suppose they (teachers, instructors) learn to engage with this process on, say, a weekly basis. In that case, they now have a low threshold means of monitoring progress and engaging student activity, in a way that is relevant to the learners' experience. So here we at CLANED see how an element from learning design and the platform are connected to support learning.
Another example comes in the form of up-skilling instructors and course creators to best deliver content in an online learning environment. Attention spans are limited, more so when learners are isolated or not in a classroom environment. This means not expecting the same behaviour when taking in information, so lengthy recorded lectures and long readings are less likely to create a positive learning impact. Instead, we (as educators) need to adjust how we deliver the material.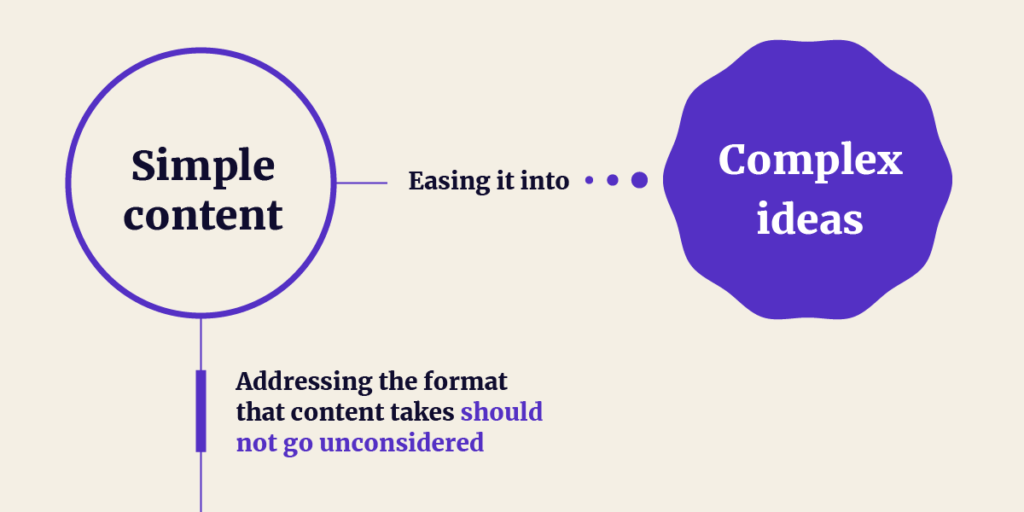 Starting with simple content and easing it into complex ideas from shorter is one method but addressing the format that content takes should not go unconsidered.
CLANED to this end is "agnostic" about content formats, meaning that it allows a wide variety of digital content and tools to be included in courses. There are a plethora of apps and tools available to create specific learning materials. CLANED wants you to explore them and use a wide variety of content formats to deliver learning content. Great educators are well aware of the role of creativity in providing outstanding learning. It can spark excitement and engagement in learners, transform a "boring" lesson or subject into one of mystery and intrigue. Games, interactive content, and puzzles add variety, fun, and excitement for learners meaning they are more engaged with the learning process. CLANED aims to make course creators aware of these options and encourages them to include such elements in their courses. We also offer consultation and training sessions with our learning experts to help clients optimise their courses for the online environment.
Actionable Learning Analytics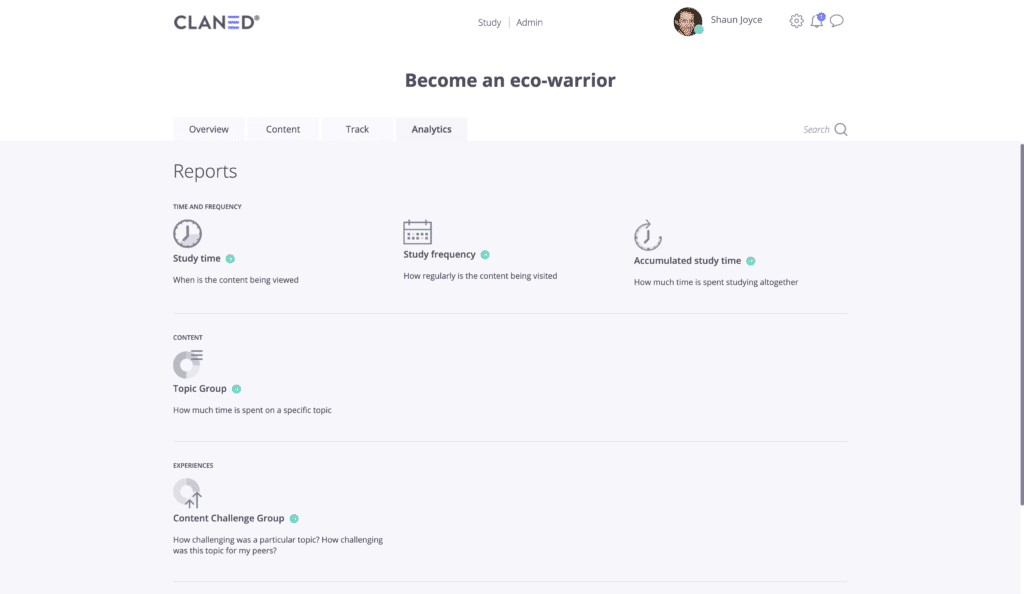 The third element in CLANED's tenacious trifecta for terrific learning results is comprehensive analytics. While many online learning platforms may offer some analytics reports, these are often limited to progress tracking and logging the time spent inside the platform. While this has some value, it's often very surface level and doesn't do much to tell us about the actual learning experiences learners are having.  
CLANED's approach is more comprehensive and aims to provide a deeper understanding of both the learner's experiences, the effectiveness of the courses and its contents in relation to those experiences. Using a combination of AI and machine learning, analytic reports which measure the success and popularity of the content, and topics within a course, are available allowing the instructors and course creators to evaluate their work and understand what works and what doesn't with a particular group of learners.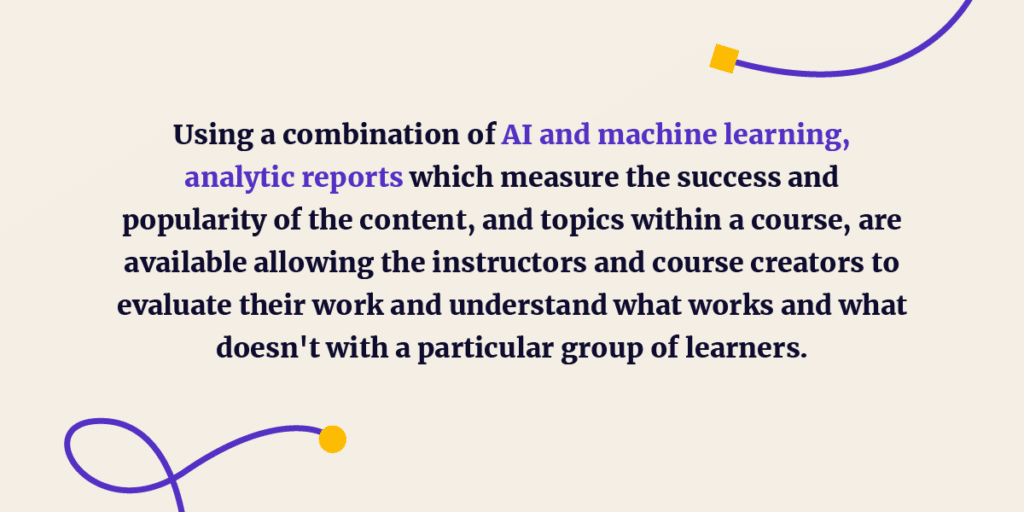 Use this to find connecting factors and develop future iterations of a course. Similar reports can be generated about learners' experiences, at the end of every content in a course, learners are asked to rate the material on three simple metrics – difficulty, skill, and interest. This is a quick action that adds no extra burden to the learner's experience, yet, over time and input from several learners, clear patterns emerge. These patterns offer insight into learners' subjective individual and collective experience, allowing for interventions and improvements to be made to materials or delivery methods of weak performing materials or subjects and ideas for how to make such improvements based on elements of high-performing materials.
All this analytics data at CLANED serves to measure the success of a program and the learners and connects directly to the platform and learning design elements. They are an essential component by being built into the platform and tracking activities, actions, and feedback. Visualising patterns in the learning and activity feedback into the principles of learning design shows where we can apply attention and changes to affect those reports positively.
Effective online learning requires us to rethink how we approach learning; how it's presented, delivered, and evaluated, the heart of what, why and how of CLANED. We believe it's time for online learning to graduate, take with it the valuable lessons and insights from the past and start applying itself in new, exciting and likely challenging ways. There is no doubt more to learn and discover about maximising results and enhancing experiences; learning is a process, after all. We feel that the first steps are embracing the strategies and options available by utilising the web and all the technologies it makes available to us. So be bold, go against the status quo with us and dare to imagine how learning can be different. We're here to support you.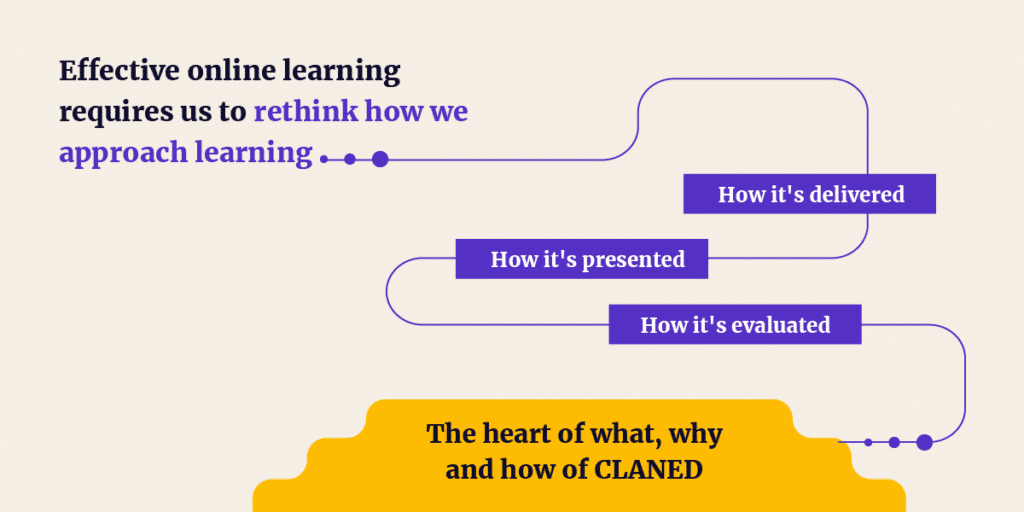 If you'd like to read more content like this, then check out Chris's post – Learning Analytics: How can you use it to improve performance?