It's time. Your team, department or organisation has been thinking about building an online learning or training program for quite a while now. You know why you need this program, you know what you'll need for it, and you've got the people to help bring it to life. The only challenge in your way? Finding the right learning platform.
And we'll be the first to admit: it's not as easy as it sounds. With all the features, capabilities, innovations and barrage of products out there? How are you supposed to choose 'the best' from that many options? It's not easy. But it doesn't have to be that hard, either.
Allow us to take you, step-by-step, through all the factors that go into selecting the perfect online learning platform—so you can get course-building as soon as possible!
Step 1. What Are Your Needs?
Before you head out into the wilderness searching for a learning platform, a good first step might be to direct focus back to the needs of your own learning programs. Understanding the requirements of your courses, your learners, and your organisation lays out the blueprint for what you'll be looking for in the 'right learning platform' when you do find it.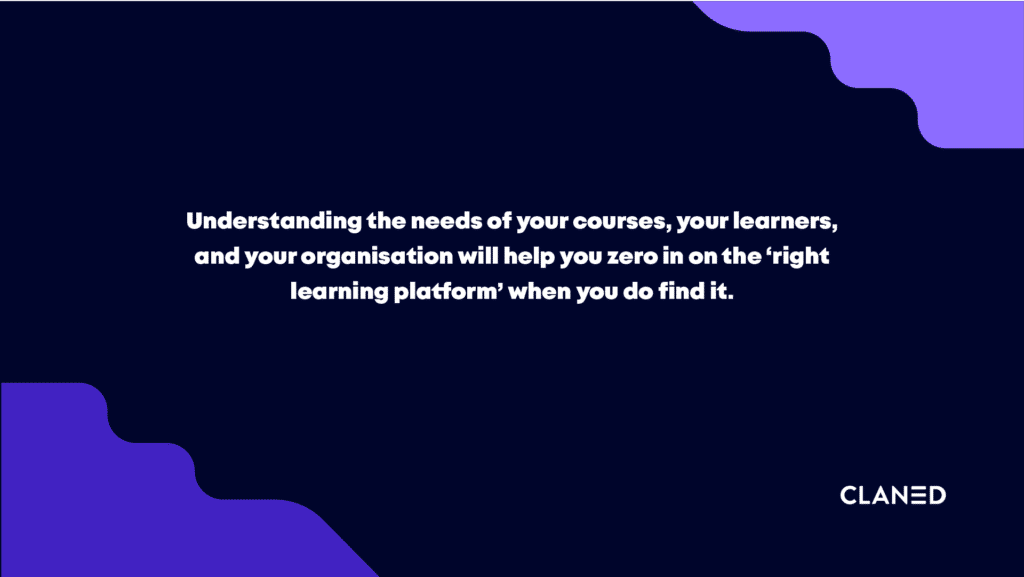 Here are a few key points to focus on:
Your learning platform requirements can vary greatly based on who you're planning your courses for. How tech-savvy are your learners? What is their background, their strengths and weaknesses? What skill sets do they already have and what knowledge gaps are you looking to fill? By identifying your target learner base, you'll have a better grasp of the challenges you face and, as a result, the solution that can best help you out.
This might sound like the most obvious thing in the world. But knowing what goals and learning outcomes you're working towards can make ‌choosing a learning platform that much easier.
What skill sets or information are you hoping for your learners to take away after they complete the learning program? Consider your larger business strategy: what is this learning program hoping to accomplish for the learners and the company? Charting out these outcomes is important because they give you a clearer view of how you plan to use the learning platform to achieve them.
Learning Content and Delivery
What content types will you be including in your course? Will it be hybrid or entirely online?
Even if you're planning on fleshing out the details of your course after the choice of platform has been made, it's still worth looking into details like these about the content, materials and delivery of your learning program beforehand. You might want to know, for example, whether the platform is cloud-based and can be used on multiple devices. Does it have an app? Will learners need an internet connection?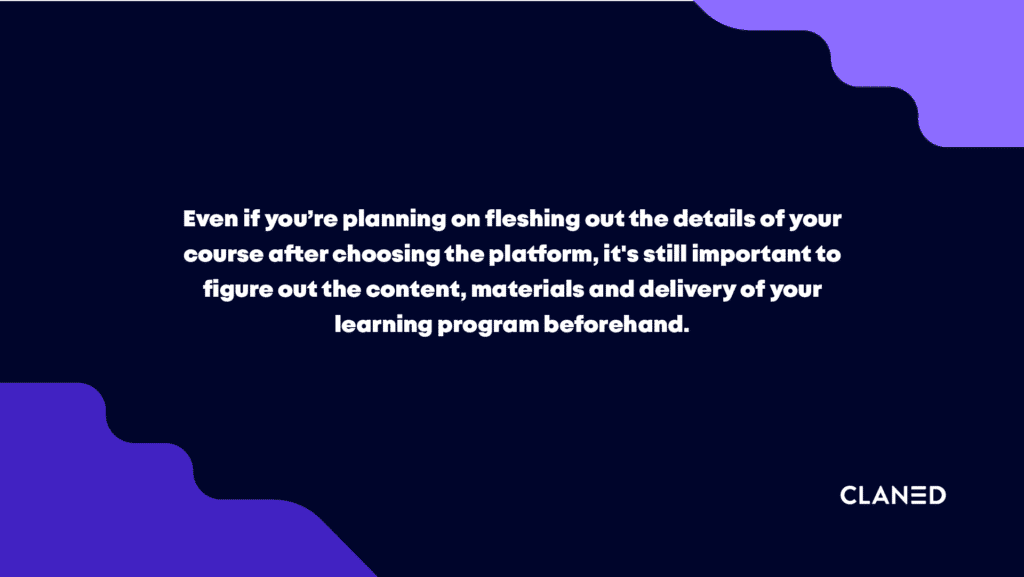 Content and delivery are two of the most important factors in course-building, which is why it's so important that your platform not only supports them but also maximises their potential.
All three questions form an integral part of the process known as Learning Design, which we at Claned can't recommend enough. It helps set the stage for your learning program to be successful, helping you prepare for challenges and providing a fine-tuned learning experience for your audience. Learn more here: What is Learning Design?
Step 2. What Are Your Learning Platform Options?
When it comes to online learning platforms, there's no dearth of innovative products in the market. So why not take a peek at the menu? Sure, you could settle with the default option. But with all the features, opportunities and possibilities in today's bustling e-learning market, would that be the best option?
Here are a few things to consider:
LMS vs LXP: What's the Difference?
The two most popular types of online learning platforms—LMS and LXP—are often a point of fervent debate in the online learning industry.
LMS (or Learning Management System) has long been the conventional form of learning platform and the default go-to option for many organisations. It focuses on providing a set, rigid learning experience under the control of an administrator and is ideal for compliance training and certifications.
Meanwhile, LXP (Learning Experience Platform) is the new kid on the block that focuses on offering a more flexible, personalised learning experience that alters itself based on the choices of the learner.
Of course, these basic definitions only scratch the surface of what modern learning platforms have to offer. It's worth looking into modern iterations of LMSs and LXPs as well as the options that build a bridge between the two (like Claned).
For a deep-dive comparison between the LMS and LXP, check out our blog post: LMS vs LXP: Which One's Right for You?
A Look Around the Market
A 2022 report by Straits Research states that in the year 2021, the global e-learning market was worth a whopping USD 215 billion. What that means for you, the person searching for an e-learning product, is that there are more options and opportunities out there than you might have at first imagined.
So make sure to take a good peek around the market because, in the long term, it'll be worth the trouble.
Does a product claim to have 'great user experience' and 'smart learning analytics'? So do a dozen other products in the market. How great the user experience is and how smart the learning analytics truly are is a question that can only be resolved with a bit of deeper digging.
What picture do the product reviews and ratings paint? Do the client experiences resonate with you?
Does the company offer a live demonstration so you can actually see the product in action? If so, take the opportunity to gauge the usability, versatility and scalability of the product. Get a complete idea of the potential and opportunities presented by the learning platform. And most importantly, make sure you are satisfied that the platform could truly help you create more effective and engaging online courses.
Check out: 6 Top Learning Management System (LMS) in Finland
Step 3. What Features Make Things Interesting?
Be warned: in your search for the best learning platform, you might at some point find yourself drowning in a sea of feature lists. There has been a significant amount of innovation in the e-learning product industry in recent years, so a number of products will be vying for your attention with their unique offerings.
But not all products—or features—are created equal. Here are two features to keep an eye out for:
Deep Learning Analytics: Several learning platforms claim to offer learning data features, but most are often limited to basic tracking and reporting, such as participation and completion rates. Data is collected, to be sure, but it is ultimately of little to no value.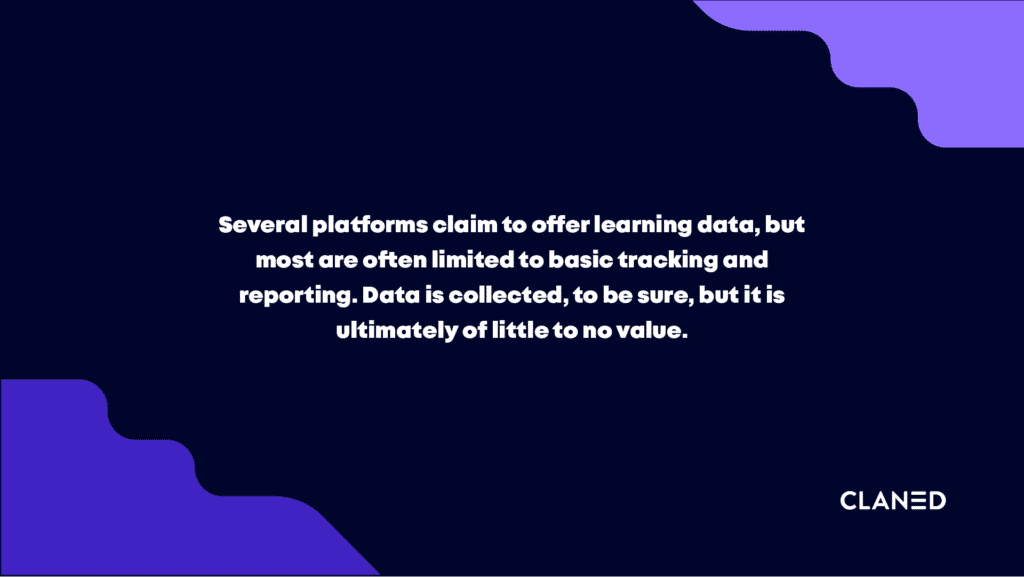 Instead, keep an eye out for the handful of companies that are actually interested in exploring the full potential of learning data analytics and reporting. The ideal learning platform would be one that offers you deep, detailed and actionable learning reports you could easily use to evaluate your efforts and improve the learning experience.
Social Learning Features: There is a wealth of research in the pedagogical world that indicates learners learn better when they learn together. And yet, not all online learning platforms explore the benefits and opportunities presented by peer-to-peer interactions and community learning.
Consider looking at platforms that make Social Learning an integral part of their design and learning experience. Is the platform designed to promote learner interactions? Does it encourage learners to interact with each other in creative ways? Does it give you insights into learner discussions and how it impacts their engagement with your content? A platform that focuses on building a thriving learner community might just be the edge that your learning program need.
Read: 7 Ways LMS Platforms Benefits HR Professionals
Step 4. Choosing the Platform
Finally, we've arrived at the deed itself—the choosing of the learning platform. Remember: if you've already taken stock of your requirements and explored the market, the choice becomes far simpler than if you go head-first into platform-hunting.
At this point, you probably have a narrowed-down list of platform options that meet your criteria, fit your requirements and have a solid reputation in the market. You can now start getting into the nitty-gritty of what sets one of these apart from the other and, eventually, discover that rare gem in the rough you went looking for!
Cost
Understandably, price is often top of mind when people go searching for the right learning platform. Budgets can be constrained, and resources can be limited. It's no surprise that cost is a major deciding factor.
But with that said, learning platforms are a long-term investment. And the features and capabilities that truly make online learning effective come at a price. A cheaper platform might not weigh heavily on your budget today. But it could still cost you in lost opportunities, unmet goals, disengaged learners and ineffective learning programs.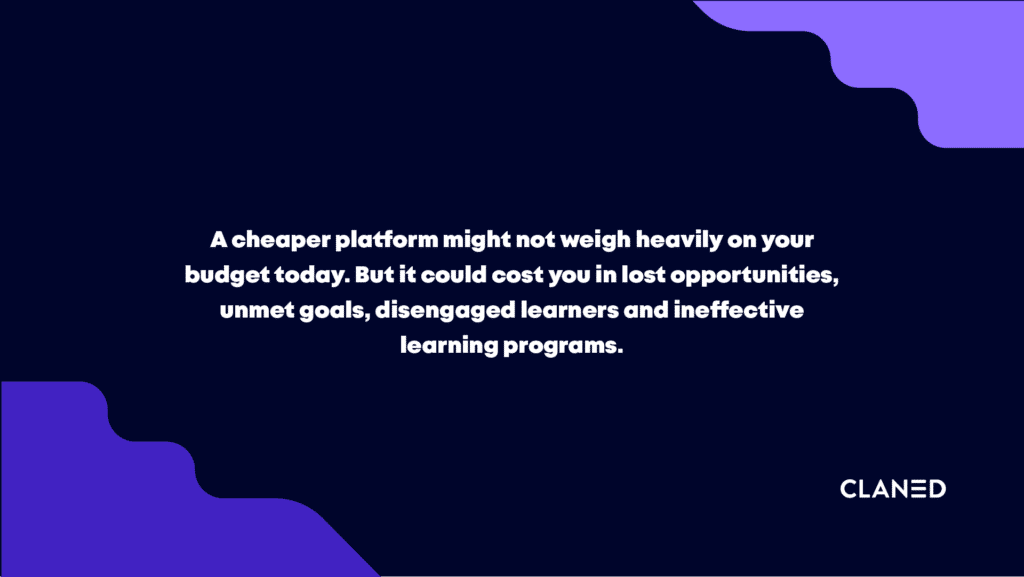 Which is why it might be more helpful to gauge the value a platform provides on the whole, particularly in the long term, rather than focus too much on the immediate cost itself. A lot of factors go into pricing strategies for online learning platforms, so feel free to seek more information from the vendors on this point before making the final decision.
Time, Effort and Expertise
Of course, a learning platform could cost you in ways that go beyond pricing. How complex is the platform experience? How easily and quickly can you set it up? These considerations have a significant bearing on the amount of time, effort and resources your organisation spends to build a learning program from the ground up.
Then there is the matter of the technical or pedagogical expertise involved. Do you have an internal team dedicated to building effective online courses? If the answer is 'not really', you could consider opting for a platform that offers additional technical and pedagogical support. This could be either built directly into the platform as features, or offered separately as additional resources and workshops, or both.
Customer Support
Even with the most robust and reliable of platforms, there are going to be days when you just can't figure something on your learning platform out. For days like these, you're going to need a platform that offers not only a helpful portal of guides and instructions but also accessible customer support.
Does the company offer prompt support? Will they help you troubleshoot issues and work with you to find solutions? Do they value their customers, or will you be left staring at a screen desperately hoping to hear back? It's best not to wonder. Instead, get in touch with potential platform vendors to ask them about how they handle their customer support and troubleshooting needs.
Ask Around
The keenest insights into what you need in a learning platform might come from unexpected places. Consider asking people across various teams and departments (especially if they are part of your target base) for their opinions on what an ideal online learning experience would look like.
What features would they appreciate having in an online learning platform? What tools or integrations would make the learning experience easier or more interesting for learners? You might uncover some truly interesting ideas and points that would otherwise have been hard to identify. And they could be just what you need to help establish a crucial differentiation between seemingly similar products.
GREAT READ:
6 Best Easy to Use LXP (Learning Experience Platform)
7 Questions to Ask Yourself Before Building an Online Course
10 Best LMS For Corporate Training
Conclusion
A good learning platform will help you build the learning program you always wanted. But a great learning platform will not only help you build learning programs but also support, enhance and upgrade them in ways you could never have imagined.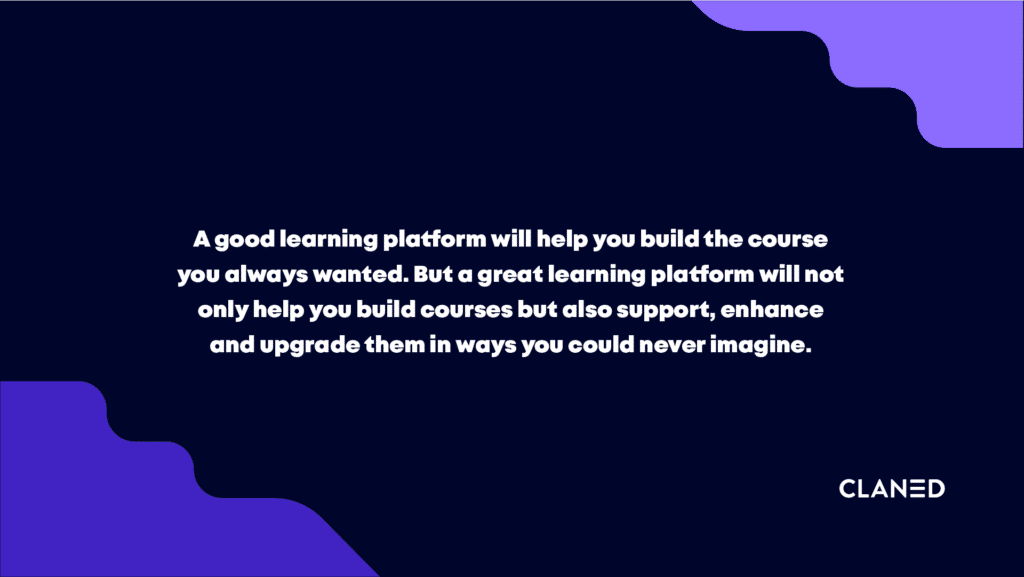 The world of e-learning is full of potential and possibilities that have never existed before in the history of learning and training. The best learning platforms help you realise that potential and explore those possibilities as you build your own online learning program.
All you have to do is find 'the one'. And while it's not as easy as it sounds, these helpful tips will make sure it becomes that much easier for you to find your way to it.