There is no doubt that technology has helped make working life more productive, created new and quickly evolving possibilities, and increased efficiency. The only caveat? The constant need for training and up-skilling among employees.
To smartly and effectively deal with this need, many organizations have already taken that first important step: making the move to online training!
After all, training online is scalable, easily updated and much more accessible and efficient than traditional trainings.
Our focus for today is on complex product training, how they can be conducted and executed in online environments and most importantly, the variety of challenges they face. Organizations often fear compliance among learners in these situations, as well as the daunting scale such trainings may require.
So, how do we ensure that complex product training can be implemented effectively in an online environment?
Check Out: 5 Best Product Training LMS: To Upskill Your Employee and Improve Team Collaboration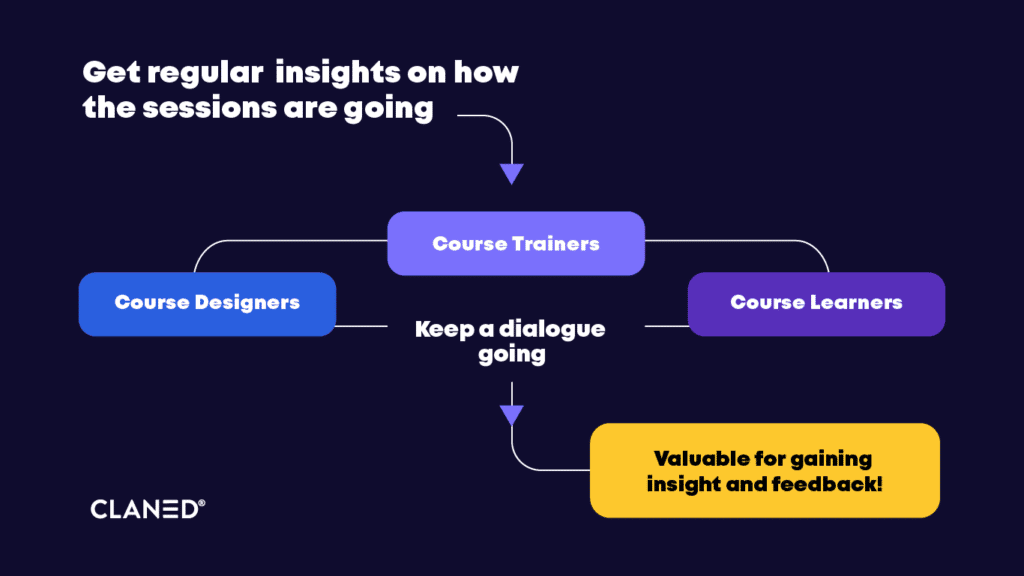 In this article, we will outline some of the approaches and considerations that we find work best when implementing complex product training. While applying any one of these will undoubtedly yield better results, an ultimate solution will likely be a smart combination of the ideas presented here.
And if you're really keen to create the best complex product trainings possible, you can always get in touch with us at Claned! We offer custom learning design workshops, where our learning experts consider your particular situation and goals and help you craft a program specifically suited to achieving them.
The Boon of Blended Learning in Product Training
Broadly speaking, blended learning is an approach to how learning materials, content and exploration are structured within a particular learning program. It is characterized by a mix of self-study materials, exercises, and expectations, along with smaller live or virtual-live sessions where self-study materials are further unpacked, explained and explored.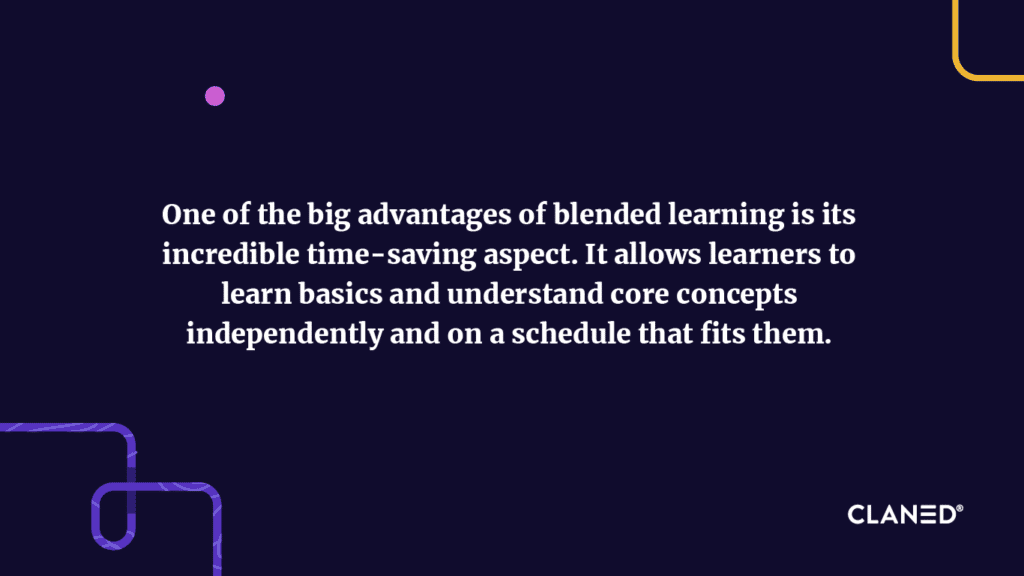 One of the big advantages of this approach is its incredible time-saving aspect. Learners are expected to do the majority of knowledge consumption independently. This means that for learners, learning the basics, and understanding core concepts, terminology, and procedures can happen independently on a schedule that fits them.
The live sessions in a blended learning environment are set at an agreed-upon time and are used to more deeply explore the ideas and material covered during independent study time. These live sessions can be hosted by an expert who can provide demonstrations of difficult or complex operations, answer outstanding questions and clarify learner doubts.
A great thing about this format is that everyone comes to the sessions already prepared with background knowledge of the topic. This means that the exchange of ideas and understandings is more dialogue-based (a key component of social learning methodology) rather than the traditional mono-directional lecture format commonly found in traditional training styles.
What's more, these live sessions in blended learning environments are also often far more active and engaging for learners than traditional classroom settings. Learners become involved in the process at a more fundamental level and the possibilities for deep learning to occur are increased.  
Training the Trainers In Your Complex Product Training
Another consideration that might also come useful in complex product training is the need to help prepare the trainers or experts to perform in their role effectively. This consideration goes especially well when you adopt it alongside a blended learning approach.
To be clear, this doesn't mean that we necessarily need to provide trainers with additional trainings on hosting effective seminars, or a crash course in modern teaching/instruction methods.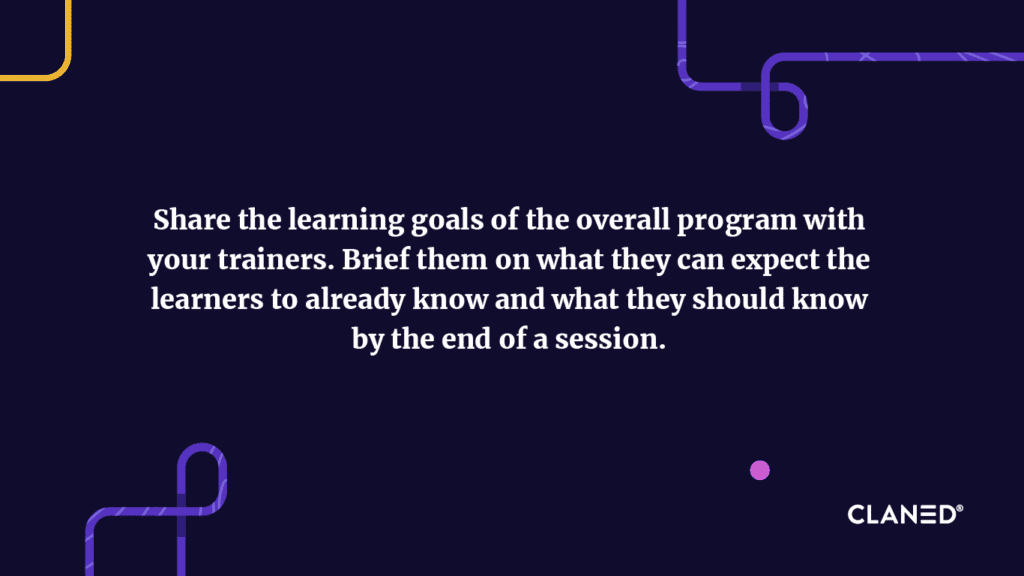 In most cases, this consideration simply means sharing with your trainers the learning goals of the overall program. You could also brief them on what they should expect the learners to already know at the beginning of the live sessions and what the desired outcome by the end of a session should be.
If you've done the proper planning work during your course development these are all bits of information you will already have and can deliver as a simple one-page summary and bullet points. No additional step required!
If you have already leaned into this approach (and we hope you have!), you might also have a specific activity challenge that you want the trainer to deliver during the live session. In such a case, it's best to be sure to a) provide them with details of the challenge and b) give them a brief explainer on how and when it should be conducted. In most cases, this can be achieved with a quick 10-15 minute chat.
Throughout the program, be sure to check in with your trainers and ask how the sessions are going. What was effective or engaging? What went smoothly? What challenges stood out? This keeps a dialogue going between course designers, trainers, and learners, which is valuable for gaining insight and feedback to be used when assessing course effectiveness, updating, making adjustments and new iterations of programs and content.
Content Style and Format in Your Training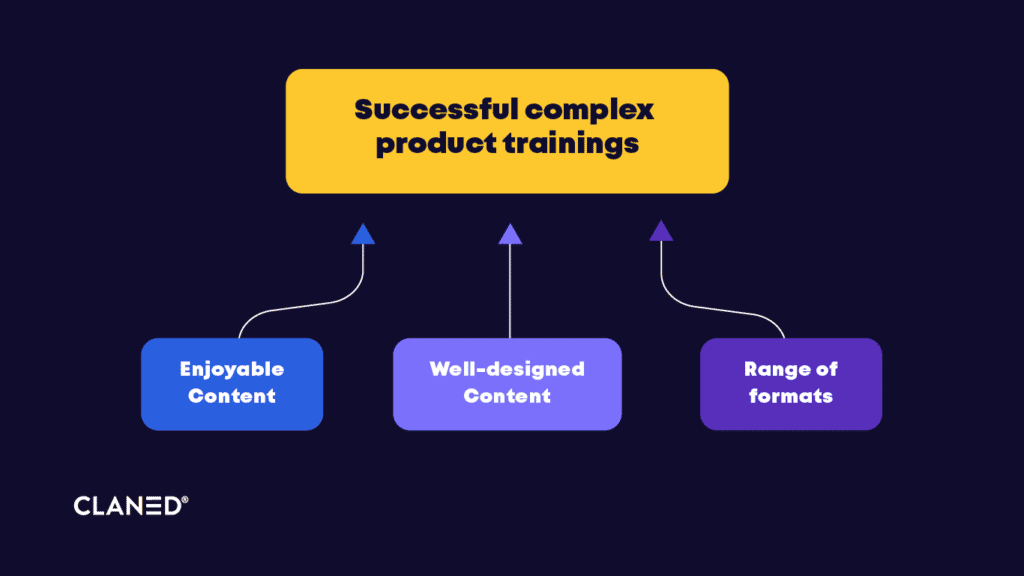 The quality and complexity of your training might be fine-tuned to perfection. But for a successful complex product training, it is just as important to put your efforts into delivering content that is enjoyable and well-designed.
It also helps to include a range of formats to keep things interesting! Exploring and developing a wide variety of innovative approaches is key to producing content that learners can consume, clearly understand, and learn effectively from.
Imagine: you're explaining the layout, elements, and functions of a complicated machine, say, an engine. What content approach do you think would work better?
A lengthy (and boring) text document with descriptions of each part, what it does, and how it connects to the others? Or an interactive image with expandable hotspots that learners can open to see – with descriptions and animations of the parts and their functions? Clearly, the second idea is the winner. Why? Because as a learning experience, it is clearer, more descriptive and more relatable.
Of course, that is not to say that all course materials need to be a blockbuster production. But the point here is to remember that what provides the clearest, most accessible, and most enjoyable experience for the learners should be at the forefront of your content design efforts. Yes, it might mean putting in a few extra hours and resources into content development. But if you're expecting learners to do the hard work of learning, it's fair for them to expect you to put some hard work into crafting the learning experience, too!
Why Making Mistakes Matters
The universal truth of learning is that it happens mainly through practice, trial and error. Which is why in any training program, but especially one that deals with complex topics (or complex products in this case), it is essential that you build in space for learners to try things out.
Add opportunities for learners to try out and apply what they have learned in situations that mimic the real-world scenarios where they will need to use that knowledge. Remember: one of the best things about training programs is the safe space they provide learners to make mistakes and be "free from consequences".
These attempts and trials can then be monitored the learners can be given detailed feedback on the things they did well and the parts they could improve. Getting feedback on both strong and weak points in a practice scenario helps build learner confidence and experience. So when they go out and put their knowledge to use "in the real world", they can do so with experience and ease.
Assessments and Grading Schemes
Of course, when it comes to learning of any kind, how can we forget the role of assessments?
With complex product trainings, too, assessing learner knowledge is important, which you can do in a variety of formats and methods.
Without delving too deep into specifics, what you should remember is that assessment should ideally cover a broad spectrum. That is, they should not rely on a single type or style of measurement to determine success.
For example, multiple-choice style tests and quizzes are great for checking whether learners can remember specific facts or information about a topic. But they are not great at gauging whether learners can apply that information in their daily tasks. For that requirement, things like example scenarios, case studies, or role-playing activities might serve as far better tools of assessment.
Grading schemes should follow a similar logic.
Try to stay away from grading schemes that only take into account test scores. Instead, consider factors such as:
How much of the course content was completed?
How active was the learner in discussion groups and live sessions?
Did they help their peers to understand, or ask insightful questions?
All of these are good indications that the learning is being taken seriously and that the learner is engaged with it. Of course, your particular scenario will bear some weight on how and what you measure.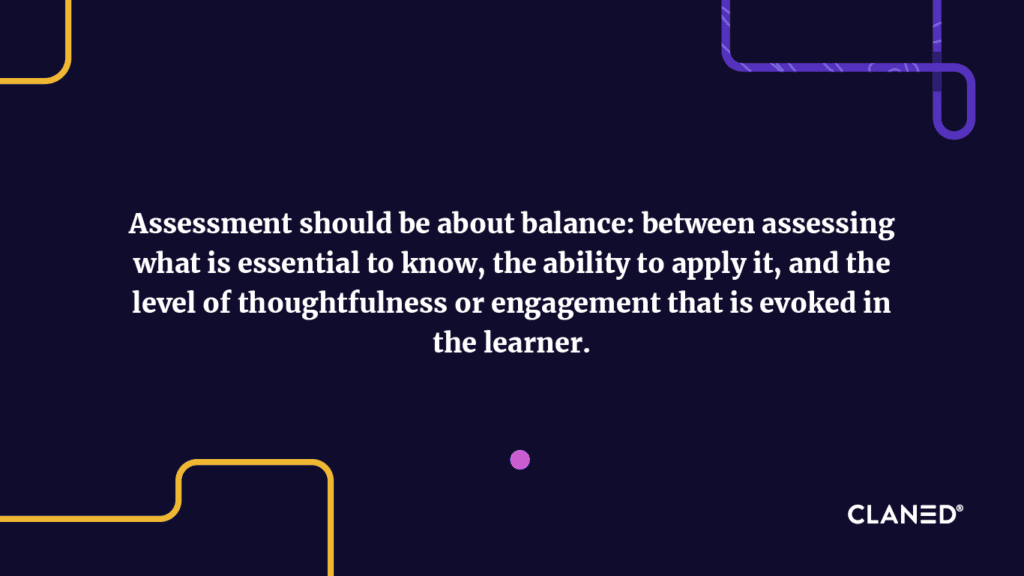 But at the end of the decision-making process, the goal with these choices should be to achieve balance.
A balance between grading and assessing what is essential to know, the ability to apply it, and the level of thoughtfulness or engagement that is evoked in the learner. That is what will help you develop grading schemes and assessments that are effective and targeted toward achieving the goals your organisation wishes to achieve.
CASE STUDY READ: How Solita's Product Training Levelled Up by Going Online With Claned Platform
Final Thoughts
All of this is to say that creating an effective complex product training program involves several moving parts, and depending on your situations and goals these will be tuned differently.
However, having clear goals on how to organize, deliver, manage, and assess your trainings will help you create learning experiences that are dynamic and generate interest and engagement among learners. Which, of course, translates to more impactful outcomes for your organisation!
The goal of a good online complex product training is to generate an effective understanding of how to use and implement the product, whatever the product might be. This means influencing a change in behaviour, which is why we want to strive for "deep learning" or moving beyond the surface of just memorising procedures.
The methods outlined here are strategies that will help you create opportunities for deep learning to occur in your learners. Try them out, test, and iterate the process, dial it into your specific use case and make learning about complex products a memorable and enjoyable experience. Your learners – and their results – will be sure to thank you.
Keen on taking your own complex product trainings online? Our team of online learning experts can help you out along the way!
Reach out to us at sales@claned.com today