In today's fast-paced world, continuous learning is critical to staying ahead of the curve.
Learning Experience Platforms (LXPs) are designed to provide an engaging and interactive learning environment that helps individuals and organizations to acquire new skills and knowledge.
However, with so many options available in the market, it can be overwhelming to choose the best LXP that suits your needs. but that challenge is over today!
No doubt, these platforms offer a seamless and enjoyable learning journey that will keep your learners engaged and motivated. So, let's dive into the top list of easy-to-use LXPs so you can find the perfect fit for your learning needs!
What is LXP (Learning Experience Platform)
LXP is the type of learning platform that focuses on learner's experience and how they acquire the desired skills required from a particular course. Also, LXP offers autonomy to learners and allows them to choose their own learning by offering a variety of personalised content. 
Because user experience is at the core of an LXP, the learning provided on the system is often far more flexible than on traditional learning platforms. LXPs claim to take other aspects of learning into account, such as informal, social and collaborative learning.
Read: LXP vs LMS: The Difference & Which One's Right for You? 
Key Features of An LXP You Should Watch Out For
A Learning Experience Platform (LXP) is an e-learning platform that offers a tailored and interactive learning experience for employees and learners. As you assess an LXP, here are some critical features to take into account:
Content Creation and Curation: An effective LXP should provide tools for creating and curating learning content. These tools enable administrators to upload and manage various types of content, such as videos, images, podcasts, and PDFs, and build a customized learning experience for each learner.
Personalization and Adaptability: An LXP should offer personalized learning experiences that cater to the individual needs and preferences of each learner. Adaptive learning algorithms can recommend content, courses, and assessments based on the learner's performance, interests, and learning style.
Social and Collaborative Learning: An LXP should encourage social and collaborative learning features that facilitate learners to interact, share knowledge and best practices, and participate in group discussions or forums.
Mobile Responsiveness: A crucial feature of an LXP is its mobile responsiveness, enabling learners to access learning content from any device, including smartphones and tablets. This feature is especially vital for remote workers or learners who are on-the-go.
Analytics and Reporting: An LXP should provide comprehensive analytics and reporting capabilities that enable administrators to track learner progress, measure learning outcomes, and identify areas for improvement. This data can help organizations to make informed decisions about their training programs.
Integration with other systems: An LXP should integrate with other systems such as HR systems, talent management systems, and learning management systems. This integration streamlines training programs and ensures alignment with overall business goals.
Microlearning: An LXP should include microlearning features that enhance engagement and effectiveness. Microlearning features, such as short videos, quizzes, or simulations, can help learners to absorb information more quickly and efficiently.
When assessing an LXP, it is crucial to evaluate these features carefully and choose a platform that meets your organization's specific needs and requirements.
Here Are the 6 Best Easy to Use LXP (Learning Experience Platform)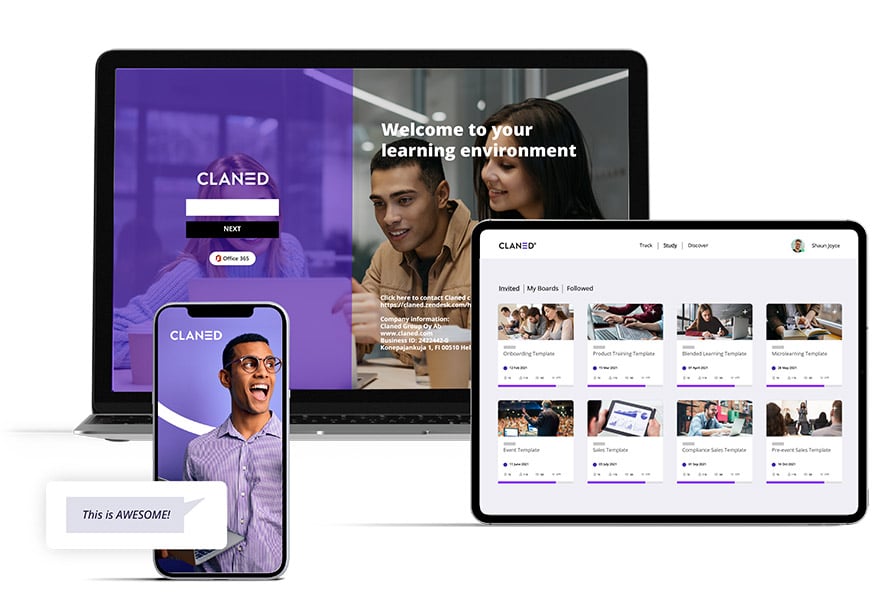 Claned is a cloud based LXP that maximizes learning outcomes for businesses by combining AI, collaborative learning, and world-class pedagogy.
It features an intuitive, easy-to use course builder that helps organisations set up effective product training quickly. It also generates AI-powered learning insights and recommendations that showcase and improve the value of product training programs. Lastly, it uses pedagogical insights to drive home the skills and knowledge needed in the training process.
There you also have already made template you can use to fast track your product training online learning project A 4.9 Star on G2
Features
Easy-to-Use Course Builder: Intuitive course-building experience and a library of templates to set up learning programs quickly and efficiently.
Learning Analytics: Offers deep data-driven learning insights and recommendations based on learner activity, progress, performance and more.
Learning Design: Uses pedagogical research and education psychology to build courses that are effective in the long run. In-house LD experts available.
Social Learning: Features a social-media-like space for learners to interact and discuss trainings and course materials.
Import Existing Learning Materials
Multiple Grading Scales
Mobile Learning Support
Contextual Commenting
Ready to Use Templates
Assessment and Grading
API Access for External Use 
Webhooks
Pricing
Free One Month Trial Available, Try Clane Now
Based on the number of users, Claned offers three pricing plans:
Starter (50 users per month): €196.00
Professional (150 users per month): €500.00
Expanded (300 users per month): €956.00
Custom quotes are also available for more users and specific requirements.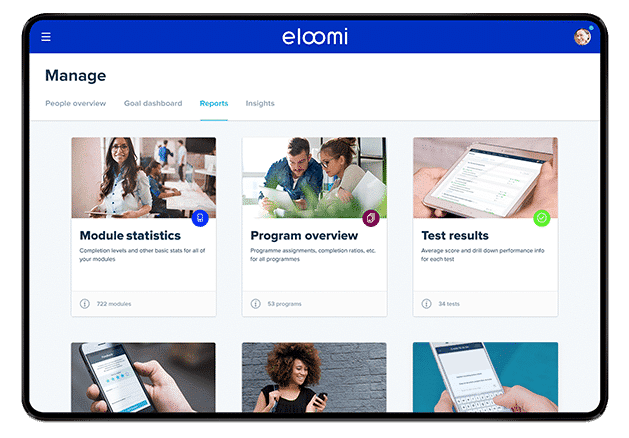 Eloomi
Eloomi is a cloud based Performance Management and LXP that helps organise, create and deliver custom corporate training programs. Organisations can use Eloomi to create and upload training materials in the form of text, audio, and video content and arrange them in modules and courses. 
As a corporate LXP, eloomi offers reporting features to gauge how much time employees spend on a course or module, as well as their performance on various assessments. This data can be used to identify areas where employees may need additional support or training. A 4.7 star on G2
Features
Built-in Course Authoring
Engagement Tracking
Activity Dashboard
Allows Importing of Existing Learning Materials
Performance Metrics and Performance Management
View Course History
White Labeling
Pricing
Pricing starts from $3.00/month per user.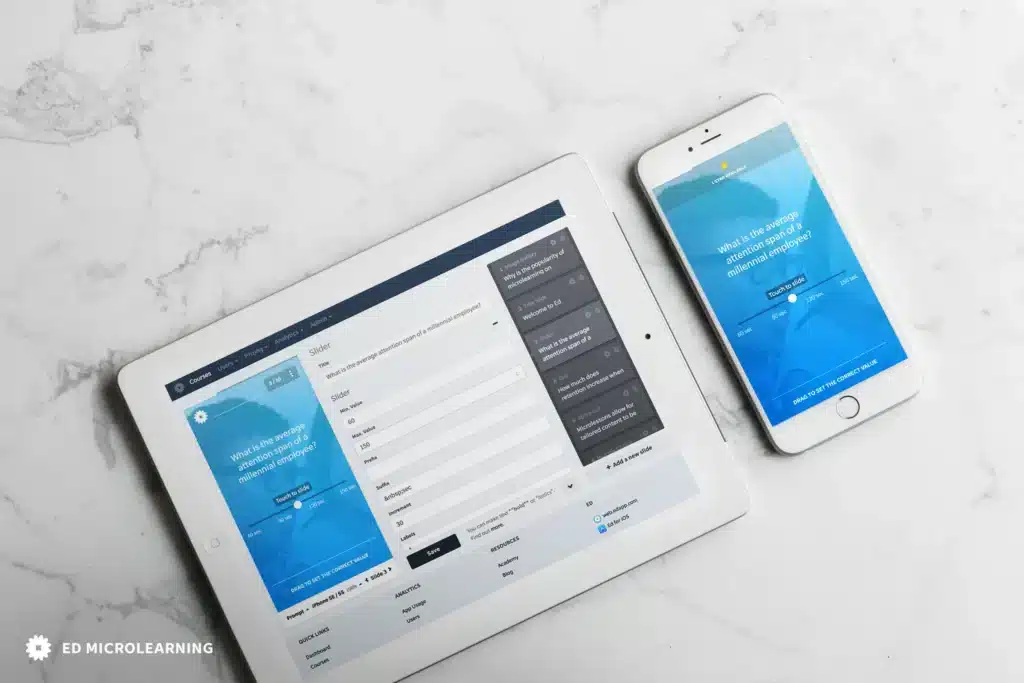 EdApp
EdApp made it clear that they are becoming the worlds most loved mobile training platform. They have mobile Learning Experience Platform designed for today's digital habits, delivering more engaging and effective micro-learning directly to learners anytime and anywhere. A 4.7 star on G2
Features
Creator Tool
Course Library
Mobile Experience
Admin and User Portal
Templates Library
Analytics
Social Learning
Discussion and Assessment
Conferencing Tools
Pricing
Free To Use but extremely limited to what you can do
Growth: $1.95 per User / Month
Plus: $2.95 per User / Month
Mid-Size: Starting $1.95 per User / Month
Enterprise: You need to contact the support team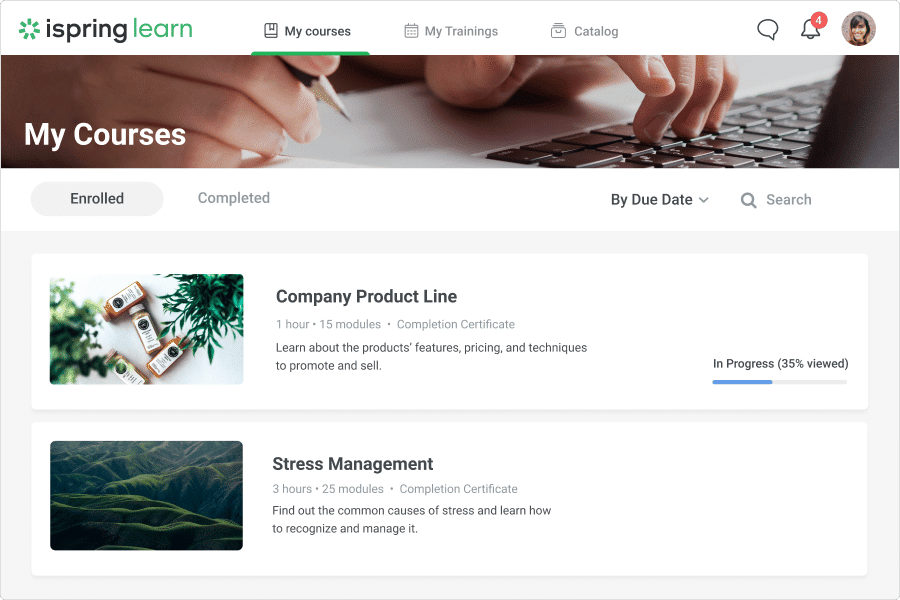 iSpring Learn
iSpring Learn is a learning platform designed to help organisations create, deliver, and track courses for a number of training scenarios. he platform offers a clean, interactive user, experience that makes it easy to use for both learners and organisations.
iSpring Learn is also ideal choice if you plan on implementing trainings that incorporate blended learning (combining in-person and online elements). You can either upload existing training materials or create new ones on iSpring's course authoring tool. A 4.5 star on G2
Features
User and Course Experience: iSpring Learn has a clear focus on creating interactive, engaging courses that can feature content in a wide variety of formats.
Blended Learning: iSpring Learn also allows organisations to seamlessly bring together both in-person and online elements of corporate training.
Social Learning: The platform also features a dedicated newsfeed where learners can get together and discuss training materials and react to comments.
Real-time Data Reports
Reliable and Prompt 24/7 Customer Service
Available on a Variety of Devices
Learners Tracker & Analytics
Pricing
Based on the number of users, an organisation can select one of iSpringLearn's three plans: 
100 Users: $3.66 per user/month
300 Users: $3.00 per user/month
500 users: $2.82 per user/month
Custom pricing available for 500+ users.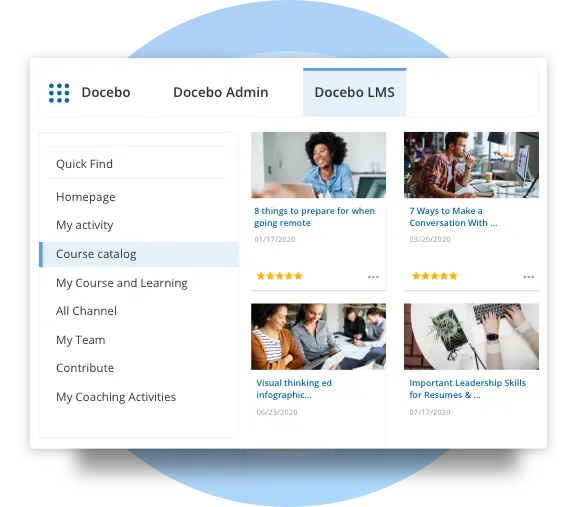 Docebo
Docebo is a powerful platform that offers a wide range of features for product training, including drag-and-drop course creation functionality, social learning, progress tracking and support for multiple languages. This Product Training LMS is also ideal if your organisation uses tools like Salesforce and Microsoft Teams, as it allows for seamless integrations with both. A 4.4 star on G2
Features
Wide Variety of Integrations
Built-in Course Authoring
AI-Powered
Social Learning
Allows for Easy Asynchronous Learning
Assesment Management
SCORM Compliant
Learner Portal
Analytics
Pricing
Plans start at $25,000 per year.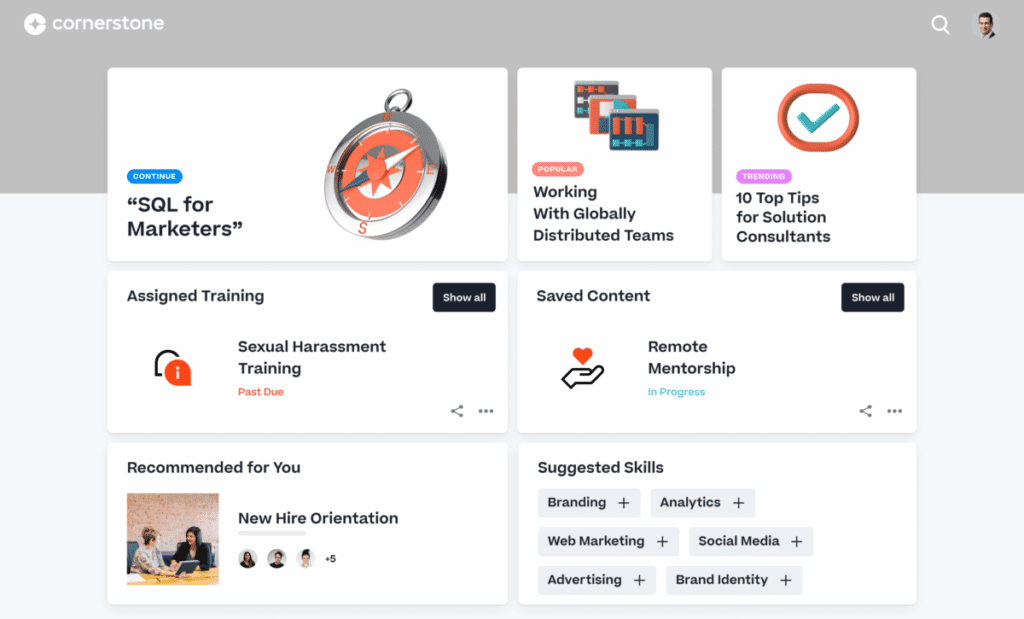 Cornerstone Learning
Cornerstone Learning is a cloud-based learning platform and is a part of the Cornertsone Learning system that combines a variety of corporate tools and products. The Platform has a unique focus on offering personalised training experiences for employees. A 4.1 star On G2
Core Features:
Skill Development
Personalised Learning
Customisable User and Learner Experience
Cornerstone LXP App and Mobile Learning
Activity Dashboard
Course Authoring
Social Learning
Tracking and Reporting
Pricing
Not available.
How To Choose the Right LXP For Your Online Learning Needs?
To ensure that you get the most out of your desired learning experience, it's essential to select an LXP that aligns with your learning goals, preferences, and technical capabilities.
Our goal is to help you make an informed decision. Below are our most important factors to consider when making your choice:
Training needs and priorities: What exactly is your organisation looking to achieve with the LXP? Corporate training is a wide playground of opportunities. Focusing on the most important needs, goals and priorities for your company will help you narrow down on features and functionalities that help serve your purposes best.
User experience: Online corporate trainings are meant to make learning more engaging for employees and customers. No to mention that they are supposed to make trainings easier to implement for organisations. 
That is why user experience is a crucial factor to consider when choosing a corporate training platform. The ideal LXP experience should be sleek, intuitive and easy to navigate, and it certainly helps it the platform can also be accessed on various types of devices.
Integrations and customisation: Speaking of making things easier, it can be extremely useful to have a corporate training platform that integrates with your organisation's existing tools, systems and databases. It saves your business an incredible amount of time and effort, and helps set you up for building trainings quickly and efficiently.
Customer support: The value of the right corporate training platforms extends beyond its basic features and functionalities. Once the platform has been chosen, purchased and integrated, there are a number of ways in which members of your organisation could need additional support and assistance. 
That is why it is important to select an LXP vendor that offers dedicated, prompt and reliable customer support through various channels such as email, phone or live chat. To get a better understanding of an LXP provider's customer service performance, consider perusing their customer reviews and online feedback. 
Cost: LXP options come on a wide spectrum of price points. At first, it might make sense to choose the one priced lowest among a string of similar-sounding products. But the wrong LXP can end up costing your organisation in the long run, in the form of lost revenue and wasted time and resources. On the other hand, a higher-priced LXP might not be superior to its peers in the ways that matter most to your organisation. 
It's recommended to weigh the pros and cons of each platform and consider all the costs, fees and long-term benefits before making the crucial financial choice.