Learning Design is all about how to craft learning experiences that are beneficial, effective, and enjoyable. It's less about the content and focuses more on how it's delivered. One of the fundamental concepts is that learners and their experience lie at the centre of every decision about how a course will run, what is included or excluded. The thinking behind this approach is that for learners to be successful in a learning situation, the situations need to take their preexisting knowledge, interests, and motivation into account.
While this may seem obvious when put this way, it's still a relatively new field of practice. Often, to those outside the learning industry, it seems somewhat of a foreign concept. As learning and education grow and develop, embracing new technologies and ways of doing things is becoming more status-quo. This is changing as everyone from business to schools and higher education institutes are recognising the need for learning design to effectively educate and train their students, employees, and clients.
While this is great, it might be interesting to take a step back to better understand the origins of learning design and some of the foundational principles and tactics that have helped develop the field to where it is today.
Learning Design is borne out of Instructional Design (ID), which can be thought of in some ways as a broader more generally focused design practice. The goal of instructional design is to develop ways to clearly communicate step-by-step instructions for complex processes in the most straightforward, easy-to-follow way. Think of IKEA. By now, we are all familiar with the slim 3-5 page instruction pamphlet that is included with almost every object they sell. If there is no text, instead of relying on clear, simple illustrations that when followed, turn a collection of parts and pieces into a bed or cabinet (if you exclude the inevitable spare parts one always seems left with). From an ID perspective, this is about as good as it gets.
No translations are needed, and there's absolutely nothing to misconstrue, or not understand. Simply copy what you see in the picture and things should go as planned. For simple procedural tasks, with no room for variables, this is pretty much the gold standard for ID. But what about procedures, or knowledge that is less straightforward? What if we want to encourage discussion and debate? Or cause a change in behaviour? As soon as we add this kind of complexity (not to mention the complexity of individual minds engaging with the process) things become messier. That's where Learning Design comes into play.
By combining principles and ideas from instructional design with research from learning, education, developmental psychology, and even technological innovation, we get Learning Design or LD. While the goal of LD is similar to that of the IKEA instructions, there are many more "moving parts" to account for and a greater degree of complexity. We need to think about not only the "instructions" for how to do a thing but also account for how people will react to, absorb, and utilise the knowledge and the experience of how they receive it.
After reading that you may be thinking "so it's highly contextual, and probably requires a specialised knowledge and skill-set to do well." While you wouldn't be wrong in thinking this, you wouldn't be right either. The truth is it's somewhere in the middle. The good news is that there are a host of tools and applications that can bring you most of the way there. In online learning for example, with the right LMS/LXP (Learning Management System/Learning Experience Platform) tools and guidance can be baked into the content creation process, making sure that the critical points are touched upon, allowing you to focus on the content.
In addition to that, there are tried and tested design methodologies that anyone can implement into their content/course creation process that works to underscore elements of the process that will lead to more successful material, structure, and learning results. The ADDIE model is one such tool, inherited from Instructional Design methodology which can be applied no matter your topic or (learning) goals. ADDIE is an acronym which stands for Analyse, Design, Develop, Implement, Evaluate. It's a cyclical process of refinement and adjustment allowing you to move from a rough idea to a refined concept, working through your ideas and material in a systematic, step-by-step way. You can iterate the process as many times as needed to reach your desired result.
Let's break down each component of the ADDIE model and see how they feed into each other.
Analyse
The focus of the first step in the ADDIE model is all about gathering information. In the case that you have used the backward design tool/process, you have already begun this phase. The main point here is to collect and understand the type of information that will help you to create a learner-focused program that considers their needs and capabilities, and how these can connect the learning goals and outcomes of the program. Questions in this phase largely fall into one of two categories: learner-focused (about the people) and goals-focused (about the program). 
Design
The design phase of the ADDIE model is where we begin to look at the content and lesson planning, creating an outline for what will be learned. Depending on the nature of your content and topic, you may consider using a backwards approach to this. Begin by creating an end-of-course (or module) assessment. This will help you to clearly lay out what information needs to be covered through the lessons and material. From here you can work backwards to fill in the necessary content.
There are several forms this design planning can take, such as simple bullet form word documents and lists, mind maps, etc, but we recommend using the "storyboard process". Just like in film and video, where the term is taken from, story-boarding is the process of writing down brief descriptions of of each content piece of content that contain all the essential information. Titles, links to articles, instructions for learners, and the learning objectives of a particular content are all included. You might also consider noting how the content supports previous or subsequent content (e.g., expands on idea x from previous content, or introduces concepts y and z to be expanded upon in following contents). For more info on how to storyboard your program effectively get in touch with CLANED.
One important consideration during this phase is have opportunities been created for learners to practice or apply new knowledge and skills in meaningful and relevant ways. What we are really talking about here are assignments. It's an important part of the learning process that knowledge and skills get applied, this is when magic can happen as learners are asked to combine old and new knowledge to create new things and not only see but understand the effect the new knowledge delivered to them in action.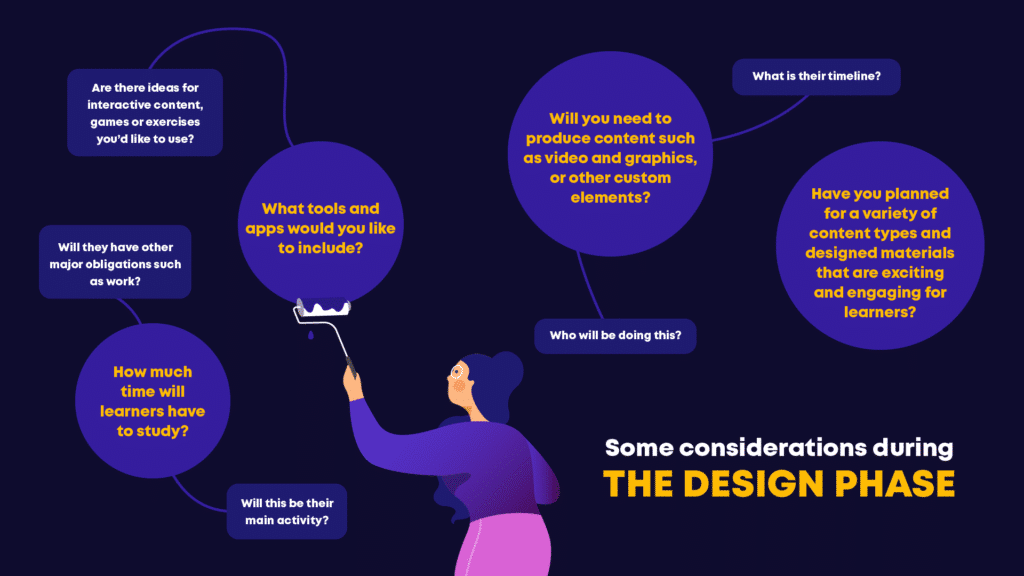 Develop
Develop is that actual building phase in the ADDIE model where you begin to make, load, and organize contents in CLANED®. Constant evaluation of your progress during this phase is essential as it provides an opportunity to identify errors, places for revision, and gaps that may exist. In addition to analysing and evaluating the content itself during this phase, pay special attention to the instructions that accompany it.
Remember that learners in online environments will not often have the same ability to ask a question and get an immediate response as they would in a traditional classroom or f2f environment. This means we want to ensure that instructions on how to proceed, and expectations are clear. Want your learners to comment on a document? Tell them to do so. You can even take it a step further and ask some open-ended prompting questions for learners to consider. Remember your goal as a course creator is not only to provide the content but to facilitate the learning process by engaging and supporting learners. 
Use your peers during this time as a feedback and critique mechanism, having an extra set of eyes on materials can be a useful technique for spotting pain points or clarity you may have missed.
Implement
Get ready to launch and release your course to your learners. While this may be in many ways, the most straightforward step in the ADDIE process is inviting the learners to the board and beginning the course. It is also a time to reflect on any additional content of instructions learners may need. How will they find their course? Will it be their first time using CLANED®? If you answered "yes" or "I don't know" to either of these questions, then it may be a good idea to create and include some general instructional material about using the platform, its features and any processes learners will need to do before they can begin studying (don't worry we can help with this) Once you're confident that learners have all they need to move smoothly from logging in/registering to complete your course, it's time to go live!
Evaluate
Claned collects lots of data: learner progress, actions, comments, reactions to content, study time and frequency are just some of the metrics available. So, during the last phase of the ADDIE model, it's a good idea to think about what kinds of questions you're interested in learning about from the data. Seeing a high completion/pass rate is great but wouldn't it be even greater if you could explain why this is the case? Conversely, if learners are getting stuck in a particular area, what type of questions and data would shed light on why this might be? Are there gaps or misunderstandings occurring? Was there too much information packed into a single course? Does your assessment not match or align enough with your learning materials?
Data can help direct us towards answers to these types of questions. However, if you've followed the steps carefully then the likelihood of these kinds of oversights is minimised, however, there is always room for improvement, and by using data we can highlight areas that could be good candidates for tweaks and adjustments in the future iterations of the course.
Key Take-Away
Finally, in the analyse phase, we feedback into phase one, this time with data in hand. ADDIE is a cyclical model meaning you can (and should) run through the process several times, allowing your courses to become living things that change and adapt with time and the learners. (Luckily though, by following the process closely during your initial run, much of this updating and reiteration work is minimised, requiring only small tweaks and adjustments to be made in future iterations)
One of the nice things about ADDIE is that you can reiterate the entire process to refine elements or reiterate only specific phases as needed. You can apply it to the course in its entirety, or focus on a particular theme or topic or even a single piece of content. It's a scalable, adaptable model for working on and developing learning programs. Incorporating ADDIE into your development not only has the benefit of producing a better learning experience but also provides you with a clear working process, helping you to keep clearly focused on your goals and objectives.
Learning is no doubt a challenge, but so is designing it (just like IKEA furniture), but with the right tools and approaches we can make it clearer, more enjoyable, engaging, and effective for all those involved. And now you know how a desire to make easily assembled furniture can impact approaches to modern education and learning. Neat huh!?!
If you'd like to read more content like this, then check out Teemu's post on How to make your corporate training more successful.