Moodle is a popular open-source learning management system (LMS) that is widely used in educational institutions and organizations around the world.
However, there are several alternatives and competitors to Moodle that offer similar features and functionalities, with some even providing additional benefits.
The list of the top 5 Moodle alternatives are:
Claned
TalentLMS
Blackboard Learn
Docebo
Absorb LMS
These Moodle alternatives and competitors have gained recognition for their ease of use, scalability, flexibility, and innovation in the e-learning market. Whether you are a teacher, administrator, or learner, these alternative LMS platforms offer a range of tools and resources to support effective online learning.
It is important to note that while Moodle has a strong presence in the LMS market, the alternatives mentioned in this article have emerged as viable options due to their specific strengths and capabilities. Organizations and educators should carefully evaluate their specific requirements and goals before selecting the most suitable alternative for their needs.
Let's dive into it!
What Does Moodle Offer?
Moodle, a widely used learning management system (LMS), offers a comprehensive set of features and functionalities that support online learning and educational needs.
Moodle is a popular open-source LMS known for creating customizable learning environments. It's widely used by educational institutions and organizations to enhance the learning experience.
Moodle excels in compliance training, onboarding, competency-based training, and management, offering workplace safety training and more. It's highly configurable, feature-rich, and user-friendly.
The key advantage of Moodle is its free, cost-effectiveness, providing minimal freedom to customize and share content. It also enables flexible, on-the-go learning.
Let's explore some of the key features that Moodle offers:
Course Management: Moodle provides a user-friendly interface for creating and managing courses. Educators can easily organize content, upload resources, create assignments, and set up assessments within the platform.
Collaborative Learning: Moodle facilitates collaborative learning by enabling students to participate in online discussions, group activities, and peer assessment. It offers various tools like forums, wikis, and chatrooms that encourage interaction and knowledge sharing among learners.
Customization and Personalization: With Moodle, institutions can personalize the platform to align with their specific requirements. It allows you to customize the site appearance, create personalized dashboards, and tailor the learning experience for different user profiles.
Assessment and Feedback: Moodle offers a range of assessment options, including quizzes, assignments, and surveys. Educators can create automated grading systems, provide feedback to learners, and track their progress through a built-in gradebook.
Multimedia Support: The platform supports a variety of multimedia formats, such as videos, audios, and presentations. Teachers can easily embed multimedia content into their courses to enhance the learning experience and engage learners effectively.
Integration and Extensibility: Moodle offers seamless integration with various third-party tools and systems. It supports popular standards like SCORM and LTI, allowing institutions to integrate content from external sources. Additionally, Moodle's extensive plugin directory enables further customization and integration possibilities.
Analytics and Reporting: Moodle provides robust analytics and reporting features, allowing educators to track learner progress, identify performance gaps, and monitor engagement. These insights empower instructors to make data-driven decisions and improve the learning experience.
Security and Privacy: Moodle prioritizes security and privacy, ensuring that user data is protected and in compliance with relevant regulations. Institutions can have control over their data, manage user roles and permissions, and implement secure authentication methods.
Support and Community: Moodle has a thriving community of users and developers who actively contribute to its growth. Users can seek support from forums, attend workshops, and access extensive documentation to enhance their understanding of the platform.
Moodle offers a comprehensive package of features and functionalities for learners, administrators, and course development experts
Features and Benefits of Moodle Alternatives
When considering Moodle alternatives, it is important to understand the unique features and benefits that each platform offers. These features can vary widely depending on the specific software, but here are some common features and benefits you may find in Moodle alternatives:
Ease of use: Many Moodle alternatives pride themselves on their intuitive user interface and easy navigation, making it simple for both instructors and learners to use the platform without extensive technical knowledge.
Analytics: Moodle alternatives diligently monitor and track the performance of learners. They furnish invaluable analytical data, facilitating a comprehensive assessment of learner progression and serving as a catalyst for enhanced productivity. The ultimate Moodle alternative, Claned, excels in the its in-depth learning analytics, delivering actionable insights into learner progress.
Customization: Some alternatives to Moodle offer a high degree of customization, allowing instructors to tailor the platform to their specific needs. This may include the ability to change the layout, color schemes, and branding, creating a personalized learning environment.
Mobile compatibility: As the demand for mobile learning continues to grow, many Moodle alternatives offer mobile-responsive designs or dedicated apps, ensuring that learners can access course materials and engage in activities from their smartphones or tablets.
Integration with third-party tools: One of the advantages of Moodle alternatives is their ability to integrate with other popular tools and applications. This can include integration with learning management systems (LMS), content management systems (CMS), video conferencing platforms, and e-commerce systems, allowing for a seamless learning experience.
Gamification: Some Moodle alternatives incorporate gamification features, such as badges, leaderboards, and progress tracking, to enhance learner engagement and motivation. These features can make the learning experience more interactive and enjoyable.
Advanced assessment and grading: Moodle alternatives often offer advanced assessment and grading features, including the ability to create quizzes with different question types, automated grading, and detailed analytics to track learner progress. This can save instructors time and provide valuable insights into learner performance.
Social learning features: Many Moodle alternatives provide social learning features like discussion forums, chat rooms, and collaborative tools. These features promote interaction and collaboration among learners, fostering a sense of community and facilitating knowledge sharing.
Support and training: Moodle alternatives typically provide comprehensive support and training resources for both instructors and learners. This may include documentation, video tutorials, community forums, and dedicated customer support. Having access to these resources can help users make the most of the platform's features and troubleshoot any issues that may arise.
By considering these features and benefits, you can narrow down your options and choose the Moodle alternative that best suits your organization's needs and goals. Whether you prioritize customization, in-depth learning analytics, or social learning features, there is a wide range of alternatives available to enhance your online learning experience.
Top 5 Moodle Alternatives and Competitors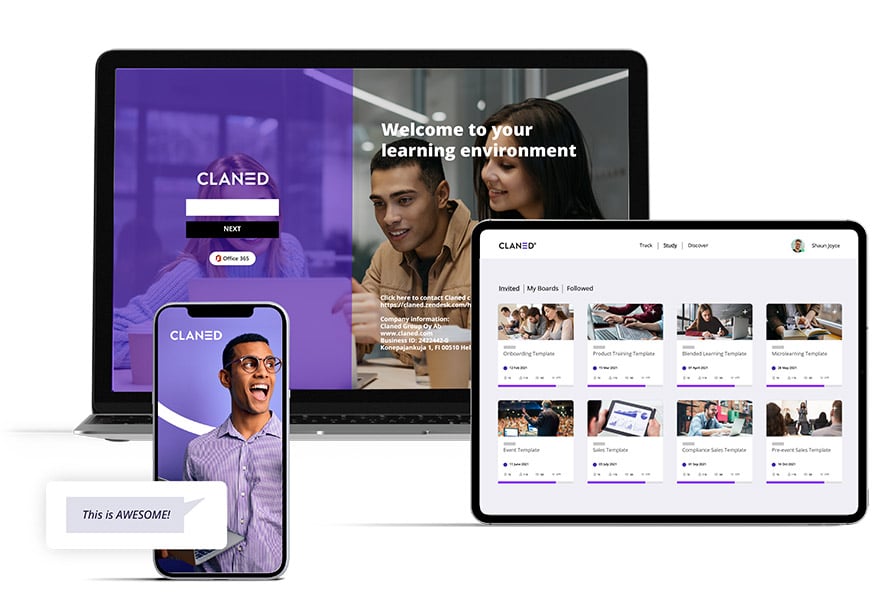 Claned
Claned emerges as a robust cloud-based corporate LMS and an attractive Moodle competitor, serving as a compelling alternative to Moodle for corporate training needs. This platform is purposefully designed to enhance corporate training outcomes by amalgamating AI, collaborative learning, and pedagogy.
One of Claned's standout features is its user-friendly course builder, simplifying the process of setting up effective courses. It employs AI to offer learning insights and recommendations based on learner activity, thus augmenting the value of corporate training programs. Additionally, the platform employs pedagogical insights to reinforce employees' skills and knowledge acquired during training.
Claned is an ideal choice for a range of corporate training scenarios, including employee training, onboarding, skill development, product training, customer training, sales training, and compliance training. The LMS also offers features like mobile learning support, social learning, and the ability to import existing learning materials.
Pricing options are flexible, ranging from a free one-month trial to user-based plans starting at €196.00 per month, making Claned an adaptable solution for organizations of various sizes and requirements in the Moodle competitor landscape.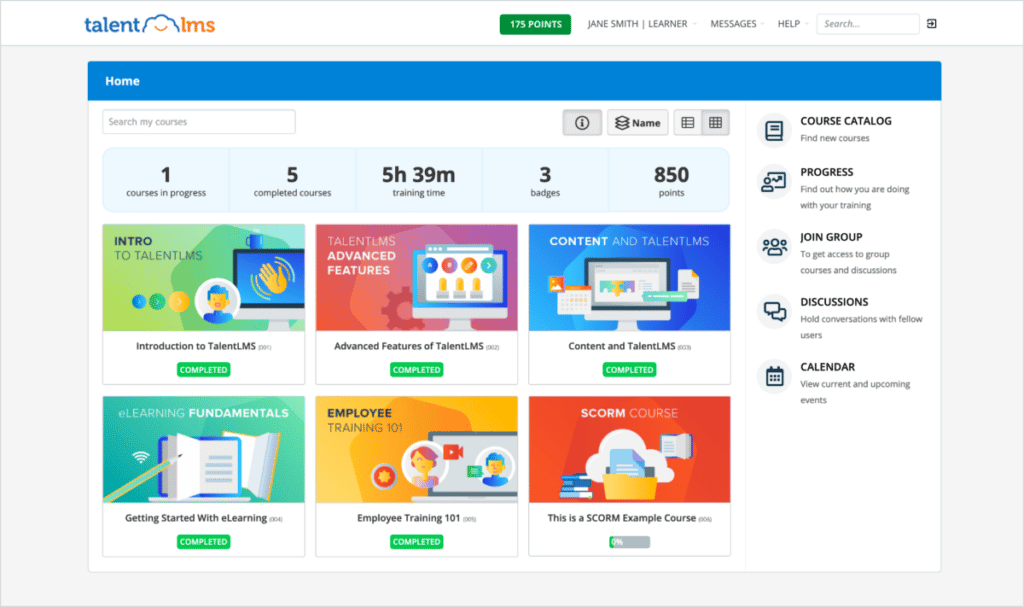 TalentLMS
TalentLMS is another popular competitor to Moodle, offering a robust cloud-based learning management system suitable for organizations of all sizes. Its standout feature is its user-friendly interface, making it accessible to both course creators and learners. The platform allows advanced customization, enabling users to personalize their courses, making it a compelling alternative to Moodle.
TalentLMS incorporates engaging gamification elements, including badges and leaderboards, which enhance learner involvement and foster a competitive spirit. Furthermore, it ensures a seamless mobile experience with native apps for both iOS and Android, a significant advantage when compared to other Moodle alternatives.
What sets TalentLMS apart is its exceptional integration capabilities with third-party tools and services, expanding its functionality and giving it an edge in the competitive landscape against Moodle. However, it's worth noting that some users might find its pricing plans slightly more expensive than other options, and its e-commerce functionality is somewhat limited. Despite these minor drawbacks, TalentLMS remains a potent alternative to Moodle, offering a comprehensive suite of features for organizations aiming to elevate their e-learning initiatives.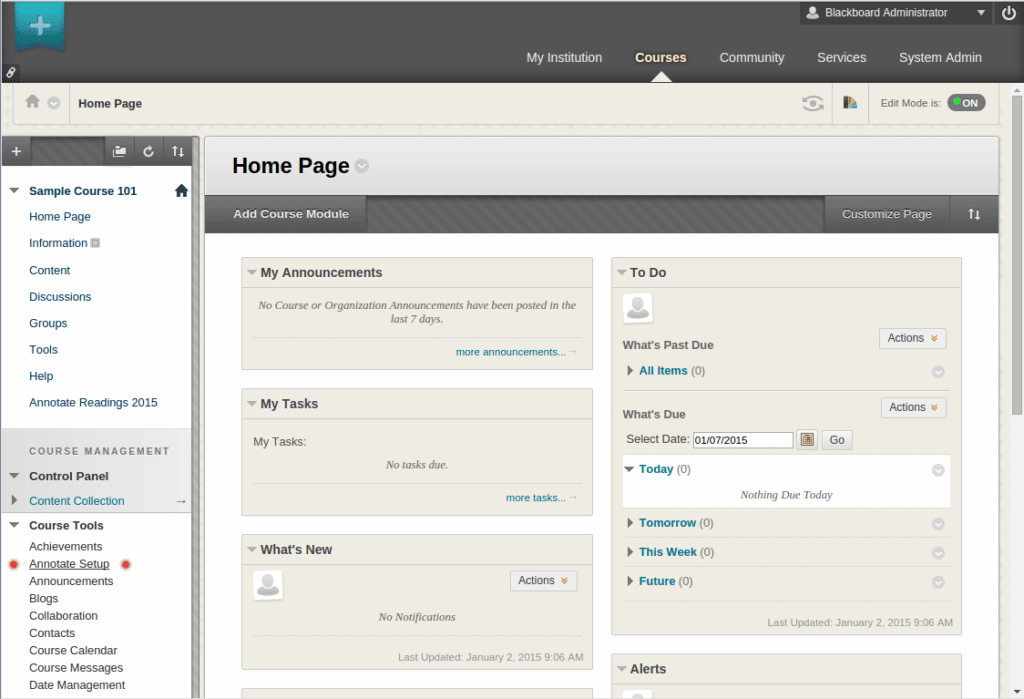 Blackboard Learn
Blackboard Learn, another renowned name in the education sector, also emerges as a robust competitor to Moodle, offering a compelling alternative as a comprehensive Learning Management System (LMS) for corporate needs. This versatile platform is dedicated to delivering top-tier learning experiences in both educational and corporate environments.
What truly distinguishes Blackboard Learn is its unwavering commitment to delivering engaging and user-friendly experiences, establishing it as a compelling competitor and alternative to Moodle.
The platform boasts a wide range of valuable features, including seamless video-conferencing integration, robust progress reporting tools, and efficient mass notifications. These qualities firmly establish it as a powerful corporate LMS, making it an appealing choice for organizations in search of effective learning solutions and a notable substitute for Moodle in the corporate realm.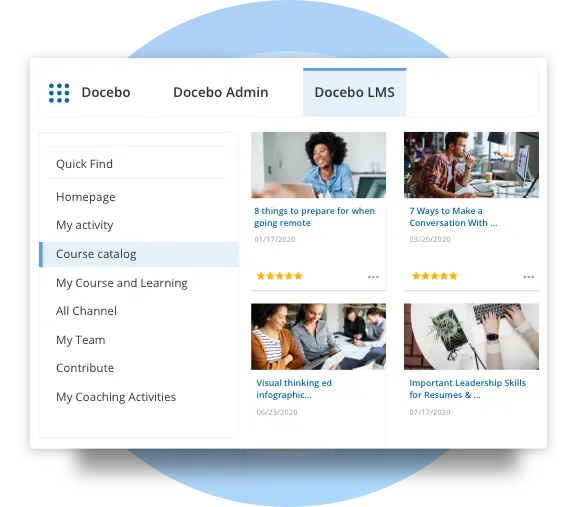 Docebo
Docebo stands as a prominent e-learning solution designed for comprehensive training management, making it a strong Moodle competitor and a compelling alternative to Moodle. This SaaS-based eLearning platform equips companies with a robust toolkit, simplifying and enhancing their training management programs.
While Docebo offers a fully-featured cloud-based LMS with enticing features, including gamification and advanced reporting capabilities, it's worth noting that it may not be a perfect fit for every organization. It lacks certain features like APIs and extensive customization flexibility, which might be a drawback for some users. Moreover, with pricing starting at $25,000 per year per user, it could be a significant investment, particularly for smaller organizations.
Nonetheless, Docebo Learn LMS provides a powerful platform for corporate training. It offers features such as drag-and-drop course creation, social learning, and progress tracking. It also seamlessly integrates with popular tools like Salesforce and Microsoft Teams, solidifying its position as a Moodle competitor.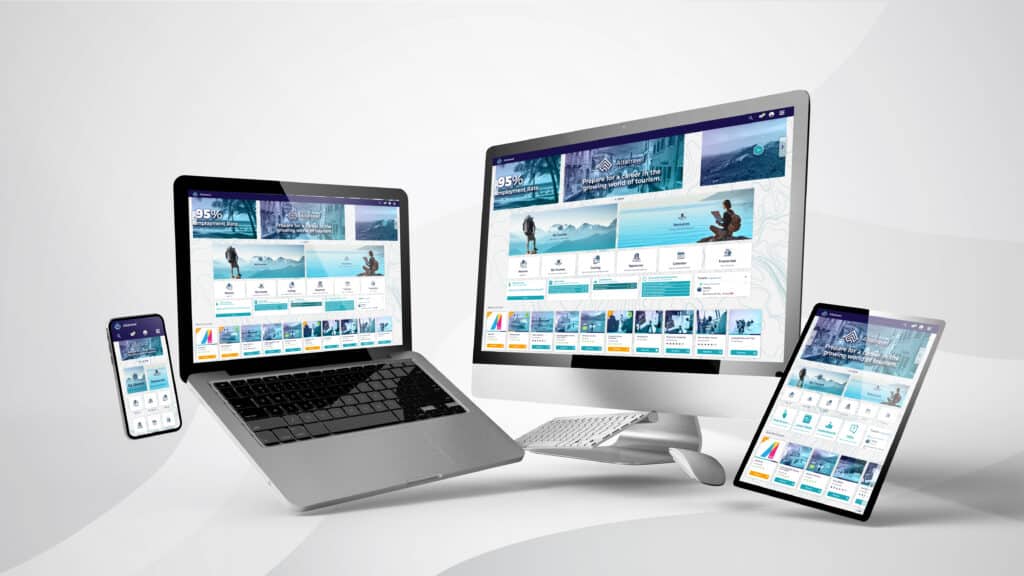 Absorb LMS
AbsorbLMS, an award-winning corporate learning platform, serves as a compelling alternative to Moodle and a formidable Moodle competitor. Designed to meet the dynamic training needs of organizations, this cloud-based LMS, part of the Absorb suite of corporate products, is adaptable to businesses of all sizes, bolstering overall productivity.
AbsorbLMS excels in various training scenarios, including extended enterprise training, employee onboarding, development, compliance, sales, and mobile learning. Its core features include a highly flexible LMS administration interface, enabling tailored training experiences. Prioritizing learner engagement, it seamlessly integrates various media formats and ensures mobile accessibility.
Furthermore, AbsorbLMS offers robust training data and analytics, providing administrators with access to crucial progress and performance data, which can be transformed into insightful reports. The platform also supports instructor-led courses and seamless integration with various tools and systems.
Overall, AbsorbLMS is a powerful and versatile learning solution, making it an attractive alternative to Moodle and a valuable choice for organizations aiming to enhance their training initiatives.
What Next?
Knowing that Moodle is free and has its own unique features and benefit, What are the best alternatives to Moodle? you may ask,
Claned, TalentLMS, Blackboard Learn, Docebo, and Absorb LMS offer even more customizable features and a lot of benefits, from contextual commenting which is unique to Claned platform, to social learning features and lot more.
By carefully evaluating these options, you can make an informed decision and invest in the online learning solution that will best serve your organization's training and development goals.
Try Claned 30Days For Free Now or Book a Demo below.
READ More LMS Alternatives
Top 5 Blackboard Learn Alternatives and Competitors  
7 Top 360learning Alternatives and Competitors
Top 5 TalentLMS Alternatives and Competitors
Docebo Alternatives and Competitors